CES 2012: EVGA SR-X Dual Socket 2011 Motherboard & Power Supplies
By
EVGA SR-X Dual Intel LGA2011 Motherboard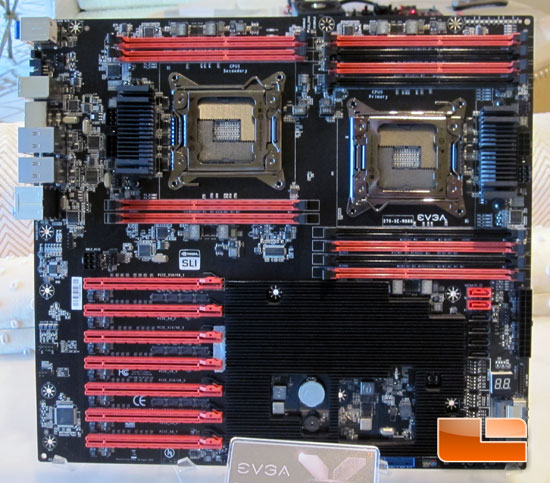 It doesn't seem all that long ago that we were able to get our hands on the EVGA Classified SR-2 motherboard. It featured dual Intel LGA1366 sockets and support for Intel Xeon processors. During our meeting with EVGA this morning, the revealed the successor to the SR-2, the SR-X! The EVGA SR-X is a dual socket LGA2011 motherboard once again for Xeon processors. If you're hoping to use your Intel Sandy Bridge-E processor, unfortunately it won't work with a pair of them due the single QPI design of the Sandy Bridge-E processors.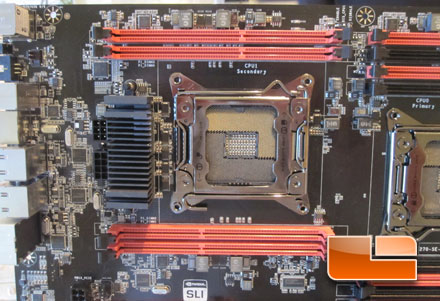 Taking a quick tour around the EVGA SR-X motherboard we can see that the first socket only features four DIMM slots. To the left of the heatsink we can see a single 8pin and a single 6pin CPU power.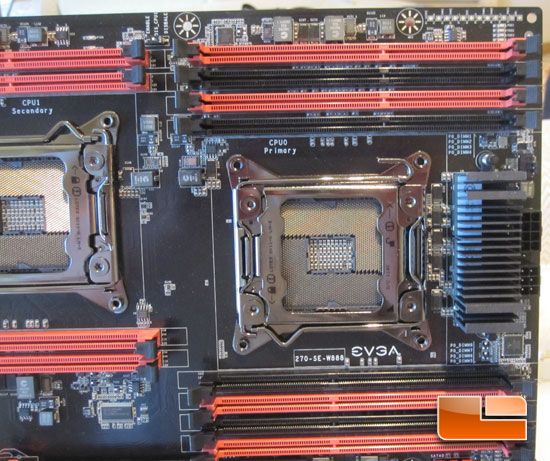 The second Intel LGA2011 socket features 8 DIMM slots surrounding it, as well as the same CPU power plugs on the right side of the heatsink. Along the top edge of the EVGA SR-X we can see the voltage measure points that allow us to check the various voltages across the EVGA SR-X. The total memory capacity of the EVGA SR-X is 96Gb!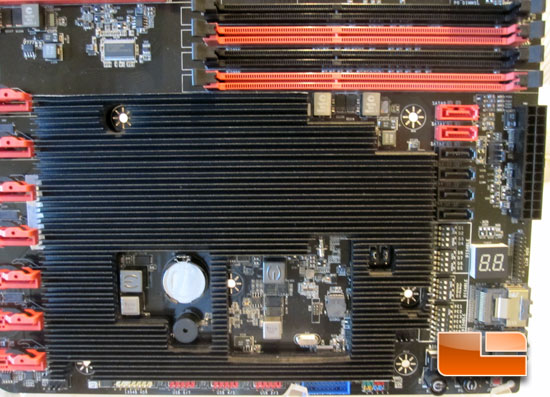 Along the bottom of the EVGA SR-X we can see that is equipped with six SATA ports and four SAS ports. Along the bottom edge of the SR-S we can find the usual internal headers for SuperSpeed USB 3.0, USB 2.0, front panel, and everything else we usually find.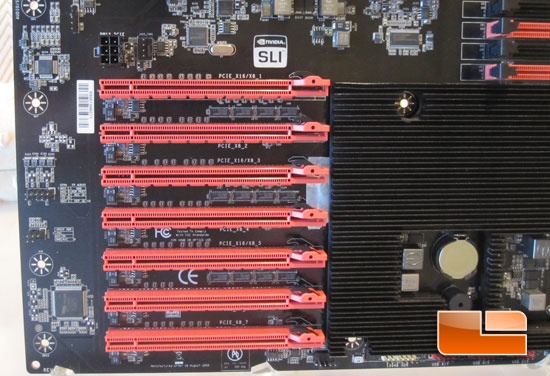 The EVGA SR-X has a total of 7 PCIe x16 Gen 3 slots and is capable of running Quad SLI! Just above the PCIe x16 slots is a single 6pin power plug to supply extra power to the PCIe slots when running multiple graphics cards.

The I/O panel is pretty typical of what we find on most motherboards today. We can see four USB 3.0 ports, four USB 2.0 ports, Bluetooth, a single PS/2 port, a pair of eSATA ports, optical SPDIF, audio jacks, and a pair of Gigabit LAN ports. We also have a CMOS reset button, and the connector for the EVBot.