Centon Advance PC2-5400 DDR2 Memory
By
Introduction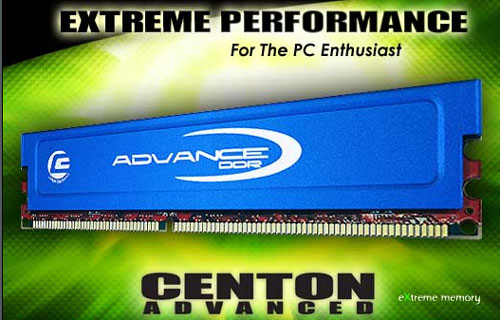 Today we have the chance to take a look at some DDR2 memory from Centon, which is a company that Legit Reviews has never worked with before. While Centron is new to the enthusiast market, they have carved themselves a pretty good niche with OEMs as a quality supplier of system memory. Founded in 1978 as a electronic components distributor, Centron refocused their efforts in 1990 toward making memory modules for OEM systems, fourteen years later Centon again shifts their focus to that of a manufacturer of high quality, budget priced memory modules directed at the gaming and enthusiast crowds.
In recent months Centon has begun to focus on the enthusiast memory market and have launched an enthusiast memory series called ADVANCE. After seeing companies like Corsair and OCZ virtually double in sales every year can you blame them? Today we are looking at some of their DDR2 512mb PC2-5400 memory modules. These modules are not listed on their site, so this article/review is more of a preview of what Centon is going to launch in the future.
As you can see it is standard PC5400 dual channel memory clocked at 667MHz, with timings of 4-4-4-12. Now that you know a little about the company and the memory itself, lets take a closer look at Centon's initial offering into the entusiast memory market.