Casio G-SHOCK Expands With Release Of The MUDMASTER
By
Casio G-SHOCK Expands Master Of G Line-Up With The Release Of The MUDMASTER
New hybrid analog/digital timepiece withstands the harshest environmental conditions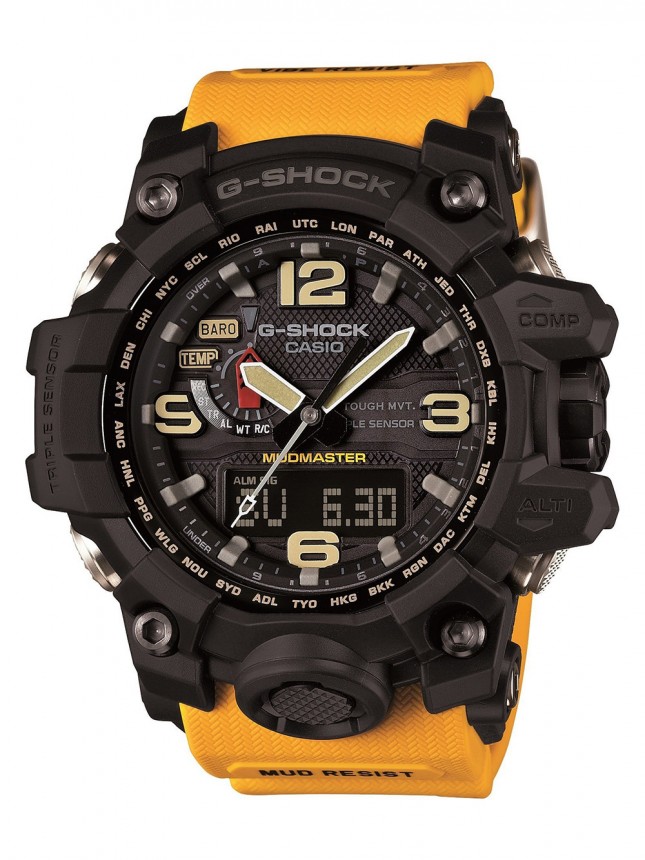 DOVER, N.J., Aug. 24, 2015 — Casio America, Inc. will once again reinforce durability and toughness in timekeeping with the introduction of the new G-SHOCK MUDMASTER into the MASTER OF G line-up this Fall.

Designed for defense against disasters, the GWG1000-1A3 and GWG1000-1A9 offer protection from mud, vibration, shock, and other elements. Mud Resistance is made possible through a button guard structure utilizing gaskets within the cylinders and button shafts, as well as a screw lock crown structure that also prevents mud and dust from entering the case. The use of Alpha Gel at the bottom and sides of the case also providesVibration Resistance while washers where the band joins the case prevent the lug screws from coming loose.

In addition to its Mud Resistant structure, the timepiece is equipped with Triple Sensor capabilities, allowing for reading of altitude/barometric pressure, temperature, and direction. Accurate timekeeping is made possible through Multi-Band 6 technology. Features showcasing toughness include Tough Movement, Smart Access Crown, Tough Movement and G-SHOCK's legendary Shock & 200M Water Resistance. Accuracy and visibility in usage under harsh conditions is showcased through Sapphire Glass, a unique Hand-Shift function, which moves the analog hands out of the way of the digital display when taking sensor measurements, World Time (29 time zones, 29 Cities + UTC), Full Auto Double LED light, Neo-brite Luminous Hands & Markers, 5 Daily Alarms, 1/100th Sec. Stopwatch (24Hr), Countdown Timer (60Min), Day/Date Display, and Full Auto Calendar and Mute Function. Case Size is a formidable 59.5mm H X 56.1mm W x 18mm D and comes in at 119g.

The MUDMASTER watch arrives in a bright yellow with black accents and military green with black accents.

The GWG1000-1A3 and GWG1000-1A9 will retail for $750.00 USD and be available September 2015 through select department stores, fashion boutiques, key jewelers, www.gshock.com, and the G-SHOCK NYC Soho store.

About G-SHOCK
CASIO's shock-resistant G-SHOCK watch is synonymous with toughness, born from the developer Mr. Ibe's dream of 'creating a watch that never breaks'. Over 200 handmade samples were created and tested to destruction until finally in 1983 the first, now iconic G-SHOCK hit the streets of Japan and began to establish itself as 'the toughest watch of all time'. Each watch encompasses the 7 elements; electric shock resistance, gravity resistance, low temperature resistance, vibration resistance, water resistance, shock resistance and toughness. The watch is packed with Casio innovations and technologies to prevent it from suffering direct shock; this includes internal components protected with urethane and suspended timekeeping modules inside the watch structure. Since its launch, G-SHOCK has continued to evolve, continuing to support on Mr. Ibe's mantra "never, never give up".

About Casio America, Inc.
Casio America, Inc., Dover, N.J., is the U.S. subsidiary of Casio Computer Co., Ltd., Tokyo, Japan, one of the world's leading manufacturers of consumer electronics and business equipment solutions. Established in 1957,Casio America, Inc. markets calculators, keyboards, mobile presentation devices, disc title and label printers, watches, cash registers and other consumer electronic products. Casio has strived to realize its corporate creed of "creativity and contribution" through the introduction of innovative and imaginative products. For more information, visit www.casiousa.com.