Call of Duty: Ghosts Multiplayer Reveal Highlights
By
On Wednesday, Infinity Ward revealed the multiplayer mode in Call of Duty: Ghosts, which arrives on November 5th. This reveal was highly anticipated as many First Person Shooter (FPS) gamers are wanting change with the Call of Duty franchise. To give the developer some credit, it is getting really hard to innovate in FPS game titles!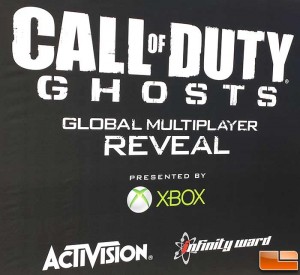 The Call of Duty: Ghosts Multiplayer reveal event in Los Angeles kicked off with Mark Rubin, executive producer at Infinity Ward, saying that "This is the biggest overhaul of multiplayer we've done since the original Modern Warfare." He went on to say that every single system in the game has been altered and improved upon! This is great news for gamers that are wanting something different than the last COD game title.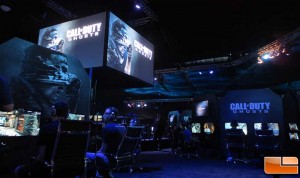 In Ghosts' you don't just create a class, you create-a-soldier. You get to customize who you are and this begins with what you look like and there are 20,000 options. This means you get to change your soldier's head, body type, gear and so on. You can even play as a female soldier, which we admit is long overdue. Nearly half of gamers are female, so it is about time that developers recognize that! There are a total of 30 new weapons and a whole new class for the marksman rifle (think M1 from original COD). Scopes now have dual-render technology, making them more realistic than ever before. Yes, you can still quick-scope in multi-player.
Infinity Ward allots you a budget for your weapons and is giving you more perks than ever before. Every perk has a set point value between 1-5 and you get to use up to 8 perks. Sound familiar? Ghosts' features a new system inspired by Treyarch's Pick 10, used for Black Ops 2. So, you can choose four perks, each valued at two points a piece, or eight perks, each valued at one. You can remove your secondary weapon and equipment in order to get 11 perks. Call of Duty: Ghosts new star attack dog is a killstreak perk in multiplayer. He is fun to play with in multiplayer as he growls when an enemy is near and goes on the attack. What is neat is that Riley still sticks around after you die and can even rack up some more kills!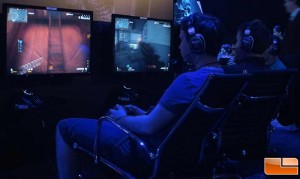 There are 20 new killstreaks in Call of Duty: Ghosts, which is a significant amount. You also have more defined packages: support strike package (less lethal), specialist strike package, assault strike package. To top that off you have three new game modes that are sure to be played a ton.
Search and Rescue: This mode is where a player has to pick up dog tags after killing someone to get the points but there is another objective you will also have to pick up dog tags from your fallen teammates so that they dont die.
Cranked: gives players temporary (30-second) speed boost after a kill but sets a timer going. If you dont get another kill before the clock runs out you explode. This was the game mode I most played at the multiplayer reveal and was very fun and kept you on the edge of your seat as the clock was counting down.
Squad Mode: In COD Ghosts you can create a squad of up to 10 soldiers w/ one level of prestige per soldier. You can play in this mode solo, co-op, or competitive and your squad can be challenged even while youre not playing, earning you experience. Squad mode allows you to swap in AI or human players whenever you like. This mode was not active at the multiplayer reveal and was only talked about.
The multi-player maps in Call of Duty: Ghosts Multi-Player are also dynamic, so the players actions in the game have a direct result on the environment that you are playing in.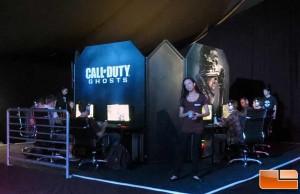 Another cool feature that Activision and Infinity Ward announced was that players will now be able to take their Call of Duty account which they already have thru Call of Duty Elite with them from one system to the next for example Microsoft Xbox 360 to Microsoft Xbox One or Sony PlayStation 3 to Sony PlayStation 4. The player will have all of their stats, and unlocks seamlessly ready and waiting whenever. For the players that dont have an account they can sign up for one free in game or on the web. There is also an all new Call of Duty app which will give players a second screen via mobile or tablet and is designed to work hand in hand with all current and next gen versions of Call of Duty: Ghosts. The app will give Call of Duty players the power to edit their entire squad pre match and have a one touch access to change loud outs for their next spawn while in match as well as view and share results with friends on Facebook and Twitter. The app that was created by Beachhead Studio in collaboration with Infinity Ward will launch the same time Call of Duty: Ghosts does.
Another great feature about Call of Duty: Ghosts is that Activision have made organizing clans more in-depth. Players can join, create, and manage a clan from in game or from the Call of Duty app. Some of the clan features are in game clan rewards, clan vs. clan. If players use the app they will be able to clan chat, rally-up there team and edit and create their clan emblem. The app will also include an all-encompassing 24/7 experience that ties directly to Call of Duty: Ghosts Multiplayer giving players a true two way interaction.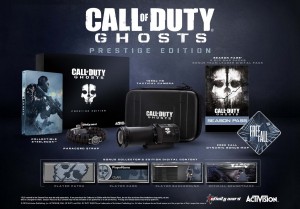 Activision and Infinity Ward unveiled the next generation of Call of Duty along with a list of hard hitting headlines such as eSports The Call of Duty Championship presented by Xbox will return in 2014 and Call of Duty: Ghosts will be its flagship title. The Call of Duty: Ghosts Season Pass will give gamers four epic DLC map packs for one discounted price of $49.99. There will be two Call of Duty: Ghosts Collectors Editions one called the Hardened Edition ($129.99) which will include a copy of Call of Duty: Ghosts, the DLC Season Pass, Limited edition Collectible Steelbook and Paracord Strap; and the Prestige Edition ($199), which includes all content from the Hardened Edition, plus the Call of Duty: Ghosts Tactical Camera, a full HD 1080p, water resistant, wide-angle mounted, wearable camera based on the actual helmet camera featured in the game itself. Both the Hardened and Prestige Editions were made available for pre-order directly after yesterdays announcement.
Call of Duty: Ghost will be release on Microsoft 360, PlayStation 3, Nintendo Wii U, and the PC on Nov, 5, 2013 for a retail price of $59.99. Ghost will also be available for the Xbox One and the PS4 later this year for $59.99.
You can also watch the official Call of Duty: Ghosts Multiplayer Reveal Trailer below: