Buffalo Launches Three Open Source DD-WRT Wireless Routers
By
Buffalo Introduces Open Source DD-WRT Wireless Networking Solutions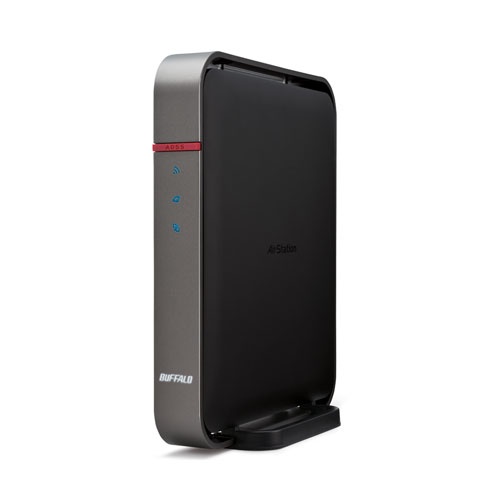 AUSTIN, TX February 25, 2014 – Buffalo Americas, a leading provider of external storage, network attached storage and networking solutions, today announced the availability of three new high speed AirStation Open Source DD-WRT wireless routers, including the AirStation AC 1750 WZR-1750DHPD, the AirStation N600 WZR-600DHP2D, and the AirStation N300 WHR-300HP2D. Featuring DD-WRT Linux-based firmware pre-installed, Buffalo's new routers provide high performance networking, advanced features and low-level device management, unlocking extensive capabilities with increased network stability. Each router is also equipped with onboard amplifiers to provide maximum radio power for improved performance and range, ideal for consumers and business professionals operating high-bandwidth applications.

This new trio of routers features open source DD-WRT firmware out of the box, offering the best of both worlds convenience and openness. With a breadth of powerful features not normally found in similar routers, Buffalo's latest open source DD-WRT offering supports a great number of functionalities with simple setup and configuration. Additionally, DD-WRT provides added stability for reliable operation and improved performance, ideal for the demands of a professional networking environment.

"We are excited to have the opportunity to work closely with Buffalo, bringing DD-WRT to a professional audience on reliable and powerful hardware platforms. Together we form a powerful partnership with distinct new offerings for resellers and professional-grade customers," said Peter Steinhaeuser, CEO at NewMedia-NET.

"Consumers and business professionals are demanding increased access and control of their wireless network configurations," said Matt Dargis, COO at Buffalo Americas (USA), Inc. "We launched new open source DD-WRT models of the AirStation router to address this rising demand, giving users the ability to unlock advanced capabilities of their wireless routers at a cost effective price. These features, such as PPTP, OpenVPN and VLAN, allow network administrators and programmers to enable advanced features typically unavailable in consumer-grade wireless routers."


Open Source DD-WRT
DD-WRT is an open source Linux-based firmware for wireless routers and access points. Offered as an alternative to OEM firmware, DD-WRT provides users with advanced features and capabilities, including:
OpenVPN, VLAN and full command line root access
VPN passthrough
Advanced QoS controls for bandwidth allocation
WDS wireless bridging/repeating
DNS caching
Viewable performance statistics to measure bandwidth levels
Ability to set up as a Wi-Fi hotspot
RADIUS authentication for additional wireless security
DHCP server
Ability to create multiple SSIDs
Iptables NAT and Firewall
Telnet and SSH Root access

Pricing and Availability
All Buffalo AirStation wireless solutions are backed by a limited three-year warranty including toll-free U.S.-based technical support available 24/7.

AirStation AC 1750 Gigabit Dual Band Open Source DD-WRT Wireless Router WZR-1750DHPD is available now at an estimated MSRP of $189.99.
AirStation N600 Gigabit Dual Band Open Source DD-WRT Wireless Router WZR-600DHP2D will be available in early March at an estimated MSRP of $109.99.
AirStation N300 Open Source DD-WRT Wireless Router WHR-300HP2D will be available in early March at an estimated MSRP of $59.99.

About NewMedia-NET and DD-WRT
NewMedia-NET develops software for communication solutions. Its open source router software DD-WRT allows the company to form partnerships with leading manufacturers of wireless hardware products. NewMedia-NET also provides customized development and support services to its customers. For more information, please visit www.newmedia-net.de or the DD-WRT project website www.dd-wrt.com.