Bruce Lee MIMOBOT 8GB USB 2.0 Flash Drive Review
By
The Bruce Lee Flash Drive!
Sine 2005, Boston-based design house Mimoco has been blending contemporary characters with the USB Flash drives to add some spice to an often boring device. Mimoco appears to be doing well as the company continues to blend the Art Toy underground and the uber geek tech crowd. Mimoco is best known for their flagship collection of MIMOBOT designer USB flash drives. These character-based USB Flash drives range include Star Wars, DC Comics, Hello Kitty, Transformers and even legends like Einstein and Bruce Lee. Prices generally start at $11.95 for 4GB capacity drives and go up from there, so you can easily have some fun without having to break the bank.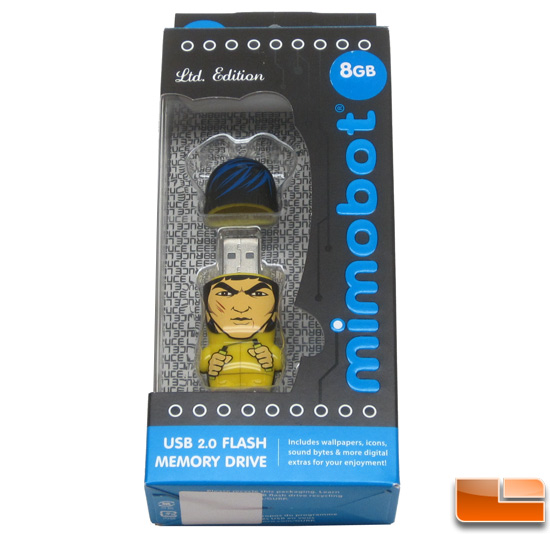 Mimoco debuted the Legends of MIMOBOT series earlier this year and so far you can get Einstein
or Bruce Lee character based storage drives. Bruce Lee was and still is the most influential martial artist of all time, so it only makes sense that he becomes part of the Legends of MIMOBOT series.
The Bruce Lee Mimobot series is available in 8GB, 16GB, 32GB, & 64GB capacities with the prices being $19.99, $29.99, $39.99 and $69.99. All of the drives are backed by a 1-year warranty. Mimoco sent over the 8GB Bruce Lee Mimobot for us to take a closer look at.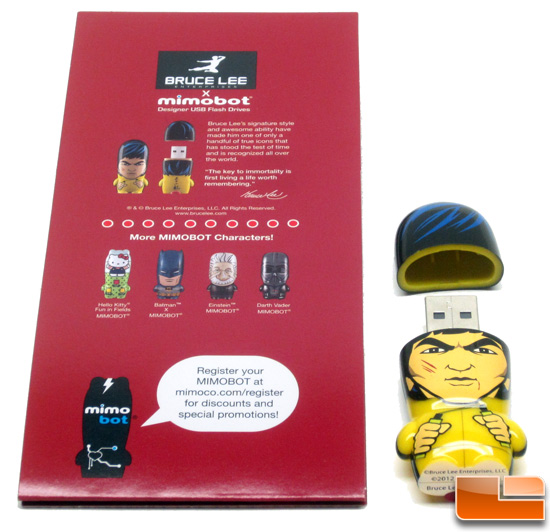 Inside the retail box you'll find the MIMOBOT along with some marketing material. This drive comes with a 96.0MB zip folder on it that has Bruce Lee-themed wallpapers, icons, video, and avatars, and MimoByte
sound software that plays sound clips each time Bruce Lee MIMOBOT is
inserted or ejected from one's computer. You don't have to use any of it if you don't want to, but it is there if you do. The wallpapers come in 6 sizes and start out at 320×240 for mobile devices all get as large as 1920×1080.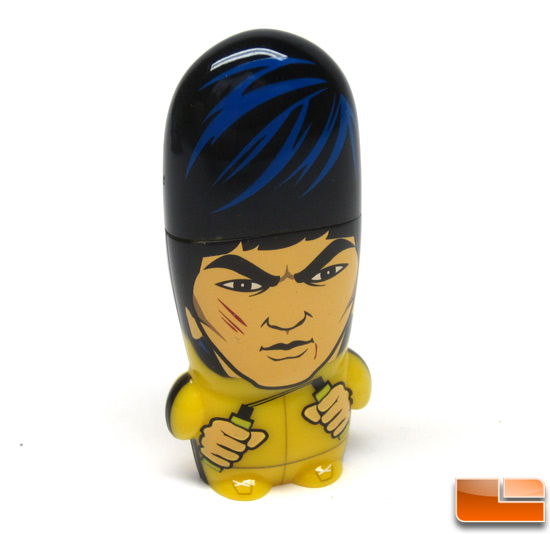 The Bruce Lee MIMOBOT is about 2.5″ tall and 1″ wide with a weight of 0.375 ounces or 10.6 grams. The front of the drive has Bruce Lee on it wearing a yellow tracksuit, nunchucks, and cuts he got from the final battle of the movie, Enter the Dragon.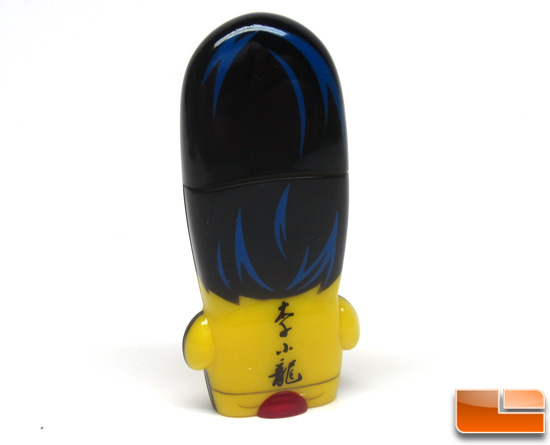 The back of the USB Flash Drive is pretty simple with some Chinese characters and a red tab that glows when the drive is active.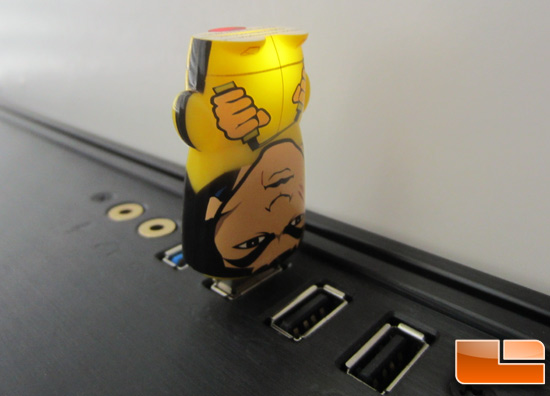 The entire lower half of the USB drive glows when it it plugged in, so the little red part is kind of pointless. The one thing that it does help is giving the Mimobot some stability.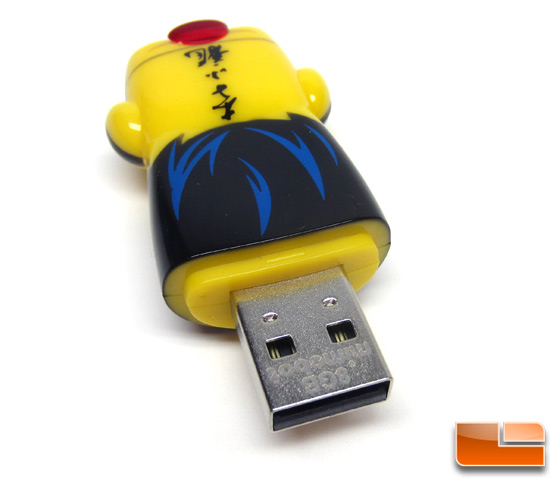 The Bruce Lee Mimobot uses a High-Speed USB 2.0 interface, so we don't have high hopes for performance when it comes to these USB Flash Drives. It should also be noted that there is no place to attach a keyring or lanyard and no place to store the cap when it is removed. Just a heads up to those that easily lose caps and Flash drives!
Are these more of a novelty or are these enthusiast class drives? Let's go on to the next page to see how they perform.