Bigfoot Networks Killer 2100 Gaming Network Card Review
By
The Bigfoot Networks Killer 2100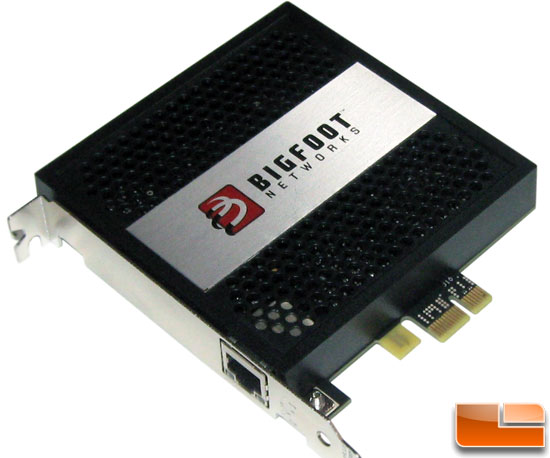 Network cards are like sound cards for most end users, in that a majority are happy as can be with the ports that their motherboard comes with, and Bigfoot Networks is the kingpin of the gaming network card market, providing gamers with "The" NICs (Network Interface Cards) to have. Well, today we are looking at the latest standalone NIC from Bigfoot Networks, the Killer 2100. More importantly we will be seeing if high performance gaming network cards live up to their hype.
Here are a couple videos that we took of Bigfoot talking about the Killer 2100 at E3:
Bigfoot Networks Killer 2100 Features
Game Networking DNA:

The Killer 2100 bypasses the Windows networking stack and offloads the CPU to accelerate game traffic inside the PC and put it ahead of other network traffic

Advanced Game Detect:

Automatically detects and prioritizes game traffic to boost speed and sustain online gaming performance

Visual Bandwidth Control:

See which applications are hogging bandwidth and set limits for each or shut them down completely with application blocking, so they don't interfere with your online game performance

Application Blocking:

Control or block each program on your PC that accesses the network to keep, so they don't interfere with your game

Online Gaming PC Monitor:

Monitor and manage the performance of your online gaming PC with exclusive at-a-glance displays and controls and a completely redesigned user interface

Plug and Play:

Simply plug in the card and install the software. Killer 2100 automatically works with all online games – no mods, patches or updates required
Bigfoot Networks Killer 2100 Specifications
Speed: 10/ 100/ 1000Mbps
Standards: 802.3, 802.3u, 820.3x, 802.3z, 802.3ac, 802.3ab
Processor: 400MHz Bigfoot Networks Processor (NPU)
Memory: 128MB DDR2 266MHz
Interface: PCIe x1
Connectors: 1x RJ45
Warranty: 2-Year Limited
Sporting the PCI express interface, 1 Gigabit throughput, a 400MHz Network Processing Unit, and onboard memory, the Killer 2100 certainly has the features to live up to the hype; let's check out this graphic of the Game Networking DNA technology on the Killer 2100 product page which I think is one of the most important features: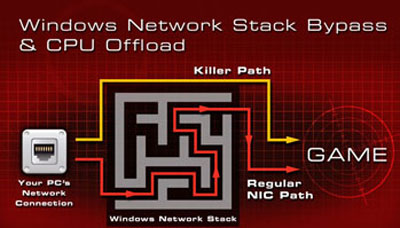 The Killer 2100 handles all gaming network traffic outside Windows, so it is not limited by a slowed down operating system or incorrect internet settings, just straight from the game to the RJ45 port effectively.