Best Buy Black Friday Deals Are Live
By
When it comes to buying products from Apple, frequently, the only time you'll find significant discounts is on Black Friday. Anyone in the market for a computer, smartwatch, or other Apple product might want to check out the Black Friday deals that Best Buy has announced.
Anyone wanting an Apple Watch SE can save $60 off the normal MSRP. The 40-millimeter version is available for $219, while the 44-millimeter version is available for $249. Anyone looking for something a little cheaper can get the Apple Watch Series 3 with GPS in 38-millimeter size for $169.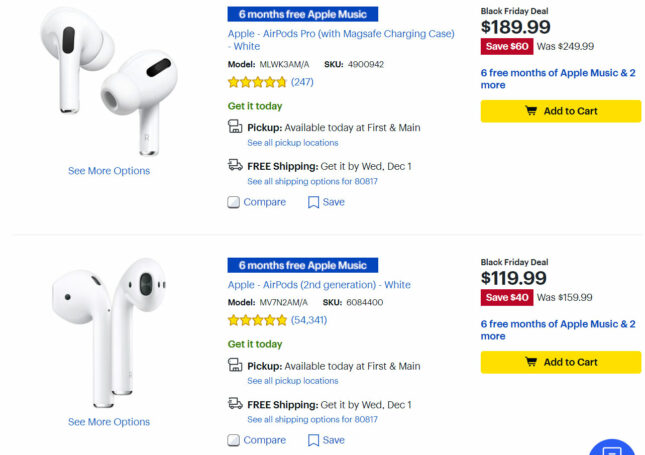 If you're in the market for a new MacBook, Apple currently has the MacBook Pro 18-inch with Touch Bar for $500 off at $1299.99. In addition, the MacBook Air with the Apple M1 chip and 256 gigabytes of storage is $150 off at $849.99.
Another good deal is on the Apple AirPods. The Pro version with MagSafe charging case is $60 off at $189.99. The standard second-generation AirPods are available for $119.99, which is a $40 discount. If you want the version with the wireless charging case, it's available for $149.99, which is a $50 discount off the normal price. There are lots more Black Friday deals, and all of the Apple deals can be seen here.