Azza Solano 1000 ATX Full Tower PC Case Review
By
Introduction
Today we have the Solano 1000 ATX full tower chassis that is geared towards the gamer and power user. The Solano 1000 is made by a new comer to the case market called Azza. They are, however, not new to the computer world as they made their start in 1999 manufacturing motherboards. Earlier this year they made the jump to enthusiast cases and power supplies.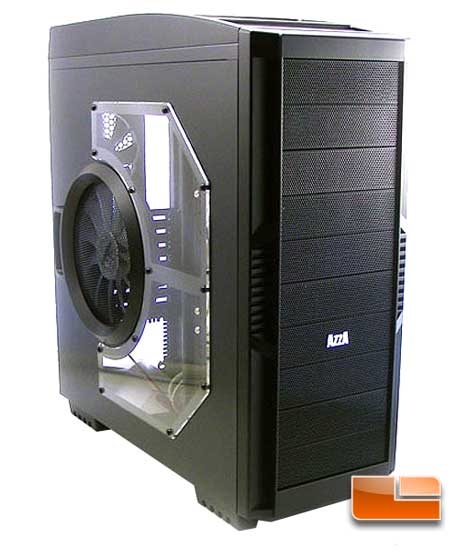 The cases and power supplies that Azza currently have in their line up all seem to be styled with gamers in mind. Looking at their Information page there was a simple straight forward company mission statement, Your satisfaction is our success! and a short paragraph stating that their goal is to provide the highest quality products of unmatched value, along with exemplary customer support.
The particular case we are looking at today is the Solano 1000 gaming case. The Solano was designed for ease of use and air flow, as fans are installed everywhere to keep your components cool. A 230mm blue LED super fan is mounted on the top for main ventilation. A second 230mm blue LED super fan is built-in on the side panel to facilitate CPU cooling. Two additional 140mm blue LED fans are installed in the front panel to boost the cooling of the HDD cage. Also, a 120mm fan is mounted in the back panel vented to the outside. To sum it up for you, a total of 2x230mm fans, 2x140mm fans and 1x120mm fan work synergistically to provide you unprecedented airflow. Not only does it cool well, but it looks good. The Azza Solano 1000 gaming case is made from high-quality Japanese steel and the interior has a black painted finish on it.
So lets take a quick look at the specifications for the Solano 1000 before we get too far.
Feature
Ultra-efficiency Cooling System

: 1 x 230mm top fan (exhaust), 1 x 230mm side fan (intake), 2x 140mm front fan (intake), providing exceptional air flow to cool the HDD, 1 x 120mm rear fan (exhaust)

Bottom-mounted Power Supply

: Power supply is bottom-mounted, can be installed facing either up or down. Pre-drilled holes located at bottom, allowing efficient air flow when power supply is installed facing downward

Optimized Cable Management

: Cable is organized behind the pre-drilled motherboard tray, allowing better cable routing and internal air flow

Easy Assembling

: Thumb screw design for easy assembling of optical drive and HDD; thumb screw design also for the side panel

Maximum Compatibility

: Compatible with ATX, Micro ATX and all kinds of Nvidia, ATI long graphic card, and most water cooling systems.

Server-like HDD cage

: can accommodate up to 8 HDD, equipped with 2 x 140mm front fans for overheat prevention

USB & Audio Ports Located on Top

: USB & eSATA & audio ports located on the top panel, allowing easy access
Specifications
Model Name: Solano 1000
Model Number: CSAZ-1000
Type: ATX Full Tower
Color: Black/Black (internal chassis)
Material: Japanese SECC Steel/Metal mesh in front
With Side Panel Window: Yes
With Power Supply: No
Motherboard Compatibility: ATX, Micro ATX
External Expansion
5.25″ Drive Bay: 10 External 3.5″ Drive Bay:1
Internal Expansion:
Front Ports 2 x USB, e-SATA, Audio, Mic
Cooling System
1 x 230mm blue LED silent fan (24DBA) on top
1 x 230mm blue LED silent fan (24DBA) on the side
2 x 140mm blue LED silent fan (19DBA) in front
1 x 120mm fan in rear
Physical Spec Dimensions (HxWxD): 21.5″ (545mm) x 8.1″ (213mm) x 19.7″ (500mm)
Packing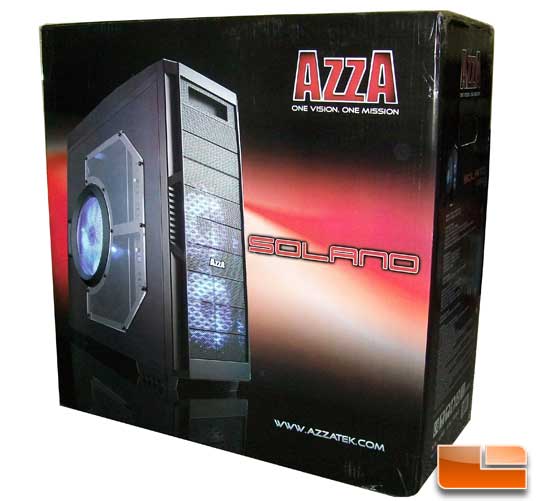 The Solano 1000 comes packed in a sturdy cardboard box with an image showing the whole case in pretty good detail. The sides and back panel sport the case specs and have images showing the inside of the case.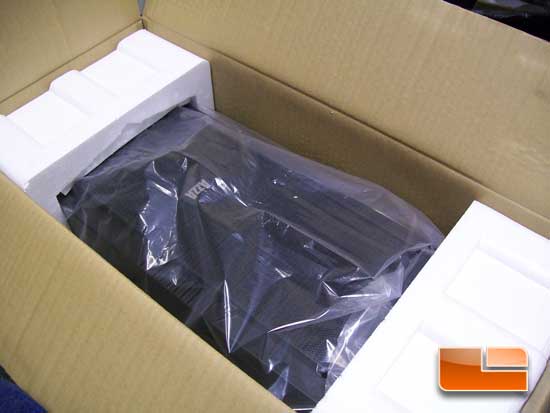 With the box open we can see the Solano is shipped in standard fashion, wrapped in plastic and styrofoam end caps.