AT&T Shows Off 4G LTE Devices At St. Louis Cardinals Baseball Game
By
Our local AT&T representative hosted a tech blogger gathering at the St. Louis Cardinals baseball game yesterday. The purpose of the event was to check out some of the latest devices from AT&T and of course their Distributed Antenna System at Busch Stadium. It also didn't hurt that the game happened to have the St. Louis Cardinals pitted against the Chicago Cubs, which is undoubtedly one of the best baseball rivalries with the Cubs slightly leading the series between the two teams with over 2,300 games played against one another since first meeting in 1892! However, the Cardinals have won the World Series 11 times versus just twice for the Cubs. No matter what team you are rooting for it is always a good matchup!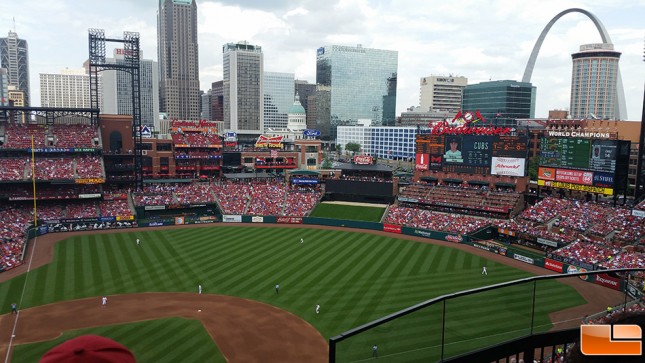 Since this was a work meetup we didn't really get to watch much of the game, but did get some hands on time with some new products that we haven't had a chance to use yet. The first product that we were shown was the AT&T Modio LTE case for the Apple iPad mini. This case was designed only for the iPad Mini, iPad Mini 2 and iPad Mini 3. It runs $49.99 for AT&T Mobile Share Plan Customers with a 2-year contract and brings AT&T 4G LTE connectivity to an iPad mini that has just built-in Wi-Fi. You then will need to pay a $10 monthly access charge to add the case onto your ATT Mobile Share Plan. If you wanted to purchase the case without the annual commitment you are looking at spending $199.99.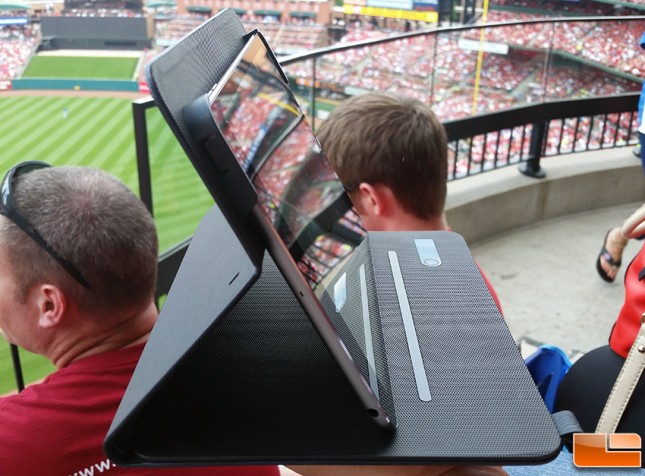 In order for your iPad Mini to connect to the AT&T Modio LTE Case you'll need to download the AT&T Modio Data app and sync it with the case. This app is then used to connect to the LTE hotspot in the case and allows you to monitor how much data you have used to make sure you aren't stuck with any overage fees! Besides bringing LTE service to the table, the AT&T Modio LTE case serves as a protective case. The case appeared to be well constructed and we really liked the magnetic strips on the base that help prop up the iPad mini in the position you want for hands free use. One of the other really cool features is that the case detects when it has been closed and will automatically disconnect from the AT&T LTE service to save battery life.

On the side of the AT&T Modio LTE iPad Mini case you'll find a micro USB 2.0 charging port for the battery that is needed for the LTE service. AT&T says that the 4,600 mAh Lithium Ion battery should last around 16 hours (960 minutes) under typical usage scenarios, which should be plenty of time for most people and you can burn through some of your allotted monthly LTE data plan in that amount of time! The standby time on the case is 43 hours. Next to the USB charge port you'll find the location for the SIM card and a MicroSD card. The MicroSD slot will allow you to add up to 32GB of storage.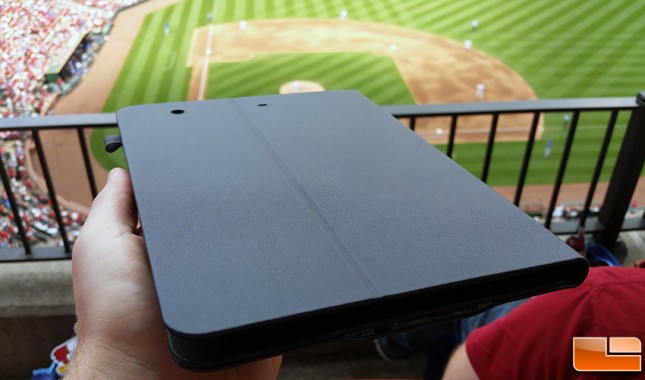 If you don't have a case for your iPad Mini and wanted to add 4G LTE service to it, the AT&T Modio LTE iPad Mini case looks like a solid solution!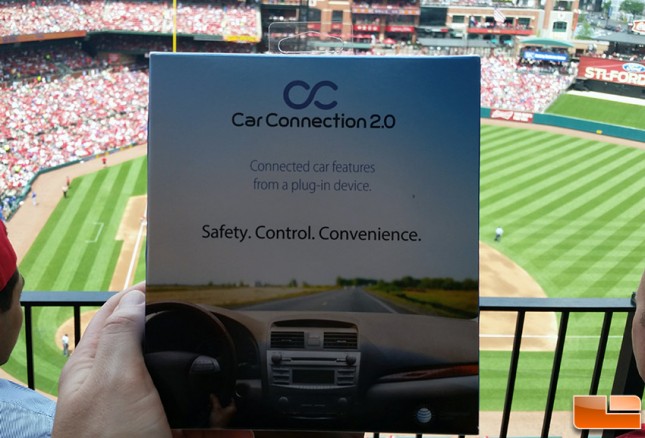 Next up we have the Car Connection 2.0 by Audiovox. This $99.99 device plugs into your cars OBDII port, if it already isn't being used by another gadget, to receive real-time updates from your 1996 or newer car that are then relayed to your smartphone, tablet or PC. This means you can better look at your driving style, fuel economy and keep tabs on the maintenance that needs to be done. The GPS tracker will let you keep tabs on your loved ones and will also help in the event that your vehicle is stolen (as long as the crooks don't reach down and unplug it) as the internal GPS will serve as a vehicle locator. Car Connection 2.0 also has some safety benefits since it will be able to know if you've been in an accident due to the airbag sensors triggering and you can setup text blocking if you are willing to add the ZoomSafer app on your phone. AT&T is against texting and driving and has a number of programs setup to discourage smartphone use while driving. It's a pretty nifty little device for those that are willing to drop $100 for something like it.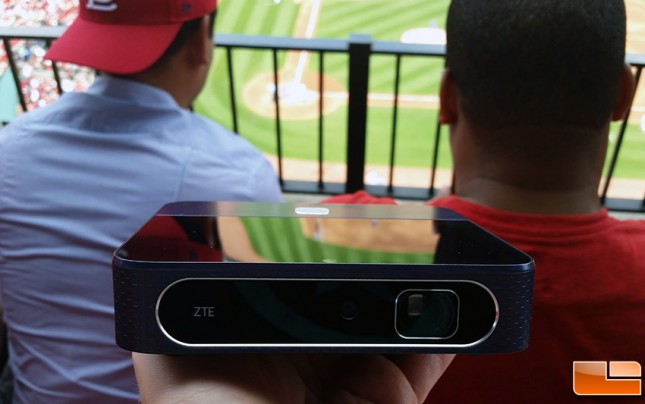 The last device that we got some time with was the ZTE Spro 2 Smart Projector and Hotspot from AT&T. This is an Android-powered, portable projector that features a 5-inch touchscreen and a 4G LTE connection. The 200 LM projector (100 LM when on battery) can project images up to 10 feet in size at a resolution of 1280×720 (720p), making it ideal for backyard movie nights or presentations on an office wall. How much will this set you back? You are looking at $399.99 with a 2-year contract or $499.99 without a contract. Keep in mind that activation fees may apply and you'll need to add it to your monthly DataConnect or Mobile Share plan.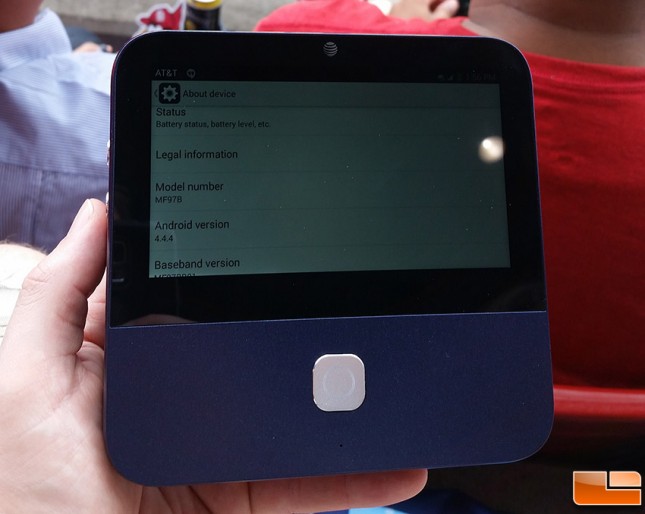 A Qualcomm Snapdragon 801 quad-core SoC running at 2.0GHz paired with 2GB of RAM keeps the ZTE Spro 2 running smoothly. The ZTE Spro 2 comes with a 6,300 mAh battery that should last about 2.5 hours when the projector is being used or about 16 hours of 4G LTE connectivity. The 802.11n dual-band (5GHz and 2.4GHz) Wi-Fi hotspot allows you to connect up to 10 devices to the device at once and will allow you to get online with the 4G LTE network. The Android device also sports HDMI, USB 3.0 and microSD use for enhanced connectivity.
The ZTE Spro 2 Smart Projector is a very unique device and should appeal to those that are looking for a mobile projector.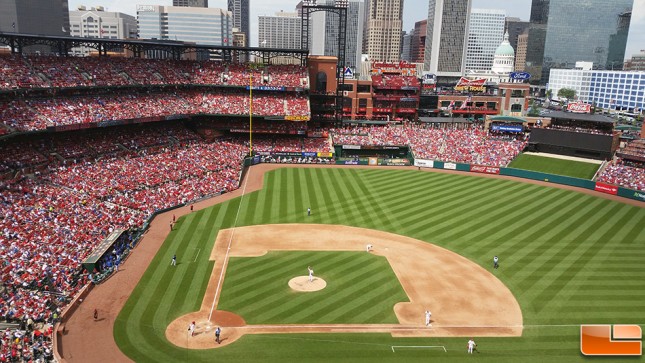 Years ago AT&T setup a Distributed Antenna System (DAS) inside of Busch Stadium to help handle the typical network overload that comes with large groups of people at a sporting event. In 2014 the St. Louis Cardinals played in the National League Championship Series at Busch Stadium and AT&T shared some of the 4G LTE network stats with us and it was crazy to see how much data was being used when you consider AT&T is just one carrier.
On average, fans have used more than 496GB (gigabytes) of data per game on the AT&T venue-specific mobile network, which is equivalent to more than 1.41M social media post with photos.
This showed an increase of approximately 38% compared to the average game during the divisional round of this years playoffs at Busch Stadium (played on 10/6/2014 & 10/7/2014).
Even more impressive, it was an increase of approximately 66% in data usage compared to the average amount used per game during the final home series of the season vs. Cincinnati (9/19/2014-9/21/2014).
So far the game with the peak data usage during the League Championship round occurred on Saturday night (10/11/2014) when more than 508GB crossed our venue-specific mobile network.
508GB of data is equivalent to more than 1.45M social media post with photos.
The peak hour of data usage during the first two games occurred on 10/11/2014 from 8-9pm Central. In this hour more than 84GB of data crossed our venue-specific mobile network.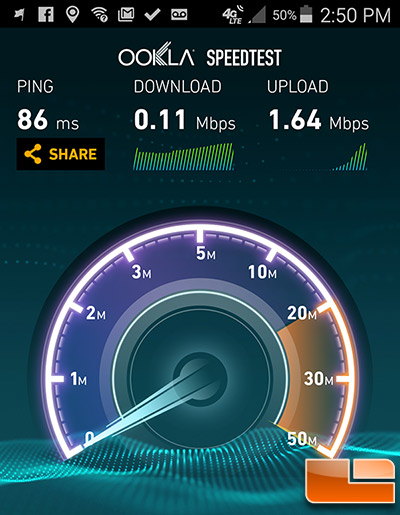 We figured that we would check out our AT&T 4G LTE service on our Samsung Galaxy S5 smartphone while sitting at the game in the 5th inning and found that we had just one bar of service and we were getting 0.11Mbps down and 1.64Mbps up. We later got 3-4 bars of service, but the performance was the same. In hindsight we might not have DAS inside of Busch and should have put our phone in airplane mode and back to the 4G LTE network to get on a different tower. But then again, is that something most people would know to do?
A big thanks to AT&T for the invite to the local event where we were able to meet with our local AT&T representative and to get some time with some pretty nifty devices that we have never played with before! And for those that were wondering the Cardinals ended up beating the Cubs 5-1 and won that particular series. Go Cards!