ATI Radeon HD 4850 Versus NVIDIA GeForce 9800 GTX+
By
Battle For Mainstream Market Share
The battle between ATI and NVIDIA reached a tense moment today when ATI removed the gag order on the ATI Radeon HD 4850 graphics card up by more than a week. NVIDIA was trying to spoil the launch of the ATI Radeon HD 4850 by launching an ultra secret graphics card they have been working on for many months. NVIDIA wasn't quite ready, so the GeForce 9800 GTX+ was rushed to the media this week where we had the card for less than 24 hours before it was offically announced this morning. Why are both companies in such a rush to get the cards to the market and at the same time? The answer is simple, they are priced between $199 and $229! This price point is critical to market share and is the bulk of what is sold to gamers and enthusiasts for the back to school shopping season. These are the sexy cards that offer the best price versus performance and will remain some of the most talked about cards for the rest of 2008.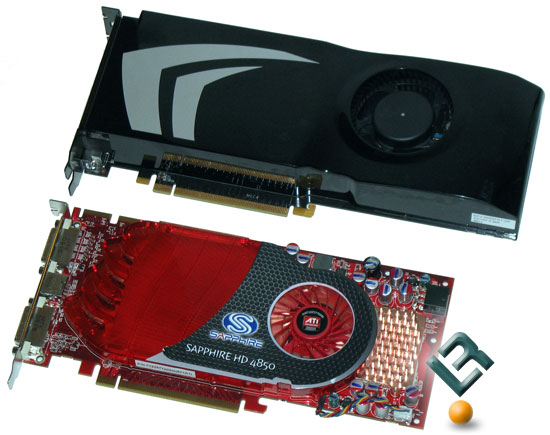 It seems NVIDIA quietly updated the G92 core that is found on many GeForce 8 series GPU's as well as the GeForce 9600 GT, 9800 GTX and the GeForce 9800 GX2. NVIDIA shrunk the die from 65nm to 55nm and increased the frequency of the core and shaders, while reducing the cost and added driver support for PhysX. NVIDIA has in a sense completed the move from Enterprise Computing to Visual Computing and beyond today. NVIDIA GeForce graphics cards can now run CUDA enabled clients like Folding@Home and utilize the AGEIA PhysX SDK, which means by just owning one of the supported NVIDIA graphics cards you can enable game physics without owning a separate physics card or a secondary graphics card. This is more of a revolutionary day than evolutionary if you ask us.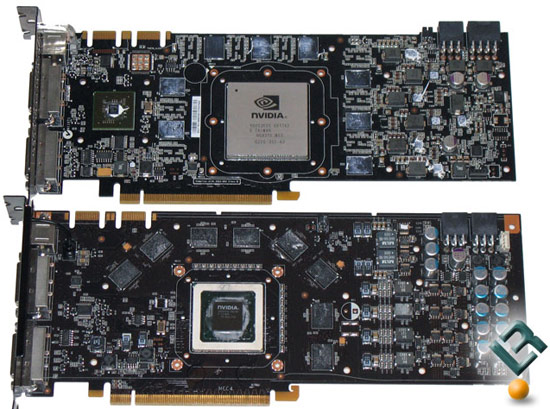 The new just announced NVIDIA GeForce 9800 GTX+ graphics card is from what NVIDIA informed us, nothing more than a die shrink of the G92-based GeForce 9800 GTX graphics card. The original GeForce 9800 GTX had a core frequency of 675MHz and the 128 processors cores (shader clocks) operated at 1688 MHz. Thanks to the new 55nm die NVIDIA was able to run a core clock of 738 MHz and a processor clock of 1836 MHz. The memory remains the same at 1100MHz. This boost of core and shader clocks is enough to make it the fastest GPU in the NVIDIA GeForce 9 family. Pictured above is the flagship GeForce GTX 280 on top and the just announced GeForce 9800 GTX+ on the bottom to get an idea of the layout of each card.