ASUS ZENBOOK UX31E Ultrabook Review
By
ASUS Zenbook – UltraBook
What is an Ultrabook? The term is being heavily promoted right now by Intel and the company has made it the focus of their largest marketing campaign since 2003. We've certainly noticed more TV commercials focused on Ultrabooks, so we felt compelled to get our hands on one of these fancy new gizmos to see what it's all about. These Intel-inspired Ultrabook systems are said to be ushering in a new era of computing and making everything else seem like ancient history, so this aught to be real interesting.

Before we dive into the Ultrabook that we will be reviewing we need to cover what an Ultrabook is. For starters, Intel has trademarked the Ultrabook name, so only certain laptops that meet the Ultrabook criteria can be called that. According to Intel, a laptop has to meet or exceed these five characteristics to be an Ultrabook.
Quick Startup – Going from hibernate to keyboard interaction in 7 seconds or less. Resume from sleep should be even faster than that.
Long Battery Life – The minimum for a single charge of the battery must be at least 5 hours.
Thinness – Ultrabooks need to be less than 21mm (0.82-inch) thick.
Enhanced Security – The laptop firmware must support Intel's Anti-Theft and Identity Protection technology.
Performance – Must be powered by Intel processors.
Basically, The Intel Ultrabooks are Windows powered alternatives to the hot selling Apple MacBook Air! They are thinner, lighter and often faster than ultraportables that many have used in recent years. The thinner designs on Ultrabooks don't look half bad either thanks to use of lightweight materials like aluminum and magnesium alloy for the housing. Inside you'll find powerful 2nd generation 'Sandy Bridge' Intel Core processors and a solid-state drive to give you a laptop that is snappy and responsive.
The downside of Ultrabooks being so thin is that you have to give up a few features that most don't need in 2012 and beyond. For starters the optical drive has been kicked to the curb, so if you want to run a CD, DVD or Blu-Ray you'll need to invest in an external USB drive. Other features missing from most Ultrabooks are the ethernet port and DVI video outputs due to how large those connectors are and a removable battery. Most people are running just Wi-Fi now days, but we still run across a hotel or two that don't have Wi-Fi and that wouldn't be a good thing with an Ultrabook. You can always get adapter cables, but who wants to carry that around as that defeats the purpose of having something so light and portable.
Now that you have know what an Intel Ultrabook is all about, we can go ahead and introduce the Ultrabook that we will be reviewing here today.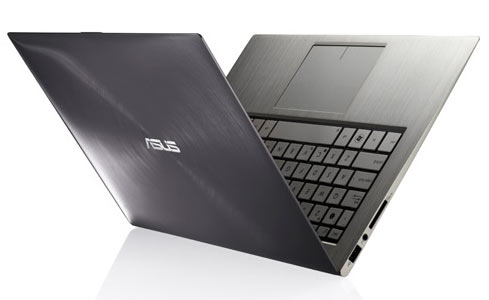 The first Intel Ultrabook that we will be looking at here on the site is the ASUS Zenbook. This Ultrabook is available in two sizes, the ASUS UX21E (11.6″ display with a 1366×768 resolution) and the ASUS UX31E (13.3″ display with a 1600×900 resolution). You then have a few different configurations available within these sized that allow you to fine tune what processor model and how much storage capacity you want. The model that we are going to be reviewing today is the ASUS Zenbook UX31E-DH52 and it features a 13.3-inch display, 1.7GHz Intel Core i5-2557M processor, 4GB of
DDR3 1333 MHz memory (RAM), and a 128GB solid-state drive. This Ultrabook runs $999.99 shipped, which is price competitive with other brands with similar specifications.
Let's take a closer look at this notebook.