ASUS Zenbook UX305FA Laptop Review – Intel Core M Broadwell
By
ASUS Zenbook UX305FA Laptop Review
Looking for a new laptop can be a daunting task as there are so many many different models on the market. If you are looking for something powered by Intel, thin and fast you can almost immediately narrow down your search to an Intel Ultrabook. There are still hundreds of different models and configurations to pick from, but you can usually narrow the search even more by knowing your budget and screen size. The Ultrabook model that we are taking a look at today is the ASUS Zenbook UX305 and it can be purchased for $699.00 shipped. The ASUS Zenbook UX305FA is affordably priced and features a 13.3-inch Full HD IPS display with a matte finish, Intel M 'Broadwell' processor, a Solid-State Drive (SSD), 802.11n WiFi and Windows 8.1.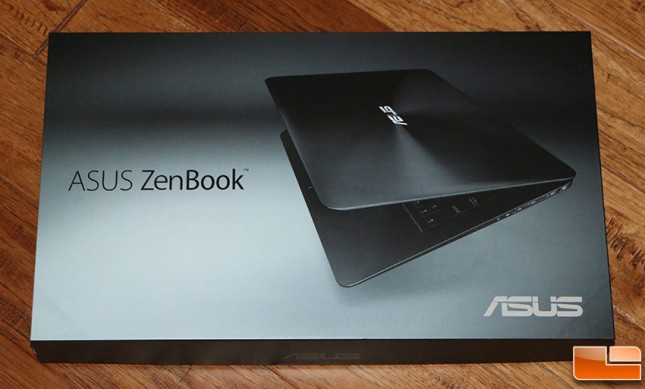 The ASUS ZenBook UX305 that we are going to be taking a closer look at today is the UX305FA-ASM1, which to make things simple is the only model widely available to purchase. The UX305 features an Intel Core M 5Y10 processor, 8 GB of DDR3L memory, a 256GB M.2 SATA III Solid-State Drive and a 1920 x 1080 full HD 1080p display. The Intel Core M 5Y10 processor is a dual-core processor with Intel Hyper-Threading that was built using Intel's 14nm manufacturing process and Broadwell architecture. The 800MHz base clock on this dual-core chip might scare some people away, but this is a very capable 4.5W TDP processor that can boost all the way up to 2GHz when needed. The processor also features Intel HD Graphics 5300 integrated inside that is Intel Quick Sync Video ready and ready to tackle DirectX 11.2 or OpenGL 4.3 tasks.
The only other option you have on the ASUS Zenbook UX305 would be the Crystal White Limited Edition version that has a larger 512GB SSD and a 3200×1800 matte display for $999.00. The kicker is that there were only 200 units produced and it is only available at ASUS' own estore.
The ASUS Zenbook UX305 weighs just 2.7 pounds (1.23 kilos) and is just 12.3mm thick thanks to the aluminum unibody design. One of the reasons this Zenbook is so thin is that it doesn't require the use of a fan for cooling the processor and that helps keeps the design thin and also gives you a noiseless computing experience as there are no moving parts on this laptop that put off noise. ASUS opted to use chromium copper alloy coils (heat-pipes) to keep the UX305 from overheating. The back of the Zenbook UX305 does get fairly warm (around 120F) during heavy use, but it's far being what we would call burning hot.
One of the highlights of this particular device is the 13.3-inch matte anti-glare wide-angle IPS 1080p display that looks amazing with a modest 170-degree viewing angle. When it comes to interfaces you have three USB 3.0 ports (One has USB Charger+ for faster charging of your mobile devices), one micro HDMI, one microphone-in/out combo jack and a SD card reader. The micro HDMI port can be connected to a 4K 30Hz display as the Intel HD 5300 graphics is up to the task of outputting content at Ultra HD resolutions. Along the top edge of the display bezel you'll find a 1.2-megapixel HD camera capable of recording 1080p video at 30 frames per second (FPS). ASUS went with a full keyboard on the UX305 and the keys have a travel depth of 1.5mm. The trackpad isn't centered with the space bar, but it is fairly large (4″ x 3″) and has gesture control. Audio performance is handled by a pair of Bang & Olufsen ICEpower speakers that sound great for the size of this Zenbook.
The 45 Whrs polymer battery offers up to 10 hours of battery life with 2-week long battery standby to ensure all day performance when one is at school, work or traveling. We've used ASUS Zenbooks for years and we noticed that they made some changes with regards to the battery charger that are worth noting on the Zenbook UX305. The wall charger is still the same shape and size, but the wall 'prongs' no longer retract which means they are always out. We also noticed that ASUS went away from the hard plastic 2-piece shell on the connector that plugs into the Zenbook that had an LED light to let you know if it was charging to a more rugged looking molded rubber design. We've had Zenbooks in the past that have slid off a couch and had this connector crack and break, but this design looks to be more forgiving.

ASUS has a great unboxing and overview video of the ASUS Zenbook UX305 that you can also watch to see and hear more about this particular model.
We also opened up Zenbook UX305 to see what all was soldered down and what wasn't. We were happy to see that ASUS was using a normal slots for the M.2 SATA SSD and the 802.11n wireless card, so both can be replaced later if they fail or you need something different. The processor and DDR3L memory are both soldered down and aren't end user replaceable.
Let's take a quick look at the performance on this model!