ASUS Video Card RMA Experience and Turnaround Time in 2017
By
Most review sites don't cover the RMA process, but trying to get a motherboard or video card repaired can be a truly painful experience. We recently had an ASUS ROG STRIX-RX480-8G-GAMING video card fail on us. It didn't blow up in a ball of fire and smoke, but while gaming something would go terribly wrong and the system would restart. The card wasn't a review sample, was never taken apart and believe it or not it actually never saw a day being punished in a cryptocurrency mine being forced to mine Ethereum. Here we had a legit video card that died a natural death!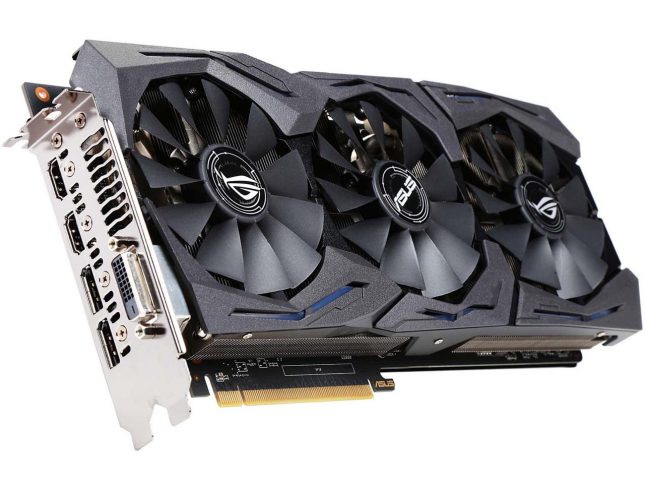 We first reached out to our ASUS North America PR contacts, who pretty much said they couldn't help as there is a shortage of Polaris video cards. We've long heard that the RMA rate on desktop gaming graphics cards is unusually high right now due to the mining boom, but we wanted to get our dead graphics card repaired rather than toss it into the trash. So, we applied for an RMA number from ASUS customer support since the card was under its 36 month (3-year) warranty period. You can follow our RMA journey below!

June 28th, 2017
We filled out RMA Submittal Form with ASUS to let them know we were having issues with our graphics card. After doing this we got an e-mail from ASUS Customer Support Case Number and informed us that we could process with step 2 by contacting an ASUS representative through phone of chat. We contacted ASUS Customer Support via the chat service and repeated the information we gave in the RMA submittal form. The process was simple and during the chat we were told that we needed to send the card in for service. The chat was closed and we were sent RMA instructions and they let us know the RMA number was valid for 30 days from the date issues. The RMA instructions were rather lengthy and do not look like they have been updated in over a decade. To top it off the e-mail is also full of character encoding issues that should be corrected. One section of the e-mail took me for a trip down memory lane as they still have special instructions for ASUS A8N SLI series motherboard owners. That board came out in December 2004 and had a 3-year warranty, so this further backs up our guess that this form hasn't been updated in over 10 years.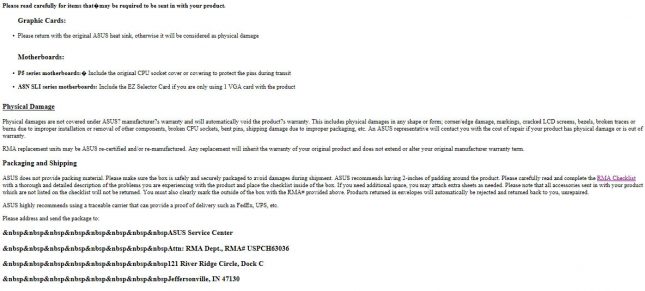 July 24th, 2017
We got busy with things and finally dropped off the card with Fedex Ground. We included the ASUS North America RMA Checklist that must be filled out and signed. We also put the RMA number on the shipping label an on the shipping box with a permanent pen.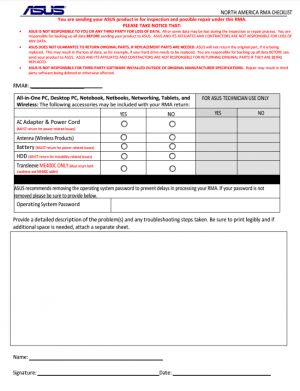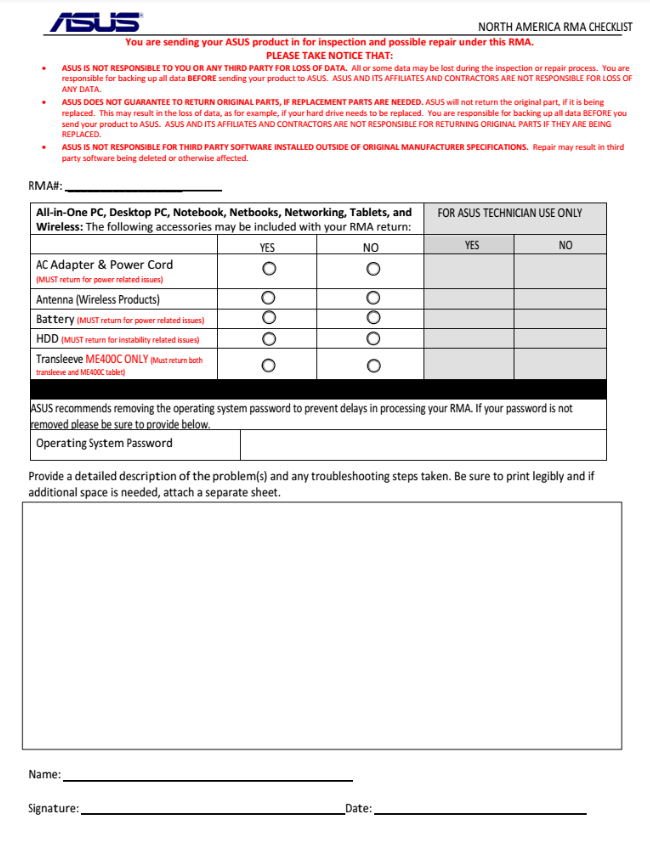 July 26, 2017
Our faulty Radeon RX 480 8GB graphics card was delivered to the ASUS Service Center at 9:20am on July 26th.
August 11th, 2017
It took 17 days to hear anything from ASUS. Then on the afternoon of August 11th, 2017 we got an e-mail from the ASUS support center letting us know that there was a parts shortage issue on the ASUS ROG STRIX-RX480-8G-GAMING. In that e-mail they offered us an ASUS STRIX-GTX1080-A8G-GAMING video card if we would accept the model change. Since this was for a gaming system and not a mining system that seemed more than fair enough. The ASUS GeForce GTX 1080 8GB ROG STRIX graphics card can be found for $569.99 on Amazon right now and our ASUS ROG STRIX-RX480-8G-GAMING cost $259.99 when we got it. We accepted the offer by responding to the e-mail within 2 hours of receiving it on August 11th.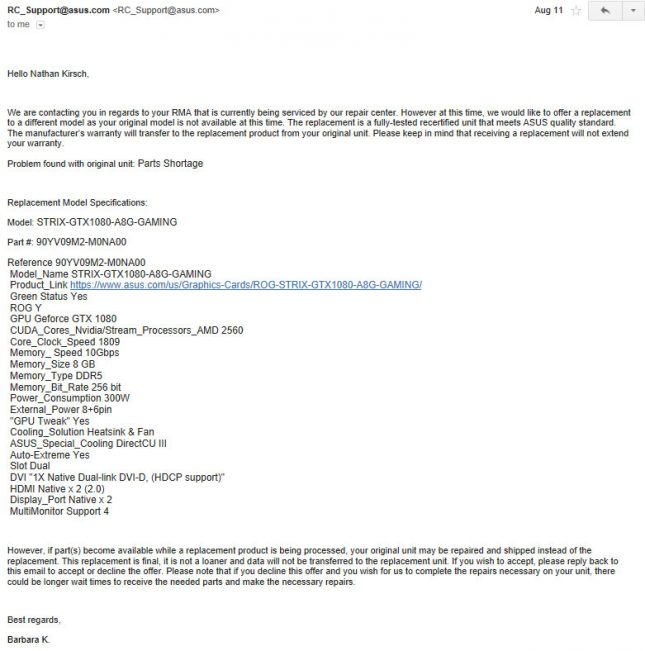 August 14th, 2017
We got an e-mail from ASUS letting us know they got our response and that we accepted the replacement offer. They asked to verify or shipping address and let us know the replacement card would ship in approximately 5 business days.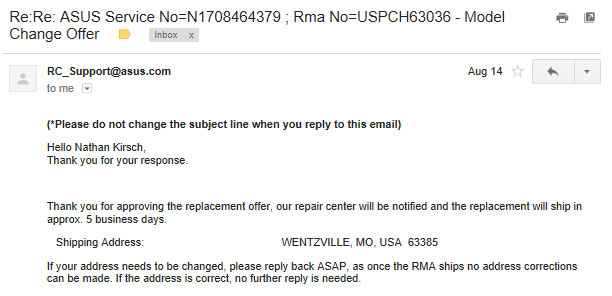 August 22nd, 2017
ASUS completed our RMA and sent us an e-mail that our RMA was scheduled to be shipped that day via FedEx Ground. No tracking number was given in that e-mail, but when we checked our repair status on the ASUS support website it showed a FedEx Ground tracking number. We checked that tracking number and found that the card was actually shipped on 8/17/2017 and was due to be delivered on 8/23/2017. The replacement card was coming from Newark, CA and not the Jefferson, IN address that we sent our faulty card to.

August 23rd, 2017
Our card was delivered by Fedex while we were not home at 10:50am. The replacement card arrived without the retail packaging, but ASUS did include the accessory bundle. The card was tested later that day and found to be in proper working order, so case closed.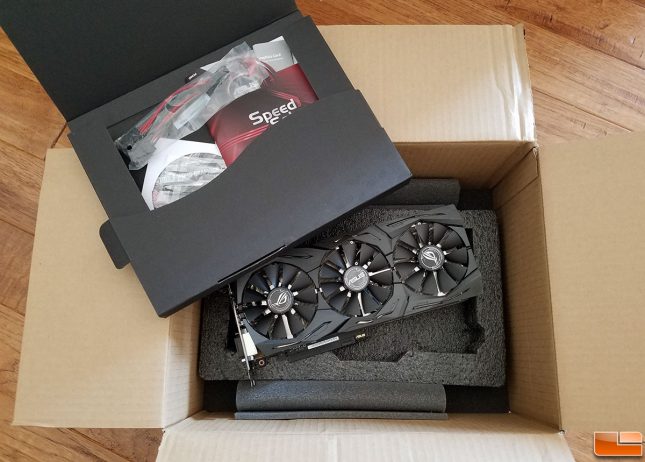 Final Thoughts
Once ASUS received our faulty ROG STRIX-RX480-8G-GAMING graphics card it took them 29 days to get a working card back to us. We were curious about how long it took to get a replacement card. We certainly wouldn't call it quick as your gaming PC could be down for around a month if you don't happen to have a backup card laying around. That said, the RMA process with ASUS went pretty smooth. Our only big gripe was hearing nothing from ASUS once they received our card for over two weeks. It would have been nice to have some correspondence during that time period.

How long an RMA takes is really dependent on the model that you have, so with a shortage of Radeon RX 480/580 video cards right now this RMA turnaround time seems to be okay. If we were to have declined to model change we are unsure how long it would have taken to get the Radeon RX 480 fixed or replaced. The NVIDIA GeForce GTX 1080 8GB is a better gaming graphics card than the AMD Radeon RX 480 8GB, so we were fine with the swap. It should also be noted that the RMA experience is different in every region and this was our experience with ASUS in North America.
If you have an ASUS product that has failed under warranty be sure to fill out an ASUS RMA Submittal Form and contact ASUS Support today!
If you'd like to check out pricing on new ASUS graphics cards you can check them out on Amazon!
ASUS was made aware of this article on August 29th, 2017 due to the legal disclaimer they use with all customer support e-mails. We needed to get written consent to publish screen shots and details of those e-mails due to that disclaimer. The ASUS disclaimer is shown below and we received permission to publish all correspondence on August 30th, 2017.
This email and any attachments to it contain confidential information and are intended solely for the use of the individual to whom it is addressed.If you are not the intended recipient or receive it accidentally, please immediately notify the sender by e-mail and delete the message and any attachments from your computer system, and destroy all hard copies. If any, please be advised that any unauthorized disclosure, copying, distribution or any action taken or omitted in reliance on this, is illegal and prohibited. Furthermore, any views or opinions expressed are solely those of the author and do not represent those of ASUSTeK. Thank you for your cooperation.
An ASUS service manager jumped on a call with us and explained our RMA was longer than normal due to the part shortage of the video card that we were trying to get repaired. ASUS typically aims for a 7-8 day in-house turnaround time (TaT) once a product is received. This was not the case with our product due to the shortage. They also pointed out that they will be making improvements by implementing a new Estimate Close Date (ECD) system to make notifications better and are working to make some updates to the instruction sheet.