ASUS ROG STRIX RTX 2080 Ti OC Edition Review
By
ROG STRIX RTX 2080 Ti OC Edition – The Best ASUS Has For Turing
ASUS currently has three NVIDIA GeForce RTX 2080 Ti graphics card models on the market today. They have the Turbo Edition that has a blower style GPU cooler that boosts up to 1560MHz, a dual-fan OC edition that boosts up to 1650MHz and then you have the flagship ROG STRIX model with three fans that boosts up to 1665 MHz. Today we'll be taking a look at the best that ASUS has to offer, the ROG STRIX RTX 2080 Ti OC Edition that is available for $1249.
The ASUS ROG STRIX RTX 2080 Ti OC is simply a behemoth as it takes up 2.7 slots thanks to a massive GPU cooler that is topped off with three axial-tech cooling fans. When it comes to clock speeds the ROG STRIX RTX 2080 Ti OC Edition comes out of the box running at a 1350 MHz base clock with a boost clock of up to 1650 MHz. If you install the optional ASUS GPU Tweak II software utility you can run the card in OC mode that allows it to boost up to 1665 MHz. This is 120 MHz higher than the base specification for this model and 30 MHz higher than the NVIDIA GeForce RTX 2080 Ti FE. The ASUS design for this model stretches the length out to 12-inches, so it is roughly 1.5-inches longer than 2080 Ti FE. When it comes to memory, this model has 11GB of GDDR6 memory running at 14 Gbps just like the 2080 Ti reference specs and FE models.
ROG STRIX 2080 Ti OC
GeForce RTX 2080 FE
GeForce RTX 2080
Boost Clock
1665 MHz (OC)
1650 MHz (Gaming)
1835 MHz (Silent)
1635 MHz
1545 MHz
Base Clock
1365 MHz (OC)
1350 MHz (Gaming)
1335 MHz (Silent)
1350 MHz
1350MHz
11GB GDDR6
14 Gbps
14 Gbps
14 Gbps
Length
12″
10.5″
10.5″
Price
$1249.99
$1199.99
$1099.99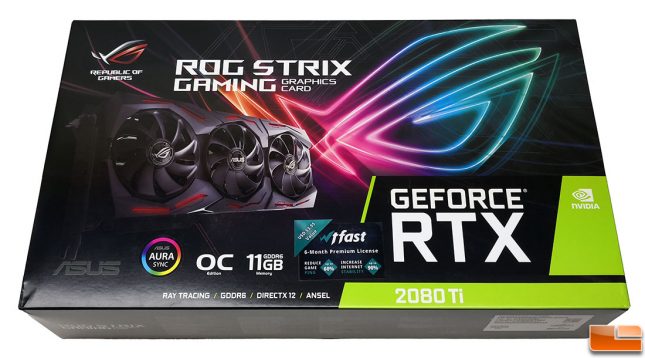 The card that we are reviewing today is the ASUS ROG STRIX GeForce RTX 2080 Ti Overclocked Edition 11GB GDDR6 that is sold under part number ROG-STRIX-RTX2080Ti-O11G-GAMING. This model is backed by a 3-year warranty and is priced at $1249.99 shipped.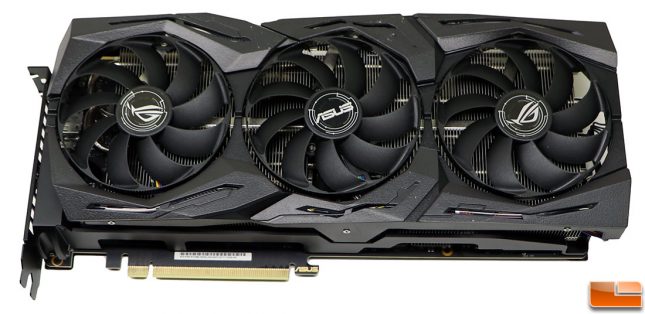 The ASUS GeForce RTX 2080 ROG STRIX Ti OC Edition has an all black finish with bold angles for a modern look.
The ASUS ROG STRIX RTX 2080 Ti OC has RGB lighting around the top and bottom of the fan shroud to help boost the visual appeal for RGB enthusiasts around the world.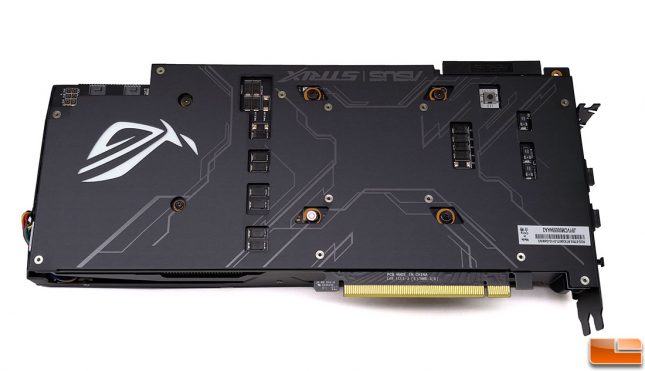 Hate RGB lights? Just below the NVLINK bridge connector there is a large on/off button that controls the RGB lighting! This is great news for those that don't want to install ASUS Aura Sync software to control the lights. This is also a good time to point out that ASUS includes a full coverage backplate on the STRIX RTX 2080 Ti that looks really sharp.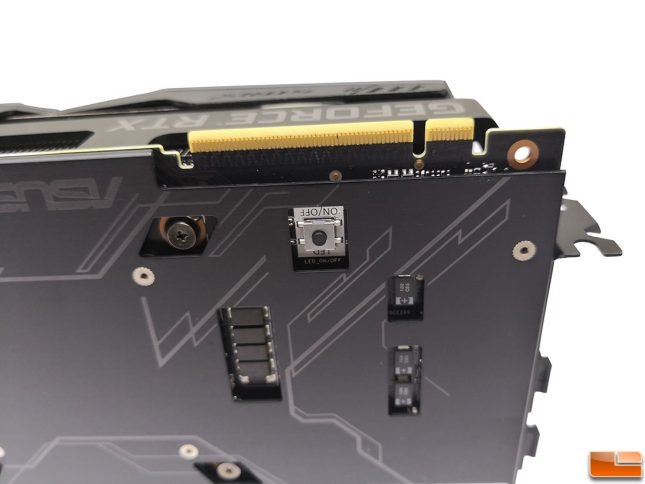 Moving around to the end of the card you'll find two 8-pin power connectors with LED lights to let you know if the power is hooked up correctly. ASUS recommends a 650W power supply for this model. Note that in order to have the best cooling performance, the ASUS STRIX-RTX-2080TI-O11G-GAMING occupies 2.7 slots. Please double check you PC case and motherboard layout to ensure that this 12-inch long card won't be an issue.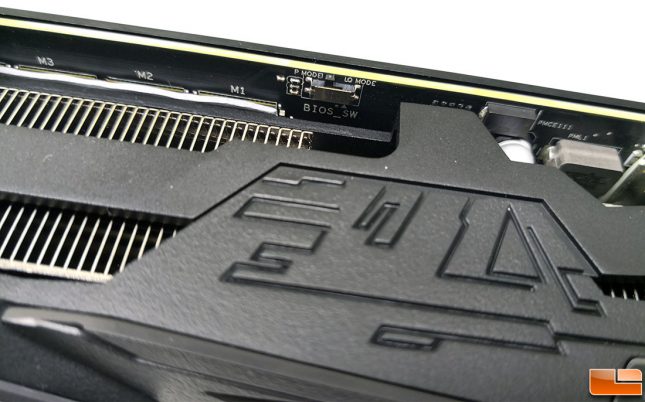 Spinning the card around and looking at the top edge of the PCB, you'll discover a dip switch that controls the cards two vBIOS profiles. The labeling on board is poorly done, but to the left is Performance 'P' Mode and to the right is Quiet 'Q' Mode. Our card shipped in Performance mode and according to ASUS that will give us 40% lower temperatures at the cost of more fan noise. Flipping the switch over to quite mode will give you around 15-25% less noise, but the card will run hotter. We left the board in 'P' Mode for testing, but used GPU Tweak software to run the card in 'OC' Mode and we'll talk about that in a minute. You can switch between two BIOS profiles without any software, but to run the highest factory clock speeds you'll need to use ASUS GPU Tweak II.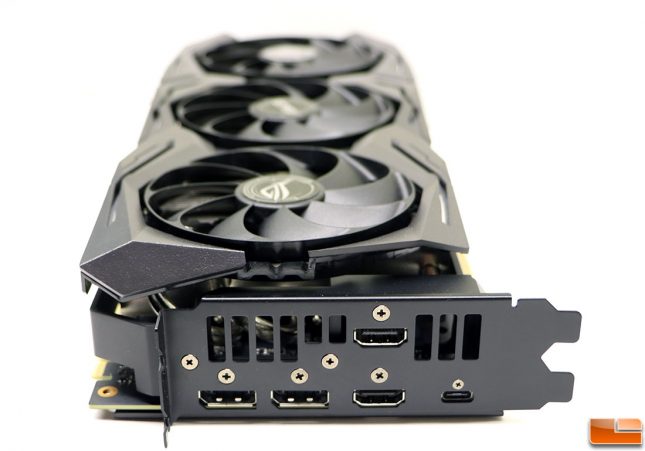 When it comes to display connectors it looks like ASUS deviated from the GeForce RTX 2080 Ti FE card and offers two DisplayPort and HDMI connectors along with the VirtualLink USB-C port. The move away from three DisplayPort connectors might upset some with an NVIDIA Surround monitor setup, but there are others with a dual-monitor setup that would like to have two HDMI ports.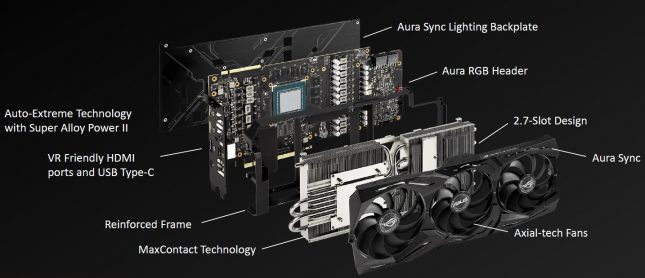 We won't be fully tearing down our review sample since we want to preserve the factory thermal interface material for future testing. So, we'll include some ASUS marketing slides that show you the internal layout. It also shows that ASUS is using their Auto-Extreme production process and uses a metal frame to reinforce the PCB.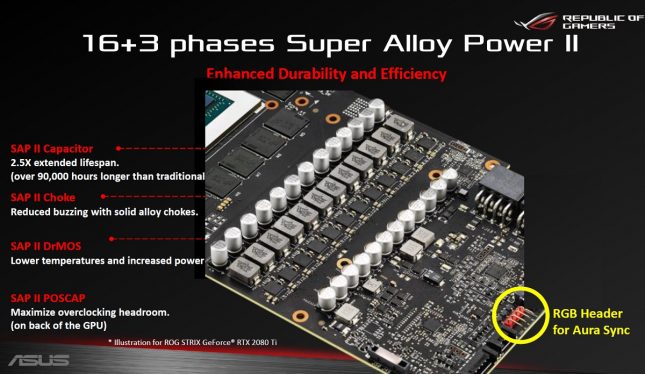 ASUS went with a 16+3 power phase (Super Alloy Power II) design on their STRIX RTX 2080 Ti for enhanced durability and efficiency. This shot also clearly shows the location of the RGB header for those that want to sync the card with ASUS Aura Sync software.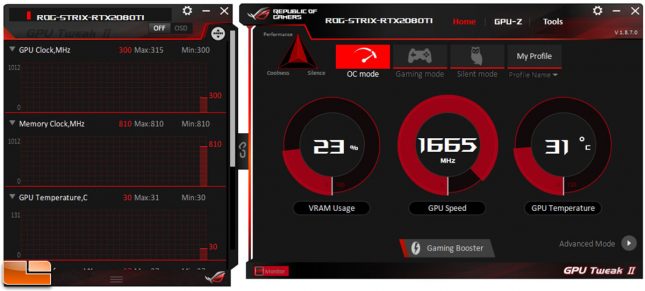 We installed the ASUS GPU Tweak II utility in order to get the most performance we could from the ROG STRIX-RTX2080 Ti graphics card. This means that we used the utility to run set the card to OC Mode to have the highest clock speeds out of the box for benchmarking. You can still manually overclock the card for higher clock speeds and we'll do just that in our overclocking section.
Let's take a quick look at the test system and then we'll look at how the ROG-STRIX-RTX2080Ti performs in some games and applications.