ASUS ROG Rampage IV Black Edition Motherboard Announced at IDF
By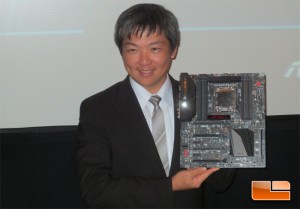 Tonight several companies are sponsoring the OC Main event at IDF, including ASUS, Corsair, and of course Intel. ASUS right now though is getting the spotlight with the newly announced ASUS ROG Rampage IV Black Edition motherboard! According to ASUS the Rampage IV Black Edition is the epitome of the ASUS X79 product stack!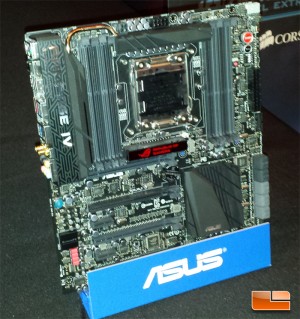 What we know about the Black Edition Republic of Gamers Intel X79 motherboard is a bit limited at this point, ASUS has been a little tight lipped about it to this point. What we do know is that ASUS has combined the best of both worlds from the ROG Formula motherboards and the ROG Extreme motherboards, truly making this the flagship Intel X79 Motherboard!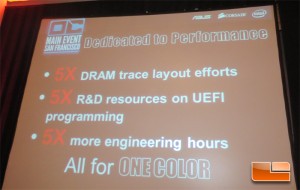 ASUS has been leading the way with their motherboards recently, and this is why. They put a huge emphasis on the design and implementation of their boards. The ASUS ROG Rampage IV Black Edition is no exception! The engineers have spent countless hours perfecting it with five times the effort and resources over the previous motherboards. The have spent that time and money on things like the DRAM trace layouts, UEFI programming and the overall time taken to design it.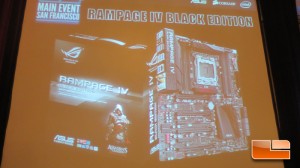 It looks as though ASUS has teamed up with Ubisoft to bundle the Republic of Gamers Rampage IV Black Edition motherboard with the upcoming Assassin's Creed Black Flag which will currently has a release date of October 29, 2013 in the United States. Checking with sources, but that would be pretty epic!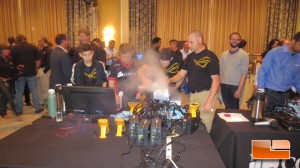 The world class over clockers are already hard at work pushing the limits of the ASUS ROG Rampage IV Extreme Intel X79 motherboard. I don't doubt that we are going to be seeing the current records being broken over the next few days!
ASUS PR Images: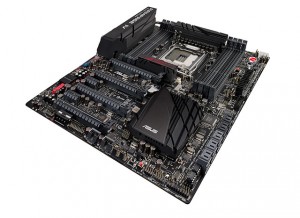 ASUS ROG Rampage IV X79 Black Edition Motherboard Features:
Ivy Bridge-E optimized
SupremeFX Formula
Sonic Radar
Extreme Engine DIGI+ III
802.11ac Wi-Fi
12 SATA [8 SATA III]
8 USB 3.0
USB BIOS Flashback