ASUS ROG Dominus Motherboard Used On Intel 28-Core Demo, But Look At That CPU Cooler!
By
When Intel showed off their upcoming 28-core desktop processor at Computex this morning it appears they did so with the help of ASUS. The motherboard used for the first public demo appears to be the ASUS ROG Dominus. Intel is looking to solidify the corporations High-End DeskTop (HEDT) market share with new processors like the one shown today at Computex as AMD is getting ready to introduce its second-generation Threadripper processor later this year. From what we are hearing this is the first Cascade Lake-X CPU to be shown to the public. Cascade Lake-X is derived from its data center-oriented counterpart, known as Cascade Lake-SP. The current Skylake-X lineup consists of six, eight, 10, 12, 14, 16, and 18 core models, but we know know that Cascade Lake-X will have models going up to 28-cores. Intel Cascade Lake-X chips are able to run at higher clock frequencies and be more power efficient than their Skylake-X counterparts, thanks to design optimizations, as well as manufacturing-technology improvements. Running 28-cores at 5GHz is mighty impressive, but did you notice what Intel is using to keep this early production processor cool? Take a look at the image below.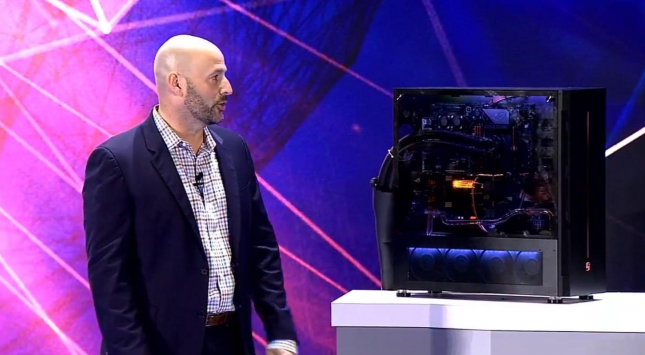 Intel is using something beefy for cooling this 28-core desktop processor as the tubing for the CPU cooler is thick and goes through the back of the case and to something under the demo table. It almost looks like Intel was using cascade cooling! This is something usually used by extreme overclockers as we've never seen anyone use a cascade system for 24/7 cooling. The Intel Xeon Platinum 8180 processor has 28-cores and goes up to 3.8 GHz with a 205W TDP. How much higher is the TDP going to be on this processor with the cores clocked up to 5.0GHz?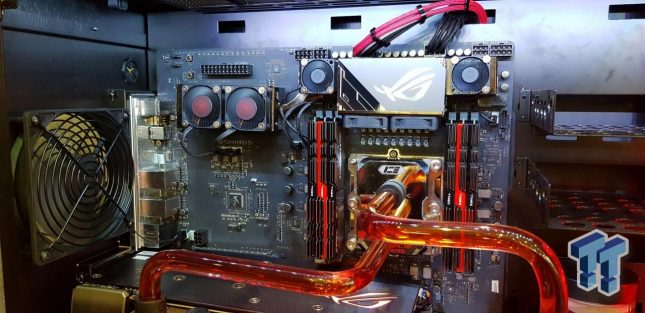 Our friends at TweakTown have a good close up image of the ASUS ROG DOMINUS motherboard from another demo system at Computex. This board measures 14″ x 14″ and features 16-phase Digi+ VRM power design with SIX active cooling fans keeping the power deliver system cool. Clearly the system in the image above doesn't have a processor installed as none of the power headers are connected, but check out all those power connectors. You have the 24-pin ATX power connector and then two 8-pin and two 6-pin power connectors! If you also look closely you see six memory slots, so this could mean that Intel will be introducing hex-channel DDR4 memory to the HEDT market with this platform as well. This server-class hardware was designed by ASUS during a skunkworks program with Intel. It appears to be using socket LGA3647 on this platform and not LGA2066. This might also be why none of the motherboard makers at Computex 2018 are allowed to show the socket itself.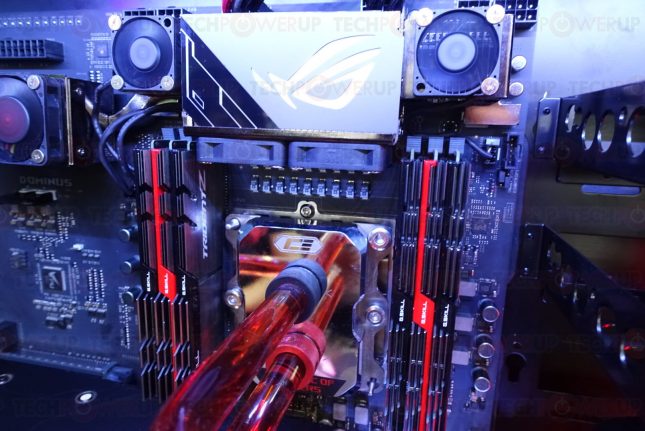 One of the demo systems was using the Lian Li PC-V3000 E-ATX full tower case ($359.99 shipped) can fit this 14″ x 14″ board, so hopefully others can as well. A full-size ATX board is 12″ 9.6″, so not every case is going to be able to fit one of these large boards.
We reached out to Intel for additional details and was told that they were not sharing additional details beyond what was shared on stage and to look for more info by the end of the year. ASUS admits they designed the board in conjunction with Intel, but can't share more information that that right now.
All we know is that the core wars is still happening between Intel and AMD! Intel drew first blood at Computex 2018, but AMD's press briefing is just hours away and many are expecting AMD to announce Threadripper 2 with more cores.