ASUS My Cinema U3100Mini USB 2.0 Digital TV Receiver
By
ASUS Brings Digital HDTV To Laptops
With the laptop market growing daily, the developers at ASUS figured that the time was right to bring a USB 2.0 digital TV receiver to the market. With the ASUS EeePC doing so well it makes sense that ASUS would bring a product like this to market and just by looking at the pearl-white ASUS My Cinema – U3100Mini you can see for certain that the EeePC was a key influence. The ASUS My Cinema – U3100Mini conveniently plugs into any USB slot, does not require any external power adapter and includes support for Microsoft Vista Home Premium, Vista Home Basic, Vista Ultimate, Windows XP, and Linux Debain 4.0 or above operating systems. As you can see, this TV receiver will work with numerous platforms, both desktop and laptop, so don't think this is an ASUS EeePC device only. It seems that watching TV programs on the PC or laptop is going to become a mainstream occurence, which is something that the market has been wanting for some time now.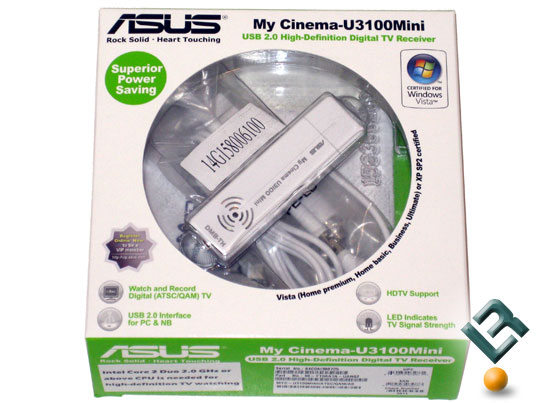 The retail box that the ASUS My Cinema-U3100Mini comes in tells you the main features of the device with the two most significant features being that it has HDTV support and allows you to watch and record digital TV at the same time. Being able to watch and record high-quality digital (DVBT) TV programs at the same time is great as it allows you to skip over the commercials. A feature like this is nice, and why watch live TV when you can sit down 15 minutes after a show starts and you can skip the commercial breaks?! The ASUS My Cinema-U3100Mini also supports receiving and recording of MPEG2 and H.264 TV programs.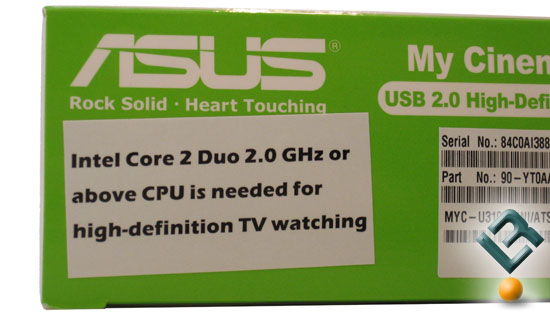 There is one catch, though, about the receiver and that is the fact that an Intel Core 2 Duo 2GHz or faster CPU is needed for high-definition TV Watching. Not too many of the notebooks on the market today have Intel Core 2 Duo processors inside over 2Ghz, so keep this in mind if HDTV is what you are after. If you own an ASUS EeePC then HDTV is out of the question, but you still can watch digital television without any problems.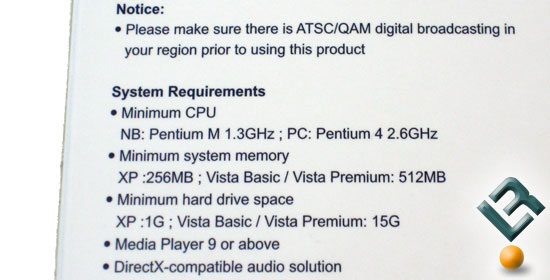 While we are on the subject of specifications, the minimum system requirements are pictured above. The minimum CPU for a notebook is a 1.3GHz Pentium M, which is not that bad. Take note that you are supposed to make sure ATSC/QAM digital broadcasting is in your region prior to purchasing the receiver. On February 17, 2009 analog broadcast television in the United States will be fully transitioned over to an all-digital system and this receiver will still work after that occurs. If you'd like to know more about the DTV Transition please check out their site as we are going to take a closer look at the ASUS My Cinema-U3100Mini.