ASUS Eee PC 1008HA Netbook Pictured
By
ASUS Eee PC 1008HA Sneak Peak
ASUS is showing off a 'future product' called the Eee PC 1008HA over at CeBIT this week and I found it to be interesting. ASUS is not releasing the full specifications of the netbook and is only allowing us to talk about what is shown on the display card.
The ASUS 1008HA has been rumored to be the replacement for the S101, which was released as an Ultra-mobile Internet Device for 'fashion forward individuals' back in October of 2008. The ASUS 1008HA is said to be 1-inch thick and weighs 2.4 pounds (1.1kg), with a curved case that ASUS is calling 'luxe pearlescent' with a captivating sheen. It is clear that the ASUS marketing department has been hard at working thinking up fun and interesting words to use!
The keyboard on the ASUS Eee PC 1008HA is a 92%-scaled down version of a traditional keyboard, so it should feel natural when typing. The 1008HA also includes 802.11b/g/n, Bluetooth, 3.75G and WiMAX wireless connectivity options. The above image also shows of the 1.3 Megapixel camera and multi-touch touchpad.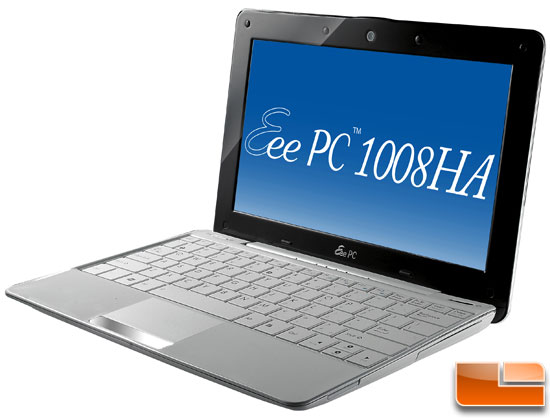 The Eee PC 1008HA includes a desktop application bar called Eee Docking that provides one-click access to a full suite of software including:
Eee Sharing – Makes it easy to synchronize Eee PCs with other computers for file sharing.
Eee Arena – Offers easy access to multimedia applications (music, movies, and more).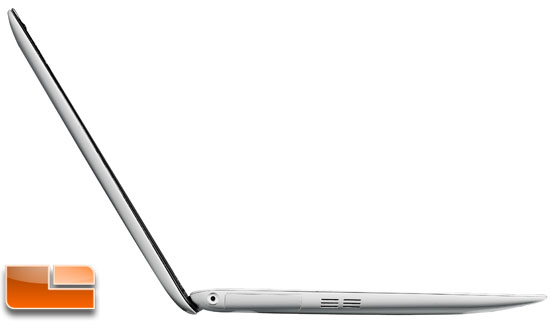 The best picture of the Eee PC 1008HA that has been released thus far has to be the side shot pictured above. With no details on the hardware inside (processor, chipset or graphics) there isn't too much more to say on the ASUS Eee PC 1008HA other than it looks sexy and is coming out soon. Here is a picture of the display card that is being used at CeBIT: