ARM Announces Mali-T760 GPU and Mali-T720 GPU
By
ARM Announces Complete Suite of Graphics Processing Technology
LG Electronics, MediaTek and Rockchip are among the Lead Licensees for Latest ARM Mali Offerings, which Deliver Superior Graphics and GPU Compute Leadership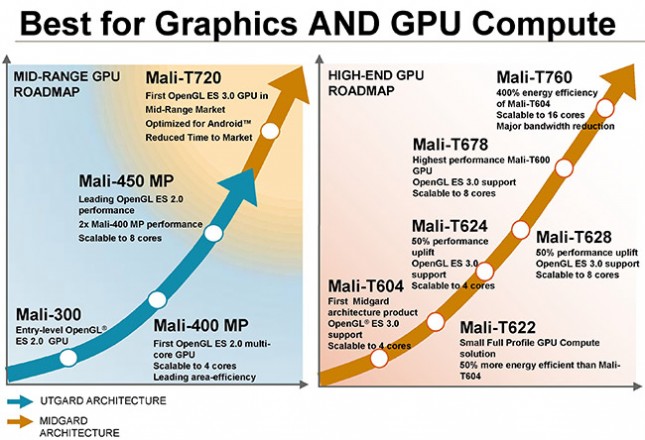 29 October, 2013: CAMBRIDGE, UK ARM today unveiled new additions to its Mali GPU family, the industrys most widely-licensed GPU IP, which scales the entire product stack from premium mobile devices to cost-optimized smartphones. The ARM Mali-T760 GPU delivers unmatched levels of performance within the increasingly constrained thermal envelopes associated with high-end tablets and smartphones. The ARM Mali-T720 GPU is uniquely designed for System on Chip (SoC) providers servicing high-growth markets, the success of which is characterized by reduced time to market and lower manufacturing costs. Lead licensees for the new ARM Mali GPUs include MediaTek, Rockchip and LG Electronics whose lead license was announced May this year.

ARM Mali GPUs unit shipments have increased by more than 10x over the past two years and it is the unquestioned leader in Android devices today, said Pete Hutton, executive vice president and general manager, Media Processing Division, ARM. The Mali-T700 Series family builds on our industry leadership in balancing power, area and functionality while incorporating new energy-saving features at the high-end and matching the time-to-market dynamics of the low-end. This combination gives our SoC partners a competitive edge, without compromising on performance and energy-efficiency.

Stunning Visual Performance-Per-Watt and Industry-Leading GPU Compute

The Mali-T760 GPU extends ARMs high-end graphics and GPU compute roadmap to take premium mobile devices to the next level of user experience. Key benefits and features of the new ARM Mali-T760 GPU include:

An increase in energy efficiency and performance of approximately 400 percent over the ARM Mali-T604 GPU;
Scaling to 16 shader cores, which doubles the previous generation, plus an increase in both performance per shader core and overall performance;
Reduction of internal and SoC bandwidth utilization, significantly reducing energy consumption, enabled by ARM Frame Buffer Compression (AFBC), and Smart Composition, delivering more than 50 percent reduction in total memory bandwidth utilization;
Simplified implementation through reduced wire count and layout congestion for larger core count implementations, accelerating time to market;
Part of a complete system story including ARM Cortex-A processors and system coherency with ARM CoreLink CCI-400 Cache Coherent Interconnect;
ARM POP IP for ARM Mali-T760 GPU will speed development and shorten implementation for market-leading performance implementations initially targeting TSMC 28HPM and TSMC 16FF process technologies.

A more in-depth look at the ARM Mali-T760 GPU can be found here.

Built for Android

Mali GPUs are found in more than 50 percent of Android tablets and more than 20 percent of Android smartphones. The ARM Mali-T720 GPU is specifically tuned for the Android operating system and is derived from the market-leading Mali GPU found in the Samsung Galaxy Note 3. The Mali-T720 GPU is a cost-optimized solution targeted at entry-level Android devices developed to reduce an OEMs manufacturing complexities and time-to-market.

Benefits and features of the new ARM Mali-T720 GPU include:

Greater than 150 percent energy efficiency increase over the ARM Mali-400 GPU;
Faster implementations achieved through high routing density and a simplified design;
Die area reduction by almost 30 percent while increasing graphics performance above 50% over previous cost optimized graphics processors;

Leading-edge APIs OpenGL ES 3.0*, OpenCL and RenderScript APIs delivered to the low-end smartphone market for the first time;

POP IP for ARM Mali-T720 GPU offers area-optimized implementations balancing low power and performance initially targeting TSMC 28HPM process technology.

More details on the ARM Mali-T720 GPU can be found here.

*Product is based on a published Khronos Specification, and is expected to pass the Khronos Conformance Testing Process. Current conformance status can be found at www.khronos.org/conformance

Partner Quotes

MediaTek

MediaTeks partnership with ARM runs deep and to-date we have shipped millions of SoCs with Mali GPUs into hundreds of different mobile devices, said Johan Lodenius, chief marketing officer, MediaTek. We continue to further expand our value proposition to device-makers by offering the latest GPUs from ARM.

Rockchip

Rockchip services mass markets and consumers that demand the latest Android features and highest performance, said Feng Chen, chief marketing officer, Rockchip. The simplicity and feature rich design of the Mali-T760 GPU enables Rockchip to quickly bring new SoCs to market with the latest Android advantages in a wide range of mobile devices.

Samsung

Today, ARM Mali GPUs enable a stunning and aesthetic UI in many of Samsung Exynos Processors, said Taehoon Kim, vice president of System LSI marketing, Samsung Electronics. Mali GPUs continue to enhance the user experience on the mobile environment.

About ARM

ARM designs the technology that is at the heart of advanced digital products, from wireless, networking and consumer entertainment solutions to imaging, automotive, security and storage devices. ARMs comprehensive product offering includes RISC microprocessors, graphics processors, video engines, enabling software, cell libraries, embedded memories, high-speed connectivity products, peripherals and development tools. Combined with comprehensive design services, training, support and maintenance, and the companys broad partner community, they provide a total system solution that offers a fast, reliable path to market for leading electronics companies.