Arctic Cooling Fusion 550RF Power Supply Review
By
The Arctic Cooling Fusion 550RF Power Supply
Today I am going to take a look at a power supply that is one of the first made and designed by Arctic Cooling, the Fusion 550RF. Arctic Cooling has been around since 2001 when it was started in Switzerland. The goal of the company was to provide thermal solutions optimized to reduce noise. If the Arctic Cooling Fusion 550RF performs as well as it looks, I think we will have a winner. Are the looks deceiving? Let's find out.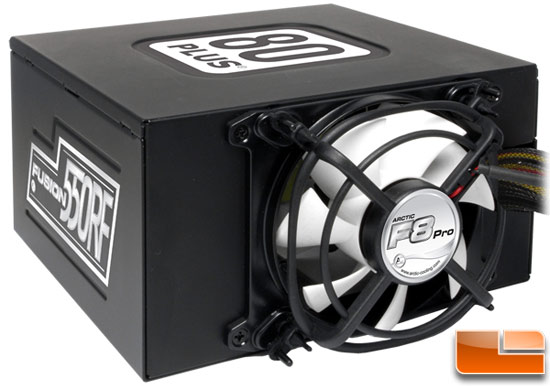 The Fusion 550RF is manufactured by Seasonic for Arctic Cooling and it is internally identical to Corsair VX450W and Antec Earthwatts 500W power supplies. The strange thing about these internally identical power supplies is that the Wattage power ratings are all different. Between the three companies a 100W rating difference is observed, which is pretty crazy no matter where you live or with whom your brand loyalty lies.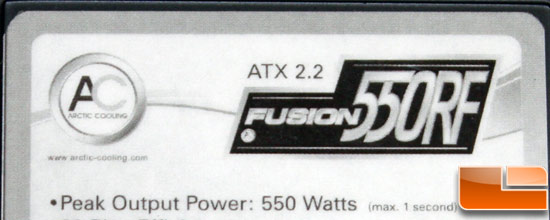 After a little bit of research it appears that Arctic Cooling rated their power supply at 550W due to that being the peak power rating. This is not something we ever like to see as most other name brand companies don't rate their power supplies like this. The power supply label on the Fusion 550RF says that it can handle 550W loads for a maximum of one full second, so when shopping for power supplies this one is more in the range of a competitor's 450W-500W power supply.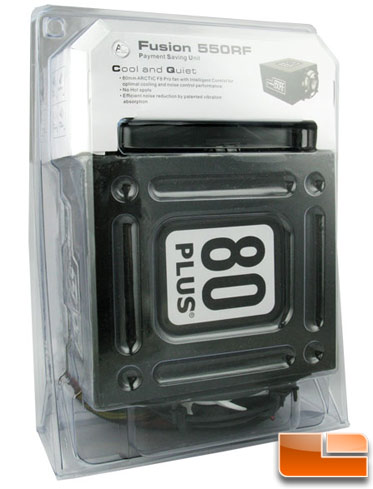 The Outside packaging stands out to me. Instead of another box with a picture on it, you get a nice clear packaging that allows you to see exactly what you are getting. The Arctic Cooling Fusion 550RF follows the default ATX-Form-Factor and thus will fit into every ATX PC-Case. It fulfills the ATX 2.2 specifications and can offer a continuous power of 550 Watts, which is enough for mainstream computers. The power supply also comes with two 6-pin- and 8-pin PCIe connectors for a multi-GPU setup. This means that you will be able to run ATI Crossfire or an NVIDIA SLI setup should the need to expand arises.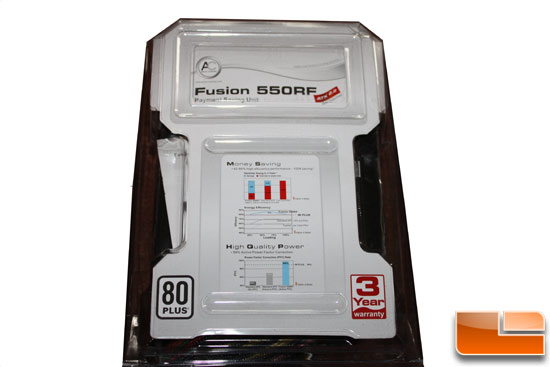 After you pick it up and flip it over you get to take a look at the features it offers you. The Fusion 550 RF comes with a three year warranty as you can see above, which is actually fairly decent when it comes to power supplies. With an efficiency of at least 82 to 86%, the Fusion 550 RF is also 80 PLUS certified! This will save you money in the long run. Based on a 4-year time frame, 4 hours a day of full load usage for 200 days a year can give you a savings of approximately $130.00.
Key Features
Output Power 550 Watt (peak)

500 Watt (continuous)

Dimensions 160L x 150W x 86H mm (including fan) (6.3in x 5.9in x 3.39in)
Efficiency 82 – 86% PFC Active 99%
Fan 80mm ARCTIC F8 Pro
Fan Speed 700 – 2,000 RPM by Intelligent Controller
Noise Level 0.08 – 0.3 sone /10-20 db
Power Good Signal 100 – 500 mS
Hold Up Time >17 mS
MTBF 100,000 hours at 25C ambient temperature
Safety CUL (Level 6) / CE / CB
Protection OVP / OPP / SCP / OCP