Arctic Cooling Freezer 13 Pro CPU Cooler Review
By
Arctic Cooling Freezer 13 Pro CPU Cooler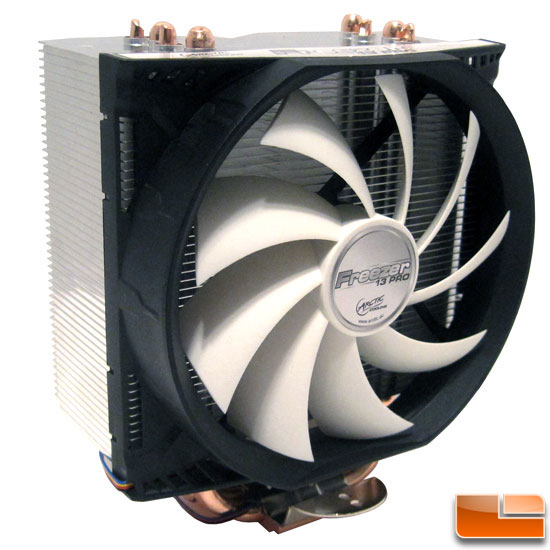 Arctic Cooling, founded in 2001, makes a wide range of products from PC cases to fans and power supplies. To most enthusiasts they are mostly known for their Freezer line of CPU coolers and their MX-2 and MX-4 thermal paste. For the last few years when I would see a post from someone in a forum looking for a budget middle of the road cooler that would do well there would always be more than a couple people offer up the Arctic Cooling Freezer 7 Pro as a solid low-buck option. December of last year Arctic updated the Freezer line with the Freezer 13. Today we are looking at its newest incarnation, the Freezer 13 Pro.
With the Freezer 13 Pro there are a few tweaks to the design over the Freezer 13. First, the Freezer 13 Pro has a 120mm fan rather than a 92mm fan the previous versions had. There is also a secondary 50mm fan on the base of the cooler. This secondary fan is to help generate airflow to cool the components around the CPU socket.
The Freezer 13 Pro also comes with Arctic Coolings MX-4 thermal compound pre-applied to the cooler. It also carries a 6 year warranty. Now let's take a quick look at the features and specifications before we start looking the Freezer 13 Pro over.
Features of the Arctic Cooling Freezer 13 Pro
Superior Cooling Performance: Superior in its meticulously engineered mechanism, the Freezer 13 PRO features an ultra-quiet 120 mm PWM-controlled fan with four U-shaped 8mm copper heatpipes for inaudible and massive heat dissipation. Spinning at a rate from 300-1350 RPM, this mega-sized CPU cooler guarantees 300W of maximum cooling capacity.
Cooling VRs and Northbridge Components: Utilizing the Cross-Blow technology, the Freezer 13 PRO is equipped with an additional 50 mm PWM-controlled fan at the base of the CPU cooler. This feature is to guide the airflow to cool the Northbridge and voltage regulators. This extra downward blowing fan generates airflow to other chipset parts and thus dramatically lowers the temperature of surrounding components near the CPU.
Quick Installation: Featuring unique push pins mounting system, it offers excellent stability and is applicable within seconds. Its fiber reinforced retention module is strong enough to take on the heavy weight of the CPU cooler during installation. The pre-applied ARCTIC MX-4 thermal compound facilitates the entire installation process as well.
Specifications for the Arctic Cooling Freezer 13 Pro
Limited Warranty: 6 years
Dimensions (LxWxH): 134 x 96 x 159mm
Heatsink Material: Aluminum Fins x 47, thickness 0.5mm
Heatpipe: U-Shaped 8mm x 4
Fan:
120mm: 200-1350 RPM
50mm: 700-2700 RPM
Air Flow: 49.7 CF
Noise: 0.4 Sone
Max Cooling Capacity: 300 Watts
Bearing: Fluid Dynamic Bearing
Weight: 902g
Compatibility:
Intel: 775/1156/1366
AMD: AM3/AM2+/AM2/939/754