Arctic Breeze USB Fan Review
By
Have Yourself An Arctic Breeze
Arctic is a well established company, specializing in PC cooling products. However, we have seen Arctic branch out into many different areas, such as mice, keyboards, headphones and even RC cars. Earlier this year, Arctic released their Breeze fan lineup. This series has three different fans; Breeze, Breeze Pro, and the Breeze Mobile.
The Breeze is a simple desktop fan, with a knob for speed. The Breeze Pro features four USB 2.0 ports on its base, as well as an illuminated speed knob. And the Breeze Mobile, which is simply a bendable stem with a fan on one end and a USB port on the other. Today we're going to take a look at the Arctic Breeze.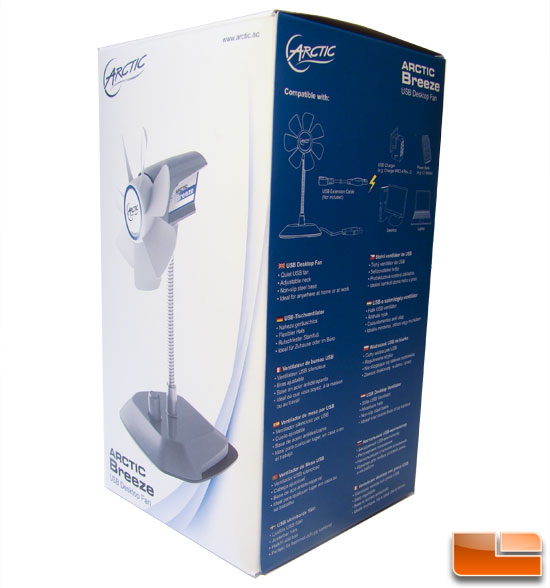 Arctic Breeze Specifications:
Fan Speed: 800 to 1,800 RPM
USB Connector: USB 2.0
Power: 5V, 0.2A
Cable Length: 1.8 m
Product Net Weight: 265 g
Model Number: ABACO-BZP0301-BL
UPC: 0872767005754
Gross Weight: 0.45 kg
The Breeze features a white 92mm fan with a bendable neck. This fan is capable of 800-1800 RPM, which is really fast considering there isn't a grille to protect the fan. The cable is 1.8m (5.9ft) long, which is awesome if you don't want the fan right next to your USB port. This fan is compatible with just about any USB powering device, such as USB wall chargers, laptops, desktops, and power banks. This lets you use this fan just about anywhere. The Breeze is covered by a two year limited warranty.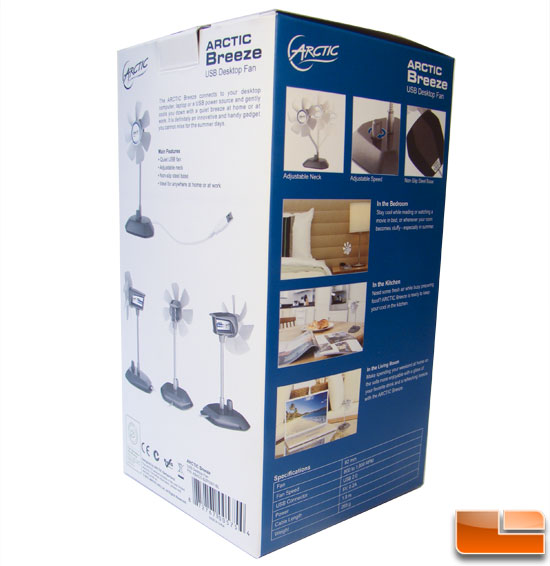 The front of the box shows an image of the Breeze, while the side lists features and compatibility. The back of the box shows images, features and a description. The last side shows the expected areas where this fan will be used.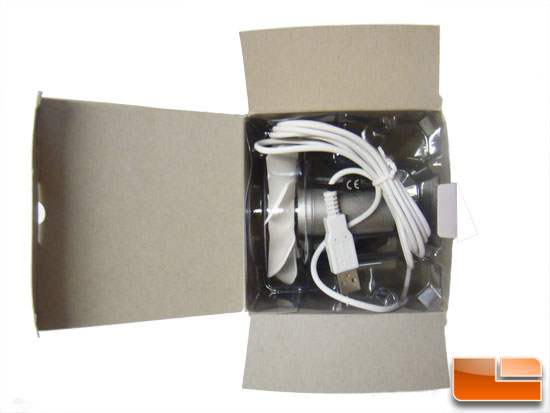 The breeze is held in place by one plastic piece that fits over top of the fan blades. This secures the fan during travel.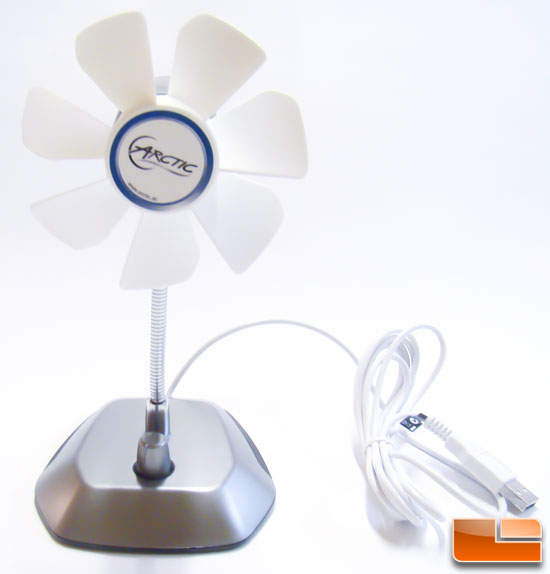 Here we can see the Arctic Breeze USB cooling fan in its entirety. The Breeze has a white 92mm diameter fan and white cord that is 1.8m in length. The design is simple, with some small features that pop.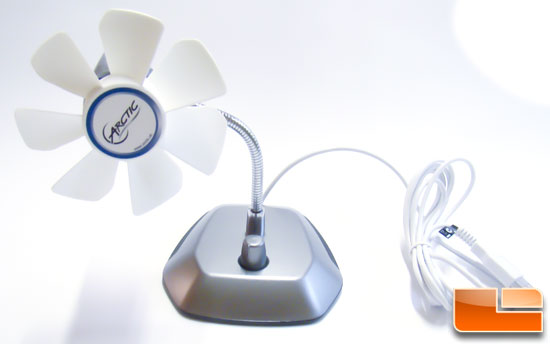 The bendable neck will tilt to just about any angle, and stay there too. This will help for on the spot cooling, so you can get air where you need it.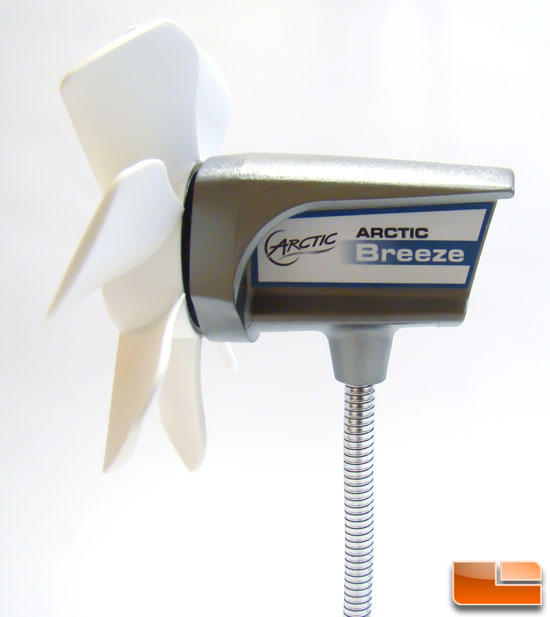 The top has almost an airplane-like styling that really adds to the look of the fan.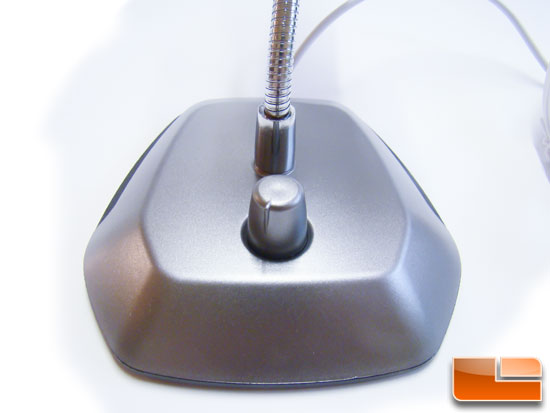 The base is simple, with just a speed knob. This knob allows a range of speed between 800 and 1800 RPM, with a click when you turn it to the off position. The bottom of the base has two non-slip rubber pads, to reduce vibration and movement.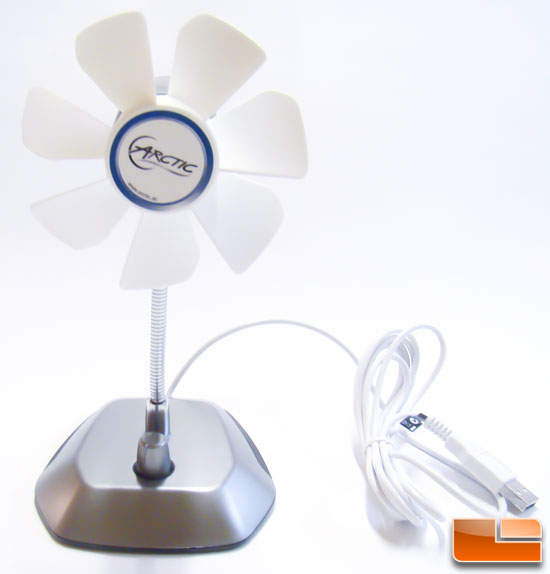 After using the Breeze for about a week at my desk I can definitely say that this has kept me much cooler, and hardly produced any noise on high speed. At high speed the fan was barely audible. Sitting about two feet from me I can still feel a nice breeze, but I can't hear it at all. My first thought when I took this fan out of the packaging was, how is this going to work out with the fan blades uncovered? On my desk, I have to reason to reach near it, so my hands aren't near it.
The Arctic Breeze is priced at $14.90 plus shipping at Arctic's website. Compared to the Thermaltake Mobile Fan 12 ($24.99), another USB fan, this price is more than reasonable. We contacted Arctic asked asked why we couldn't find this fan in North America and this is what they had to say:
"Currently only Breeze Mobile and Breezer PRO are available through leading on-line retailers (e.g. Amazon) in the US. These two products have received very high remarks and comments from user feedback for their quality and value for the price. This Breeze is the 3rd member of the family and since its so new, it is not available in all markets. We may introduce the Breeze in the United States later on, but not at the current moment." – Arctic PR
This means you can't buy this cooler in North America, but you can get the Arctic Breeze Pro for $18.93 shipped. That model has an LED-Illuminated fan speed knob and a 4-port USB 2.0 hub, so you get more features for just a few extra bucks!
Legit Bottom Line: The Arctic Breeze provides a USB cooling solution with great build quality and quiet airflow for a reasonable price.