Aorus K9 Optical Mechanical Keyboard Review
By
Aorus K9 Optical Mechanical Keyboard
Have you ever ruined a nice keyboard thanks to some nearby beer, soda or water facing an unfortunate battle with gravity? While many computer users are resolved to keeping drinks and food away from their PC, many gamers and enthusiasts are at their desks too often to consider this an option. For gamers who want to quench their thirst and come in first, Aorus has released the Aorus K9 Optical mechanical keyboard that will live through a drenching from a beer, energy drink or Faygo Moon Mist. Featuring Flaretech Optical mechanical switches that utilize optical technology for actuation instead of traditional metal contact points, the Aorus K9 Optical isn't just water resistant, Aorus claims that you can wash the keyboard under a sink and use it at the same time.

With prototypes first demonstrated at Computex 2015, Flaretech Optical switches from Adomax are available in two varieties, Red and Blue. The Flaretech Optical switches are different from traditional mechanical switches in that instead of relying on metal contact points and conductivity for actuation, the switch actuates by reading the amount of light let thru during actuation with a sensor. The Red and Blue Flaretech switch branding corresponds with Cherry MX Red and MX Blue switches in that the Flaretech Red is linear, with no audible click or tactile bump, while the Flaretech Blue has a tactile bump and audible click at 1.8mm. The Flaretech Optical switches use an MX-compatible stem, so any Cherry MX-compatible key caps can be used. The Flaretech Optical switches don't need to be soldered to a PCB for operation, so users can swap switches that develop physical issues, like a broken stem, or swap their whole keyboard out to a different type of Flaretech Optical switch. While they haven't been around long enough for me to do an extended assessment of their longevity, Flaretech specifies their switches for 100 Million key strokes and Gigabyte warrants the Aorus K9 for two years, so there seems to be confidence behind the Flaretech switches.
In terms of performance, the Flaretech Optical switch is close in specifications to the Cherry MX Blue switch in terms of actuation distance (2MM) and travel distance (4MM), with a similar rating for actuation force at 55G +/- 10G. One of the major difference in performance specifications between the Flaretech Optical and Cherry MX switches is the bounce time. A typical Cherry MX has a 5MS bounce time, while the Flaretech Optical switches are specified at .03ms bounce. Basically, if you need fast, rapid actuation, the Flaretech Optical switches are promising that your key will be back and ready to press a lot faster than it will be if you're using a Cherry MX switch.
Right now, there are only three keyboards that I know of that feature Flaretech Optical switches, the Aorus K9 Optical being one of them. The Wooting One, also featuring Flaretech Optical switches, is an analog keyboard in tenkeyless format that had had a very successful Kickstarter campaign. The Zowie Celeritas II also features Flaretech Optical switches and is the most basic keyboard of the bunch. As it stands, the Aorus K9 Optical is the only waterproof keyboard featuring the Flaretech Optical switch, which is an excellent use of the capabilities of the switch. Despite their color-based names, as you can see in the picture above, the Flaretech Optical switches actually have clear stems.
AORUS K9 Optical Features
0.03ms Debounce Time When Speed Matters
Ultra Durable 100 Million Keystrokes
Splash proof
Swappable Switches Custom Gaming Experience
Chatterproof
Exclusive Top-quality Steel Springs
Full RGB Backlighting
AORUS Engine Youre In Control
N-Key Rollover
Floating Key Design
Braided Cable
Cable Management
AORUS K9 Optical Specifications
Interface: USB 2.0

Activation: Flaretech Optical-Mechanical

Switch Type: Red/Blue

Switch life: 100 Million Strokes

Key Profile: Standard

Travel distance: 4mm

Activation Distance: 2mm

Peak force: Red : 55g +/- 10g, Blue: 55g +/- 10g

Dimension: 439(L) x 140(W) x 37(H) mm/17.3(L) x 5.5(W) x 1.5(H) inch

Weight: 1180g (2.6lb)

Cable length: 2m

Software: AORUS Engine

OS Support: Windows 7/8/10

Simultaneous Key input: N-Key Rollover

Report Rate: 1000Hz Maximum

Backlighting: 16.7M Color Per-Key

Part Number Reviewed: GK-AORUS K9 BLUE
The $139.99 Aorus K9 Optical mechanical gaming keyboard is packaged into a sleeved black box with high resolution graphics and text nicely laid out on the sleeve. The Aorus K9 Optical is available with either Blue or Red Flaretech switches and I received the Flaretech Blue switches on my sample, as noted by the sticker on the box. Aorus places a sticker that lets users know the K9 Optical is "Splash Proof," but I would have a bunch of water flowing onto the Aorus K9 Optical on the packaging for dramatic effect and to draw interest, but that's probably why I haven't worked in marketing for several years.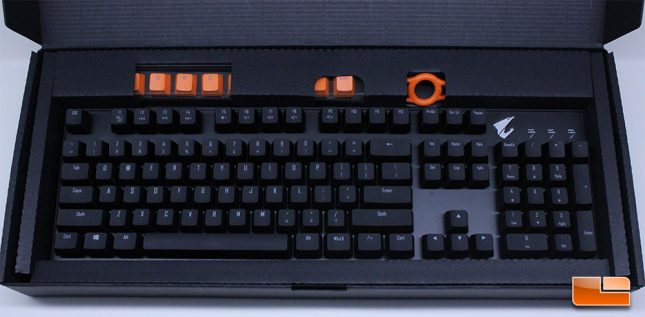 The first impression you get when opening the keyboard and unpacking it is a good one, though I would like to see Aorus put some type of film around the keyboard to protect it from potential scratches during shipment. Everything arrived unscatched and the accessories were firmly in place, with the keyboard surrounded by adequate filler material.
The Aorus K9 Optical comes with nine extra Flaretech Optical switches that are the opposite of what came on the board, so I got nine Flaretech Red switches. The nine extra switches that come with the Aorus K9 Optical also come with custom Polybutylene terephthalate (PBT) key caps already mounted on them. An orange plastic cap and switch puller is included with the Aorus K9 Optical. This puller has two different ends on it, with one end designed for cap removal and the other end designed for switch removal. Aorus put a graphic on each side so that users would know which to use for cap and switch removal, a very nice touch to aid novice users. I like to use metal clip key cap removers because they let you avoid scratching key caps, but the puller included with the Aorus K9 Optical is decent enough and was designed specifically for the Flaretech switches.
PBT is an excellent material choice for key caps, as it isn't prone to the staining and wear out that ABS key caps are, though some users aren't a fan of the slightly more gritty texture that is native to PBT key caps. I wish that Aorus would have just shipped the Aorus K9 Optical with a full load out of black PBT key caps, as these orange ones, while high quality, stick out like a sore thumb and also highlight the average quality of the stock key caps.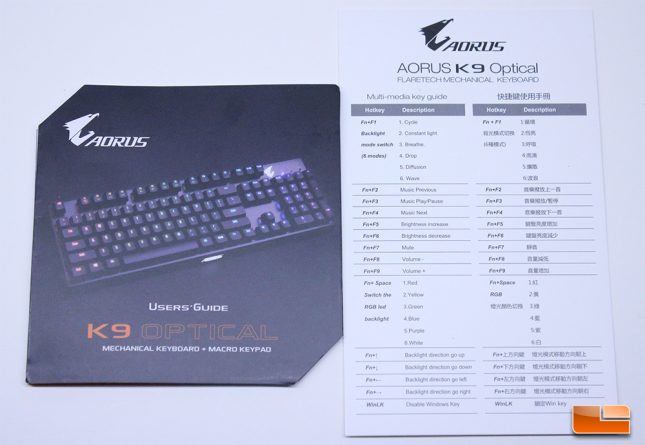 A printed user guide and manual are included with the Aorus K9 Optical. The single page guide has a combination of various FN+ key codes that control lighting modes and multimedia controls.
Overall, Aorus has done a solid job of packaging and presenting the Aorus K9 Optical and the accessories included like the keycap puller, extra switches and key caps are certainly welcome. Let's take a closer look at the Aorus K9 Optical keyboard on the next page.