AOpen AX4SG Max I865G Motherboard
By
Introduction: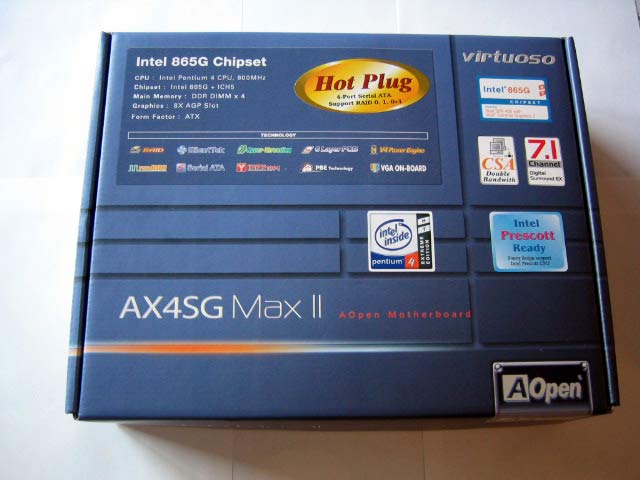 Introduction:

With
the initial excitement of the Canterwood beginning to come to an end in
the computer enthusiast market, companies are now releasing their secret
weapon: the Intel 865 "Springdale." If you notice this chipset
number, 865, and know that the "Canterwood" is the 875, you
will realize that the "Canterwood" is engineered to be a superior
chipset to the "Springdale". And like the 875 and 845, the 865
utilizes the new HyperThread processors from Intel. The question is how
closely related are the "Springdale" and the "Canterwood?"
Well, the answer is VERY! The "Springdale" chipsets were manufactured
at the same time as the "Canterwood" chipsets. The difference
is that the "Canterwood" chipsets were handpicked from that
bunch of chipsets and a few more new technologies, such as PAT, were integrated
into them. So by trying to explain all of this, my point is that the "Springdale"
chipsets were engineered to be the same quality as the "Canterwood."
Theoretically, the performance should not be much lower than the "Canterwood".
You will be able to decide this for yourself once you visit our Performance
pages in this review!
Today
we will be taking a close look at AOpen's I865G "Springdale"
motherboard that was just released to the public today: the AX4SG Max!
The "G" in the I865G chipset stands for integrated Graphics.
So this motherboard will have onboard video which we will mention again
on our features page. Shown below is a chart of AOpen's 5 Intel 865 "Springdale"
Chipset motherboards that have been released in North America. Two of
the boards use the I865PE chipset, and the other three use the I865G chipset
(one of which is a Micro-ATX motherboard). All of these motherboards come
with AOpen's 3-year warranty.
AOpen
is a company that we have been dealing with for a while now and have developed
a very strong relationship with. AOpen is a very reliable company that
you will not go wrong with. They only manufacture quality products that
their customers will be happy with. You can learn more about AOpen by
visiting their website.
Now we
will start our tour of AOpen's AX4SG Max motherboard! We will begin with
a close look at the package and features this board contains.
Package & Features:

AOpen's
Package:
AX4SG
Max User's Guide
AX4SG
Easy Installation Guide
AOpen
Bonus Pack CD
Online Manual
Motherboard Drivers
Hardware Monitor Utility
Adobe Acrobat Reader
ProMagic 6.0
Norton
AntiVirus 2003
EzRestore
using ProMagic Easy Installation Guide
Product
Registration Card
S/PDIF
IN-OUT PCI plate
Game
Port and USB PCI plate
Firewire
PCI plate
COM
Port PCI plate
Two
SATA HDD cables
One
4pin-to-SATA HDD Power connector
I/O
Interface Case Backplate
One
80-wire IDE cable
One
40-wire IDE cable
One
Floppy Disk Drive cable
Intel
Application Accelerator Driver Diskette
Silicon
Image Serial ATA Driver Diskette
As you
can see by AOpen's Motherboard package, they give you everything you need
to fully use this motherboard as soon as you receive it!
AX4SG
Max Motherboard Features:
SilentTek
Noise Reduction Technology
EzRestore/ProMagic
HDD Crash Protection
Dr.
Voice II
DieHard
BIOS
EzWinFlash
BIOS
WinBIOS
Technology
1MHz
Stepping CPU Overclocking
Vivid
BIOS Technology
Ezclock
FSB800
Dual-Channel
Memory
DDR400
Memory Support
VGA
On-Board
Serial
ATA
RAID
Support
USB2.0
AGP8x
IEEE
1394 (Firewire)
Gigabit
LAN
WinDMI
WatchDog
ABS
Hyper-Threading
Technology
AOpen
has put everything possible on this motherboard! They have integrated
all of the latest technologies like Gigabit LAN, Firewire, USB2.0, Hyper-threading…
the list is above, I don't need to re-state it all. All I need to say
is that it is a rather impressive list.
The one
technology that I will touch on is the VGA On-Board. With the I865G chipset,
you get onboard graphics. The onboard graphics you get is nothing special.
Through the BIOS, you can choose how much memory will be used to support
the onboard VGA graphics. The Max is 32MB and the Min is 4MB. As you can
see, the onboard graphics you get is not at a performance level at all;
the 8x AGP slot is there for that. The purpose for having onboard VGA
for this board is if you were using it as a server or such where you had
multiple servers connected to a single monitor. The onboard VGA would
become very handy in that case.
Now that
you know what this board has to offer, I will show you the layout of the
AX4SG Max Motherboard.