Antec Soundscience Rockus 3D 2.1 Speaker Kit Review
By
Antec Soundscience Rockus 2.1 Speakers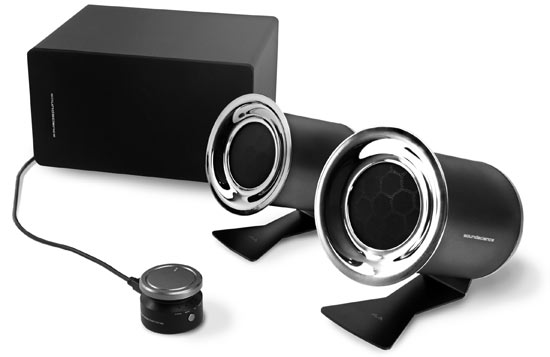 I have been lucky enough to have the chance to check out a new, unexpected product from a company that we have trusted for years to make our PC's
look and run cool with their cases, power supplies and fans. That company is Antec, and the product is the Antec Soundscience Rockus 3D 2.1 Speaker
System. At one time or another I think all of us have had a case or a power supply made by Antec. Antec has been around since 1986 and is headquartered in
Fremont California. Antec is known to make some of the finest computer cases on the market today whether it be the P-180, the Nine Hundred Two or the
Skeleton, you can always count on Antec to be creative and innovative.

I was really surprised when I heard that I was going to be meeting with Antec to discuss their new speakers. Yes, you heard me right… speakers. The
Soundscience Rockus Speakers have been built from the ground up to be a quality sound system that can be used for gaming, movies and music. From
the looks of them there was no expense spared when manufacturing the Soundscience Rockus Speakers; from the anodized aluminum satellites to the passive
radiator sub-woofer, quality sound is the end goal for the Soundscience Rockus Speakers. With three distinct modes of operation, one of them being
Antec's proprietary 3Dsst technology, no matter what you want to use the speakers for they can be tuned to sound "Just Right". 3Dsst gives you the big
booming theatrical sounds for gaming and movies. The music mode gives you that rich immersive sound you want to listen to all of your favorite music,
and the digital mode is for the optical output that is available on the Soundscience Rockus Spears.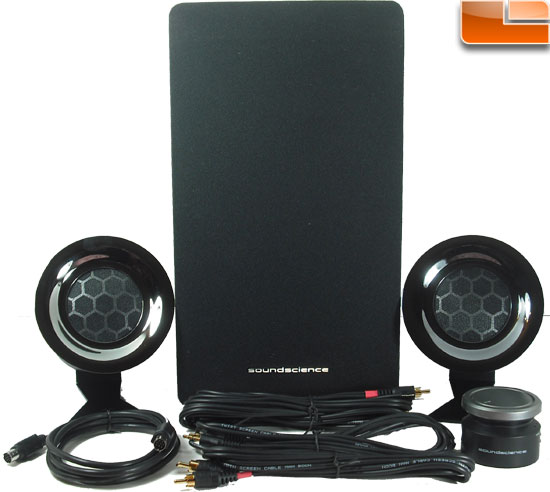 As is always the case, quality speakers come at a quality price and Antec has set the price point on the Soundscience Rockus Speakers at $249.99.
This price also includes a two year limited warranty on parts and labor. If you think the price is a bit steep, read on to see if the Soundscience
Rockus Speakers can live up to their price tag.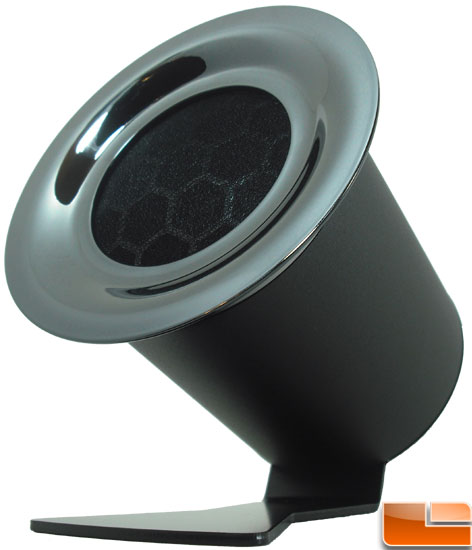 Antec Soundscience Rockus 3D 2.1 Speakers Features:

Anodized aluminum satellites to reduce vibration, minimizing distortion for the clearest mids and highs
Passive radiator technology delivers an expansive range of bass comparable to larger footprint subwoofers
3D-tuned drivers deliver audio optimized for soundsciences 3Dsst technology
Dual-mode operation: 3D mode for enveloping games and movies, music mode for faithful stereo music playback
Optical input for playback of digital audio from game consoles (xbox360, PS3), and other similarly equipped devices
User-friendly remote control pod for volume adjustment, 3D/music mode selection, muting and digital/analog input selection
Antec Soundscience Rockus 3D 2.1 Speakers Specifications:

Configuration: 2.1
Weight: 8.5 kg / 18.7lbs
Dimensions
Satellite Speakers:
5.7 (H) x 4.7 (W) x 6.3 (D)
144.8 mm (H) x 119.4 mm (W) x 160 mm (D)
Subwoofer:
13.8 (H) x 7.7 (W) x 10.6 (D)
350.5 mm (H) x 195.6 mm (W) x 269.2 mm (D)
Output: Total 150 Watts
Satellite Speakers: 25 Watts/each
Subwoofer: 100 Watts
Maximum Output S.P.L: 95dB
Frequency Response: 10 Hz – 20 kHz
Inputs:
Analog 3.5mm, RCA
Digital Optical (TOSLINK)