Antec Overture
By
Introduction

We have the opportunity today to look at a wonderful little case from Antec. Antec is not new to Legit Reviews, but if you need more info on them, you can visit their site at www.antec.com . You will find that they have a great variety of high quality products available for the everyday pc user to business oriented solutions.
| | |
| --- | --- |
| Packed for safety! | What a beauty! |
I would have to say right off the bat that this is one of the nicest looking cases I have seen! The case has a high gloss black finish on the top and sides. The front is plastic and as you can see is a silver color. This thing is heavy-duty as well. It is made out of steel and has the weight to prove it! Fortunately, the weight of this case likely will not really matter because most will use this case for an HTPC (Home Theatre PC). Let's look at the features of this case.
Features:
TruePower 380Watt ATX12V power supply features a single-fan design for ultra-quiet operation.
Front mounted USB & IEEE 1394 (FireWire) ports
Front Audio ports
7 Drive Bays:
2 x 5.25″ external drive bays
2 x 3.5″ external drive bays
3 x 3.5″ internal drive bays with rubber grommets to absorb hard drive vibrations
Cooling:
1 rear 92mm fan, installed
1 side 80mm fan, installed
2 vented PCI slot covers to give VGA cards fresh cool air
vented top cover
Motherboards: Standard ATX
As you can see, this case comes with an Antec power supply as well: The Truepower 380 Watt model. This should prove to be more than enough for this application of this case. And as most will already know, Antec also makes high-quality power supplies, so this is a added bonus to get a quality power supply with the case!
The Bundle:
Obviously, you do not expect to get to much with a case as far as a bundle is concerned. Along with the case, we got an instruction manual, power cord, a polishing cloth (which comes in very handy by the way!) and a bag which contained an assortment of screws, stand-offs and a couple of wire ties.
The Layout:
Let's take a few moments and make our way around the case. We will start on the outside and make our way inside.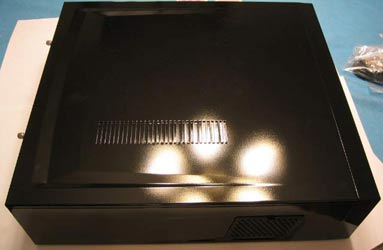 This first picture shows just how absolutely beautiful the finish on this case is. Just like a car, there is no better color than black for a paint-job. Of course, black also shows the dirt and finger prints very well, and the paint job on this case was no exception to that. When it is all polished up, it is just stunning though! And since you will be using this case as an HTPC, you will not likely handle it too much. In the picture of the front of the case (below), you can see the drive bays, power and reset buttons, and the other inputs here. Let's look closer at those inputs.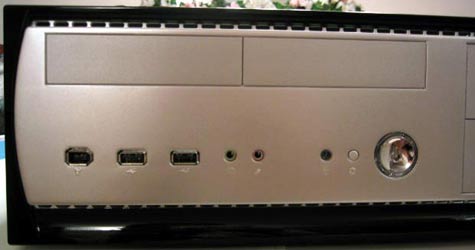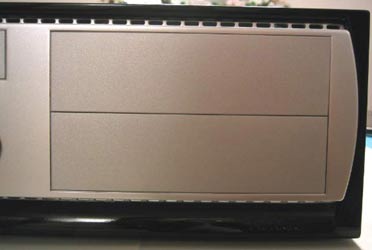 Here we can get a little closer look at the front inputs and drive bays. We have a firewire input, which will be very nice for transferring video on the HTPC. We also have two USB ports available. Next to those we have the headphone and microphone jacks. So, a pretty typical front panel input selection. As you can see, you have exterior access to two 3 1/2 drives (floppy, Zip, etc) and two 5 1/4 bays (CD Rom, DvD burners, etc).

The back of the case shows us that is has room for a normal ATX motherboard. We installed a Gigabyte GA-8IPE1000 Pro2-W motherboard, which was a standard size and really had no issues whatsoever getting it to fit this back panel. You can also see the case exhaust fan.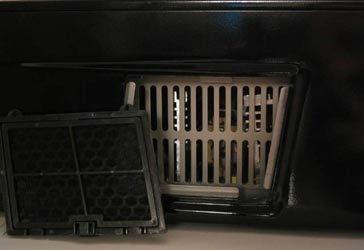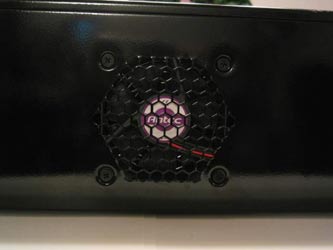 The sides of the case are used for the cooling of the case. In the first picture, we see that there is access panel with a filter for the power supply. On the other side of the case is another exhaust fan. These fans that are in the case are very quiet, which also lends itself to being an HTPC case.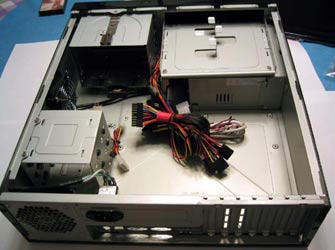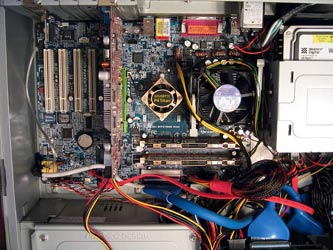 Moving to the inside, you can see from the pic that it might be just a little tight installing the motherboard. And that would be true. We were able to install the Gigabyte board we were using, but it was a "snug" fit, as you can see from the second picture where the board is fully installed.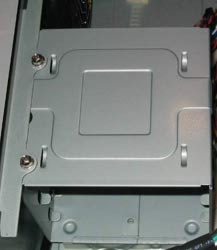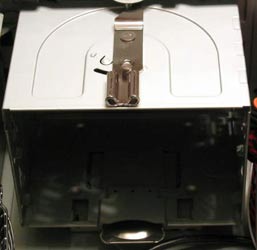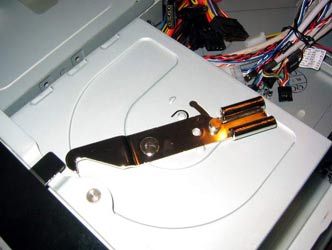 Inside the case are the bays for the drives. The first picture is the 3 1/2 drive bay which is located in the back right of the case. This bay can only be removed, as you can see, by taking out two screws that hold it to the chassis. The middle picture is the 5 1/4 bay. It is removable by a special lock that you can see in the last picture. One issue we had with the 3 1/2 bay is that you either had to remove the fan just above it, or we had to remove the HSF off of the CPU in order to add or remove a hard drive. Once again, this is only a minor inconvenience with the application of this case in mind (remember – it's an HTPC!)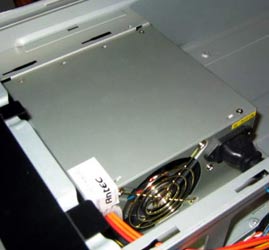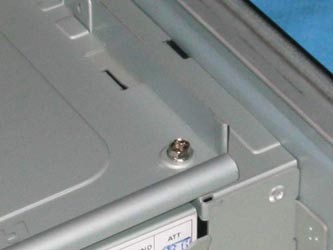 As we mentioned, the case is powered by an Antec 380 Truepower power supply (first picture). The second picture shows what I feel is an important aspect of any case – rounded corners and edges. I don't know how many times I have cut my hands inside a cheap case (and even some that are not so cheap!). The thought that went into this aspect of the case is just one reason why Antec is such a quality vendor.
The Connectors: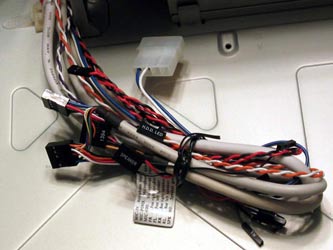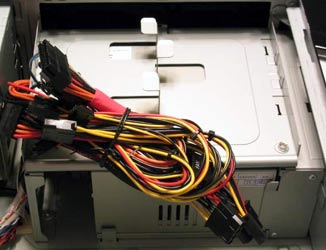 The Overture Case has your typical front panel connectors as well as the USB, firewire, and USB that was mentioned earlier. It also has plenty of power connectors for the size of this case. The length of all the connectors was more than adequate as well.
Installed pictures: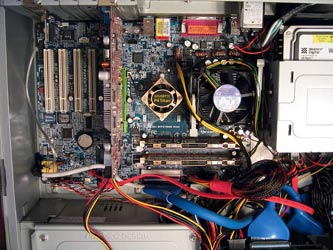 Our installed system:
Intel Pentium 4 3.0C ES 800mhz fsb
Thermalright SP-94
Radeon 9800 Pro
Maxtor 160 GB SATA Drive
2 x 512MB OCZ 3700 Gold
Intel Stock HSF
Conclusion:
Jason Petermann's Thoughts
This case was a really nice from the git-go. You can tell that Antec was really interested in quality with this case. Their attention to detail inside and out, and a retail price of right at $100 for this case make it a great choice for your HTPC. It proved to be a very quiet case as well. The only drawbacks to this case were minor inconveniences at most. It is a tight fit, but so are all other HTPC's that we have seen. The HDD bay being packed in to where you have to remove it to add and remove drives is also just the price you pay for having a smaller case. And as you would expect, temps were a little higher that having the same system installed in a regular case (41C/60C for idle/load temps of the CPU and 25C/27C for idle/load temps of the motherboard). As we said, these are all minor when you consider the application of the case.

Legit Bottom Line
If you are looking for a nice looking, well built and affordable HTPC case, check out the Antec Overture, you will not be disappointed.