Antec Kuhler H20 920 CPU Water Cooler Review
By
Antec Kuhler H2O 920 Liquid Cooler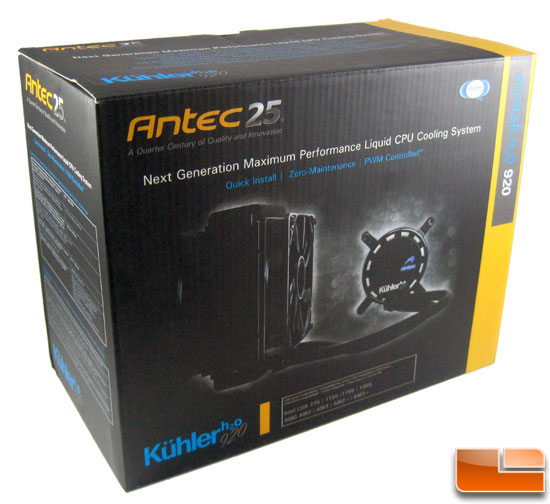 Antec has been around for as long as I can remember; my very first custom system I built used an Antec case. Now Antec has thrown their hat into the cooling world and one of their first offerings was the Kuhler H20 620. Now they have released the Kuhler H20 920. The Kuhler H2O 920 has a thicker radiator, dual fans, and is adjusted via software Antec calls Chill Control. Now if the Kuhler H20 920 looks familiar to youre not crazy. Its a team effort between Antec and Asetek, just like the H50/H70 was for Corsair and Asetek, but this last year Corsair moved away from Asetek to went to another company called CoolIt Systems for their Hydro series water coolers.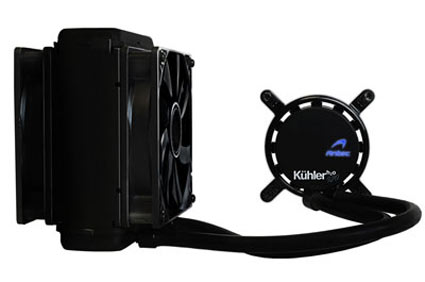 In our previous review of the Antec Kuhler H2O 620 we noted that it was similar Corsair Hydro H50, but way different. The Antec Kuhler H2O 920 and the Corsair Hydro H70 are like this as well. To compare them visually the Kuhler H2O 920 has a thick radiator and low profile pump and cold plate like the H70, but under the hood they are different units. For instance the coolant tubing on the Kuhler H2O 920 is not corrugated like on the Corsair coolers, the non-corrugated tubing is more flexible making it easier to install and position the radiator. The Kuhler H20 920 also has the newest generation pump and cold plate.
To add to the improvements there is a software utility called Chill Control V that allows the end user to adjust the cooler between two preset configurations or set a custom config. The presets are Silent and Extreme, now the Silent mode the fans run at a 600-900 RPM at 15-20 dB. On extreme the fans are run at full throttle at 2400 RPM pushing 110CFM each at an ear splitting 55 dB.
Features of the Kuhler H20 920
CPU Socket Compatibility: Intel LGA 775/1155/1156/1366, AMD AM2/AM3/AM2+/AM3+
Included software provides essential tools to control and monitor the KUHLER H2O 920
Non-corrugated easy-bend tubes for maximum flexibility in radiator positioning
Pulse Width Modulation (PWM) radiator fans generate the quietest high performance cooling
Customizable RGB LED creates brilliant illumination
Cooling Liquid – Safe, environmentally-friendly, anti-corrosive
AQ3 – Antec Quality 3 year limited warranty on parts and labor
Specifications for the Kuhler H2O 920
Fan Speed: 700 2400 RPM (PWM controlled)
Radiator Dimensions (HxWxD): 5.6 x 4.7 x 1.9 / 151mm x 120mm x 49mm
Fan Dimensions: 4.7 x 1.0 / 120mm x 25mm
Air Flow: 110 CFM
Noise Level: 46 dB Max
Cold Plate + Pump Height: 1.1 / 29mm
Tubing Length: 13.0 / 330mm
Cooling Liquid: Safe, environmentally-friendly, anti-corrosive
Net Weight: 1.6lbs / 0.7kg
CPU Socket Compatibility:
Intel LGA 775/1155/1156/1366
AMD AM2/AM3/AM2+/AM3+
Warranty: 3 years