Antec Internal LED Light Tube
By
Introduction
| | |
| --- | --- |
| Box Shot of The Kit | Working shot of the Light |
Intro:
Many enthusiasts enjoy making their case/rig look its best. So many of them modify (mod) their cases to add uniqueness and personality. Today we are taking a look at one of the items that should be included in almost every case mod: a light.
The light we are looking at is made by Antec: the Illuminate Blue Internal LED Light Tube. As you can see in the picture above, this light consists of six LED's in a tube. It emits light in three different ways that help illuminate the innards of your chasis.
Features:
Works with both Macs and PCs
Mount them anywhere with adhesive pads (included)
Easily powered by your Mac or PC, with internal Molex power connector
Manually adjustable sound activator with sound sensitivity control
3 operating modes: steadily on, flashing, or sound-activated
Tube Measurements: 16.6 cm (L) x 1.7 cm (W) x 1.8 cm (H) 6.5" (L) x 0.7" (W) x 0.7" (H)
Cable Length: 150 cm / 59" from sound activator to the Slot Cover Interface 40 cm / 15.7" from Slot Cover Interface to the tube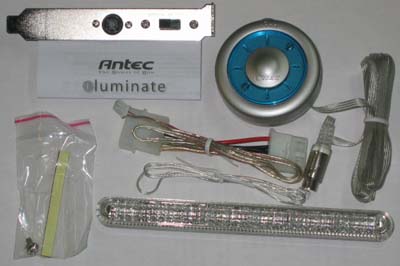 The main feature point that is most interesting is where it says there are three operating modes: full on, flashing, and sound-activated. The sound-activated mode allows the LEDs to light up when access noise is present. There is also the flashing mode which is nothing more than what the word "flashing" means. And you can always set it so the light is steadily on all the time.
The Controls:
| | |
| --- | --- |
| A Shot of The External Controller | A shot of the external plate |
An interesting thing about this light is how you set it up, and there are two switches you have to set to get the light fully functional. When you are setting this light up in your case, the first switch you will come to is on the backplate. Here you can actually just switch it to "on" and the light will be steadily on all the time.
Now if you want to use the flashing or sound-activated modes, you will then have to attach the external controller to the backplate. The external controller also has a sensitivity dial on it to adjust how sensitive the light will react to sound.
Conclusion: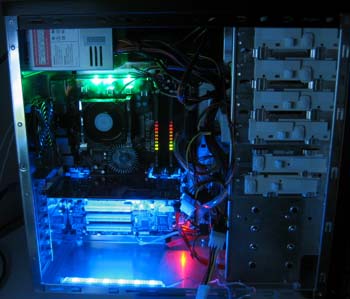 As I mentioned in the intro, a light is required in any good case mod, and the Antec Illuminate Blue is a great way to top off or begin your case mod. The nice thing about this light kit is that it comes from a company that makes quality products, Antec Inc, and the resonable price tag that it comes at. To top it all off the Antec Illuminate Blue light can brighten up your case by always being steadily on, flashing, or sound-activated. I definately see this light being used in many cases in the future unless something better comes along of course.