Amped Wireless Ships High Power AC1750 Wi-Fi Access Point
By
Amped Wireless Ships Business-Class High Power AC1750 Wi-Fi Access Point with Centralized Management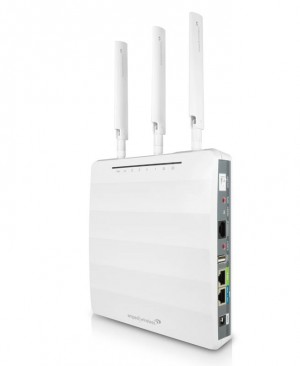 A Business-Class Wi-Fi solution that supports up to 100 Wi-Fi devices, 32 Wi-Fi networks and up to 8,000 sq ft of ultra-fast Wi-Fi coverage.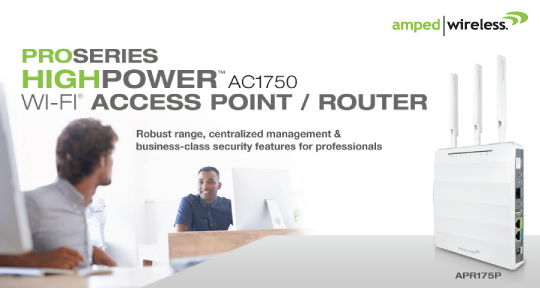 March 24th, 2015 – Chino Hills, CA Amped Wireless, the leading manufacturer of high power, long range wireless solutions for the home and office, today announced the availability of the APR175P business class, high power Wi-Fi solution. The APR175P is a High Power AC1750 Wi-Fi Access Point / Router. This business class device can provide up to 8,000 square feet of Wi-Fi coverage and is designed for complex networks that demand long range coverage, high performance Wi-Fi speeds, advanced security features and centralized management for large deployments. It is equipped with a premium feature set that is ideal for the most unique of networks.

The ProSeries APR175P is equipped with twelve high power amplifiers and three high gain external antennas for up to 500mW of Wi-Fi output power (standard Wi-Fi devices feature 100mW of output power). This combination of Amped Wireless High Power technology, combined with blazing-fast AC1750 Wi-Fi technology delivers unmatched range and speed performance. The business-class solution is assembled with the highest quality components and tested under the strictest standard to ensure reliability. It supports up to 100 Wi-Fi devices and delivers strong performance under the most demanding business environments.

The Pro Series High Power AC1750 Access Point / Router is multifaceted and is built with a unique set of 5 different modes. Router Mode allows it to act as a high power, long range Wi-Fi Router. Access Point Mode is when the device is wired to an existing network to add long range, secure Wi-Fi to any network. With WDS-AP Mode you can connect multiple Access Points together, wirelessly, to deliver wired and wireless Internet access across a large area. And for more intricate, larger networks the APR175P can be placed in Controller Mode or Managed Mode. Controller Mode allows for remote management of any additional APR175P business-class access points that are configured in Managed mode and up to 7 access points simultaneously. This allows for swift, simultaneous updates and control of a more broad and complex network.

The ProSeries solutions support advanced security features with the ability to support up to 32 Wi-Fi networks, each with unique security and access configurations. Each Wi-Fi network features smart security features that allow for the isolation of connecting devices, bandwidth restrictions, network access restrictions, VLANs, max users settings, MAC filtering, access schedules and much more. The two gigabit ports on the APR175P feature customized VLAN settings and bandwidth controls. Intrusion detection systems and RADIUS servers (internal and external) are also provided for maximum security.

Deploying the ProSeries High Power Solutions is simple with Power over Ethernet support and magnetic or wall based mounting options. Graphical maps with customizable floor plans and coverage areas, along with analytics for each access point make installation and management easy for anyone.

We are excited to reach out to more professional users and businesses with the introduction of these ProSeries High Power devices, said Lacey Limbrick, Brand/Marketing Manager of Amped Wireless. These new additions to our ProSeries line enable us to share our High Power technology and industry-leading range capabilities with larger business network teams. And were very pleased to enter this new space in the market and humbled to be able to make this expansion.

The APR175P is available for purchase today from the Amped Wireless online store at ampedwireless.com. It will also be available at specialty online retailers in the coming weeks. Visit http://www.ampedwireless.com/products/apr175p.html for more information. To become a reseller of Amped Wireless business-class solutions please visit http://www.ampedwireless.com/partners/ to sign up for the Preferred Partners Program.

About Amped Wireless
Amped Wireless is an award-winning provider of long-range, wireless consumer and business communication products for the home and office. Ranked 16th in the 2013 Inc. 500 and 1st in the Computer Hardware Industry, Amped Wireless mission is to develop the highest quality, long-range wireless products through experience, passion, innovation and advanced technology that exceed customers needs and expectations. For more information on Amped Wireless, The Leader in High Power Wireless Solutions, please visit the Amped Wireless website at www.ampedwireless.com.