AMD's ATI Radeon HD 4550 Video Card Review
By
The Entry Level Radeon HD 4550 Graphics Card
AMD planned the launch of the ATI Radeon HD 4550 graphics card many months ago, but oddly enough this entry level graphics card comes to light amid the worst point drop the DOW has seen to date. It almost seems right that in a time where financial stability is uncertain that AMD would launch a graphics card in the $45-$55 price range as they have been bringing out video cards that are price versus performance winners since the Radeon HD 3800 series launched last November. A year later AMD is still headed in the same direction and with price versus performance they are today announcing the Radeon HD 4550 and Radeon HD 4350 graphics cards. These two cards share GPU architecture that was first seen in the Radeon HD 4800 series, but with nearly everything reduced in order to lower the price tag. The graphics card I will be taking a closer look at today is the Radeon HD 4550, so lets jump right into it.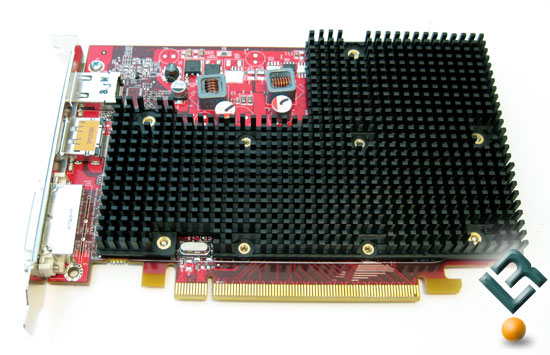 The ATI Radeon HD 4550 (RV710) graphics card pictured above measures in at just 6.625″ in length and while it is a full height card it shouldn't have any issues fitting in nearly all of the cases on the market today. The very first thing that one notices with this graphics card is the lack of a heat sink and that is because this card only uses 20-25W and doesn't need a fan to keep it cooling. Under the heat spreader is a graphics core that has just 80 stream processors. This is far fewer than the 320 stream processors that can be found on a Radeon HD 4670 graphics card. Even with 80 stream processors the Radeon HD 4550 offers 96 GFLOPS of compute power, which isn't bad considering the MSRP on these cards will be between $45-$55! The Radeon HD 4550 graphics card does not offer any CrossFire interconnects, but that doesn't mean it can't run CrossFire. It simply doesn't need any interconnects to enable CrossFire or Hybrid CrossFire. This means you'll still be able pair a couple of these together in order to boost gaming performance. With a core clock of 600MHz and a memory clock of 800MHz you might just need the boost for some game titles!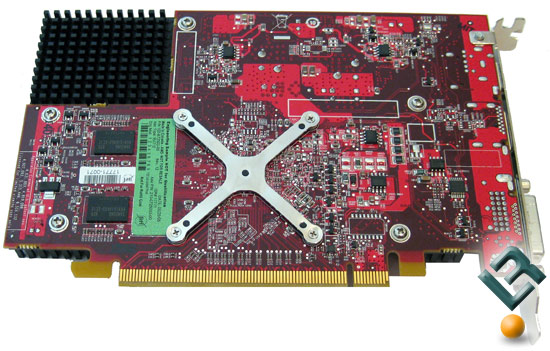 The back of the ATI Radeon HD 4550 isn't too interesting, but you can clearly see two of the four Samsung GDDR3 memory IC's and that the heatsink used to cool the graphics card actually comes through this side as well.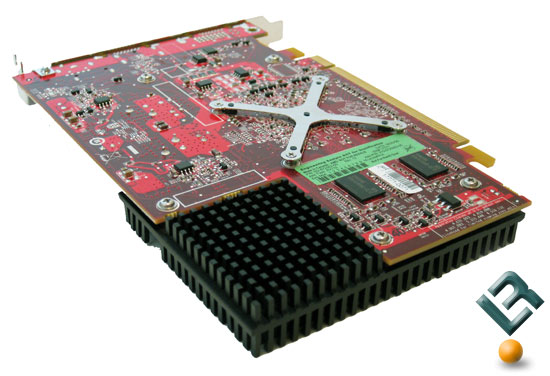 The passive cooled reference board that we were sent features a heat sink that comes all the way through to the other side in a corner where no PCB was needed. This is a neat idea and since the space wasn't needed for the printed circuit board it makes sense to use it for improved cooling. It should be pointed out that none of the memory ICs make contact with this passive heat sink. Even the memory ICs on the front of the card under the heat sink are not touching it with thermal tape or anything of the sort. The entire passive heat sink is contacting just the GPU core, which might shock many.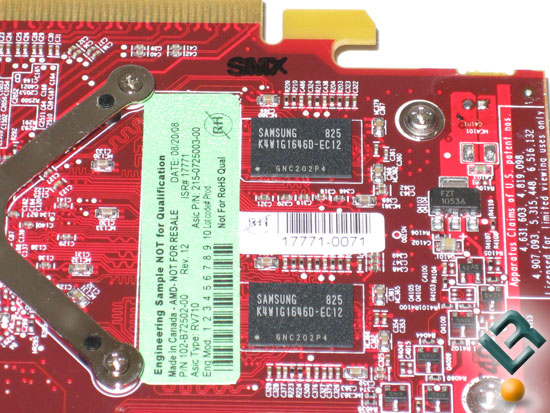 The back of the AMD Radeon HD 4550 also has two memory IC's located on it that were Samsung branded. The exact model number was K4W1G1646D-EC12 and a set of four of these ICs are used to make up the 512MB of frame buffer that is on the card. These GDDR3 memory IC's on the Radeon HD 4550 offer a total memory bandwidth of 12.8GB/s when run at the default 800MHz clock frequency. These ICs are rated at 800MHz or 1600Mbps/pin, so don't expect to get too much when overclocking these memory chips. The reference board I will be testing is dated 8/20/2008 and was made on the engineering line up in Canada.

Our reference board features a DisplayPort connectors, a HDMI connector, and a single dual-link DVI output. The RV710 GPU supports integrated 8-channel audio for both HDMI and DisplayPort, so board partners should be able to use a variety of connections on the retail cards that will start shipping soon.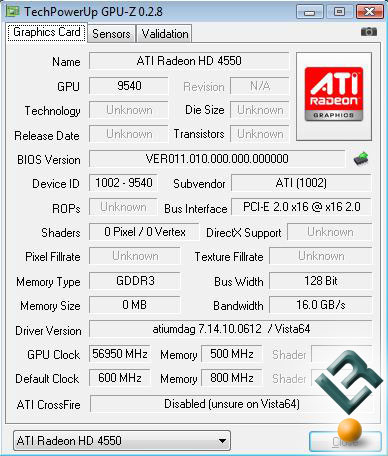 I fired up GPU-Z 0.2.8 to get the specifics of the new graphics card, but as you can tell GPU-Z can't read the card correctly right now. The process technology for the Radeon HD 4550 is 55nm with a die size of 73mm2 that contains 242 million transistors.