AMD Trinity APU Notebooks at E3 – MSI GX60 & Samsung Series 5
By
AMD Shows off Trinity APUs

Even though AMD unveiled their newest Trinity APU at Computex today, we spotted the latest AMD offering at AMDs E3 Happy Hour.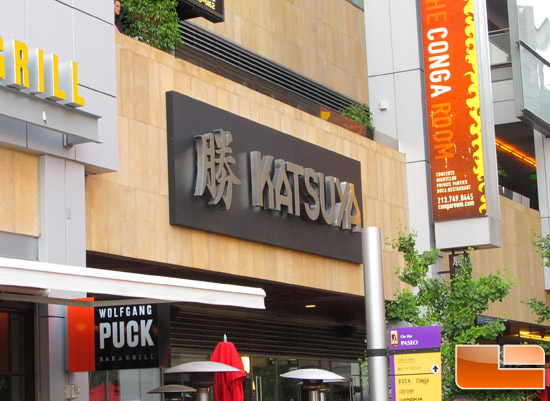 AMD was hosting a reception for 2012 E3 VIPs at LA Live's Katsuya when we saw two AMD powered laptops on display that were worthy of being talked about.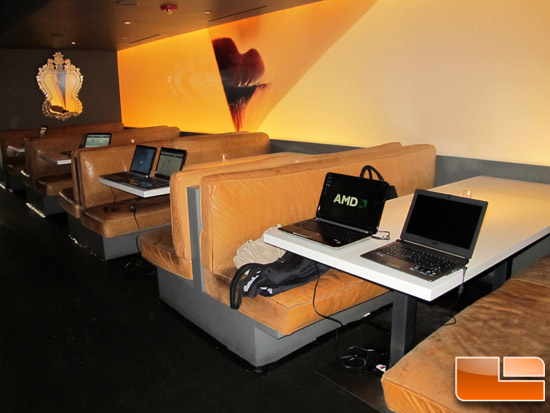 The first and most impressive laptop was the just-announced MSI GX60 15.6″ gaming notebook. This notebook looks pretty sharp from the outside thanks to the Steelseries keyboard, Dynaudio speakers and SuperSpeed USB 3.0 ports, but we all know that it is what is inside that counts.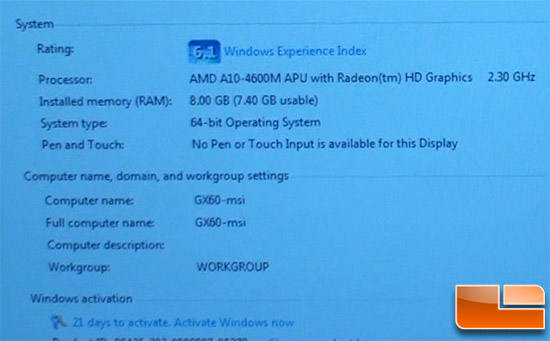 Inside this 15.6″ gaming notebook you'll find an AMD Trinity A10-4600M APU running 2.3Ghz and the AMD Radeon HD 7970M GDDR5 discrete graphics card. Other goodies include the high-end Qualcomm Atheros Killer NIC wireless card for reduced latency during online gaming, a pair of Sandisk U100 64GB SSDs running in RAID-0 for the primary drive and a Western Digital Caviar 500GB Hard Drive for general storage. With all this hardware inside the MSI GX60 is shouldn't come as a surprise that it supports 3-screen Eyefinity if you wanted to hook up some monitors to the video outputs. Speaking of video, this notebook also features a 720p, 30FPS HD webcam!
Unfortunately,
we were not able to do any benchmarks but we did take a look at the
computer properties. We squeezed some information out of our AMD host, but much is still
under NDA (as you can tell by the selective muting on the video below.

The second notebook we saw was Samsungs Series 5 Ultra-Thin Notebook that retails for $699. It is powered by an AMD A6-4455M APU running at 2.10GHz speeds. The notebook was launched in May but will has a staring roll at Computex this week.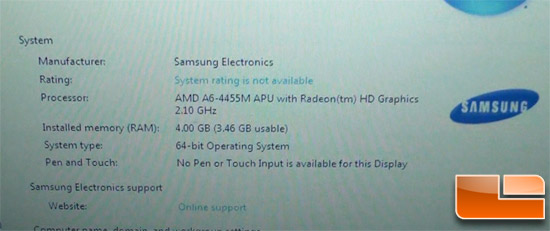 US consumers should see the notebook on shelves by mid-June. If you have been waiting for an ultra-thin notebook that doesnt lack power and wont break the bank, this may be the machine for you.
After speaking with AMD it is clear that the company will be pushing the Trinity architecture
as one for gamers who want on-the-go power. The fully-functioning
notebook we saw was very zippy running 64-bit Windows 7 and the game titles that we were shown played great on these notebooks!