AMD Shows Off Trinity APUs at CES 2012
By
AMD Trinity APU Playing Games Like A Champ
While at Consumer Electronics Show in Las Vegas we stopped by the AMD suite and checked out what they were showing off for the show. This year the company was showing off the upcoming 'Trinity' APU, Lighting Bolt I/O technology, AMD powered tablets, and both desktop and mobile Radeon HD 7000 series video cards. They started off our tour by showing us a little demo that we recorded to share with our audience.
Legit Reviews is no stranger to the Trinity APU as we have seen it in action several times over the past year. AMD is really excited about the Trinity APU and the technology behind the Pliedriver cores that the APU harnesses. AMD wasn't talking about CPU clock speeds or how many cores the GPU has, but they did show a proof of concept demo that was pretty impressive. They played a DirectX 11 game title (DIRT 3), converted videos with MediaConvertor 7 and played a video all at the same time.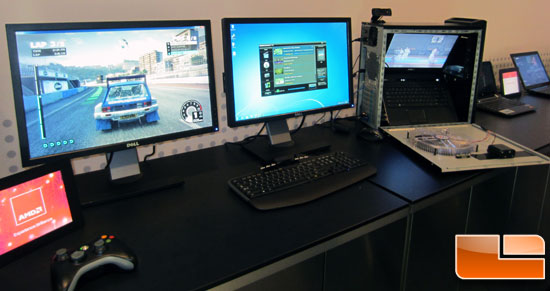 One would think that a desktop would be needed to do this, but AMD was doing all this on a Trinity laptop.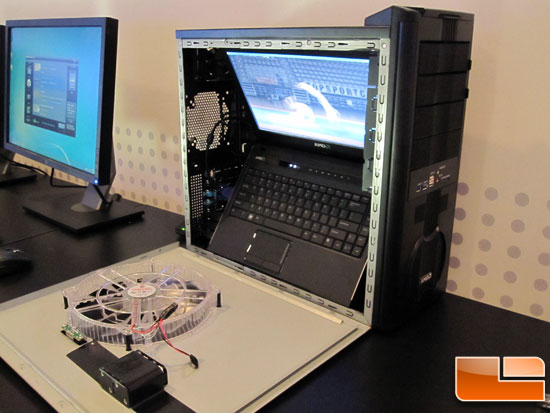 AMD implies through the demo that an Trinity laptop is very capable and might even replace the desktop for some users. From what we have been told an AMD Trinity APU will offer a 25% increase in CPU performance and a 50% increase in GPU performance over the current generation AMD A-series Llano APUs. AMD plans on using these processors in ultra-thin notebooks that are similar to Intel ultrabooks. Will AMD Trinity be able to perform better than the Intel Ivy Bridge processor? We don't know about CPU performance yet, but we can guess that when it comes to graphics, AMD will be in the lead.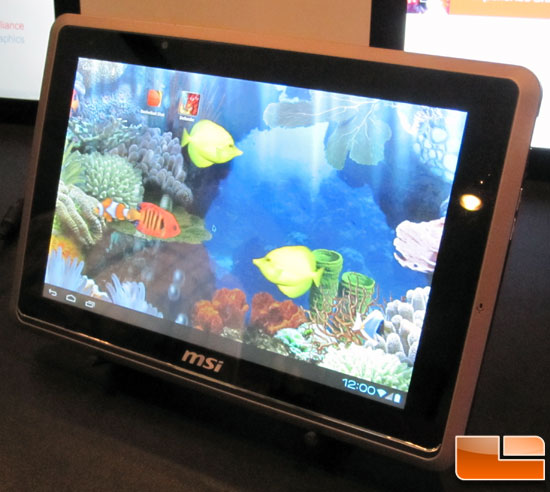 AMD also had several AMD powered tablets in the booth, but the one that caught our attention the most was this MSI tablet PC running an AMD processor and Android 4 (Ice Cream Sandwich).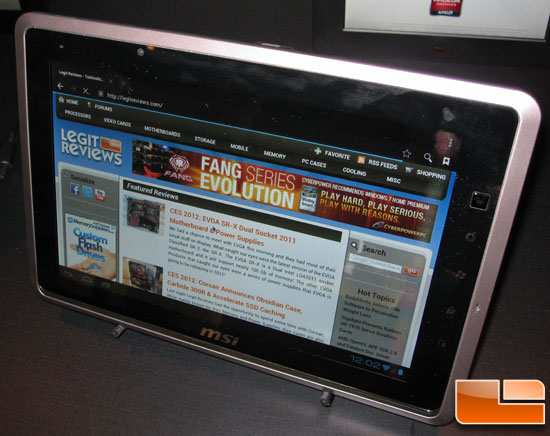 We gave this 10-inch MSI WindPad a test drive and it felt snappy and no different than many of the other Android 4.0 tablets that we have used at the show. Inside this tablet there is an AMD Z-Series Z-01 (1.0GHz) CPU, 4GB of DDR3 Memory, and Radeon HD 6250-series graphics. This is AMD's solution to NVIDIA Tegra 3 from the sounds of it. AMD says that the software is still not complete, so they only expect performance to get better from this point on.
AMD also took us into a private backroom where picture taking was prohibited and showed off something called 'Lighting Bolt' (not Intel Thunderbolt). AMD showed us a Lightning Bolt demo that was pretty impressive, but we can't detail that either. What we learned is that Lightning Bolt is an AMD technology that can deliver USB 3.0, DisplayPort and Power over a single cable with just mini DisplayPort connectors. The technology is designed to be very simple and affordable. For the demo AMD used a mux that combined power, DisplayPort and SuperSpeed USB 3.0 into a single DP-like cable on the notebook. AMD then used that mini-DP cable to connect everything to a Lightning Bolt breakout box (hub) that had USB 3.0, DisplayPort and power ports. This hub should cost around $40 and will allow the notebook to be connected with up to four external displays and multiple external USB 3.0 devices. To be fair AMD said that USB 3.0 transfers would be faster than USB 2.0, but not be running at full speed. It appears they had to flip some pins on the DP cable and make some alterations that impact performance in some areas.
It looks like AMD is going to have a good year and the company looks to be focused heavily on the mobile market.