AMD Ryzen Threadripper Unboxing and Installation
By
We wanted to post a good video showing our unboxing of the AMD Ryzen AMD Threadripper processor, but our attempts at a good unrehearsed video without proper lighting was a fail. So, we apologize to all the millennials as our unboxing coverage is mostly going to be images and text that you actually have to read.
We were expecting a board and processor like normal, but we ended up receiving two large boxes that tipped the scales at 55 pounds! This was not going to be your average board and processor! One boxed included a large pelican case with the AMD Ryzen Threadripper logo and a plaque that custom engraved for the site. The other box included an ASUS ROG Zenith Extreme X399 motherboard ($549.99), Thermaltake Flow Riing 360 TT Premium Edition CPU liquid cooler ($168.99), two G.Skill TridentZ RGB DDR4 16GB 3200MHz memory kits ($207.37 each), Samsung 960 Pro PCIe NVMe SSD ($279.99) and a Thermaltake Toughpower Grand 1200W power supply ($247.87). This is nearly $1,650 of hardware that is needed to get an AMD Ryzen Threadripper system up and running! You still need the storage drive, graphics card/s, mass storage drive, keyboard, mouse, display and of course the operating system of choice.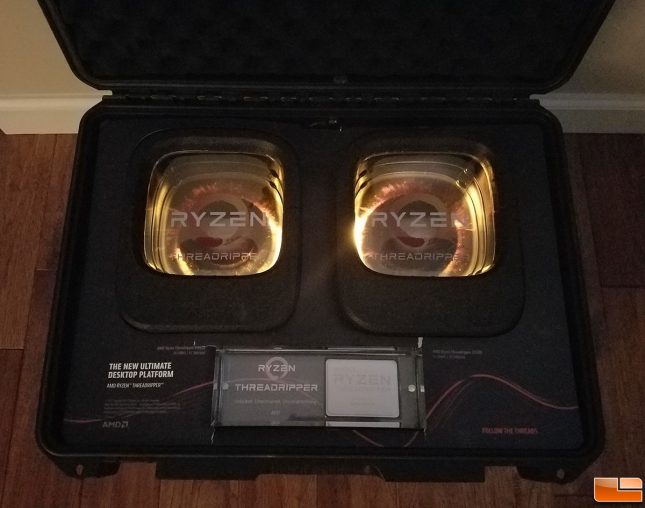 Inside the other box we found three AMD Ryzen Threadripper processors! We had the Ryzen Threadripper 1950X 16-core, 32-thread processor ($999) and then the Ryzen Threadripper 1920X 12-core, 24-thread processor ($799). Both of these processors are launching on August 10th, so we while we can show you the processors we can't show you any performance numbers other than Cinebench. The third and final processor was actually in a display case with some custom engraving to the site. The opening of the pelican case was pretty neat as AMD placed lighting behind the processors and the light coming through the packaging looked great.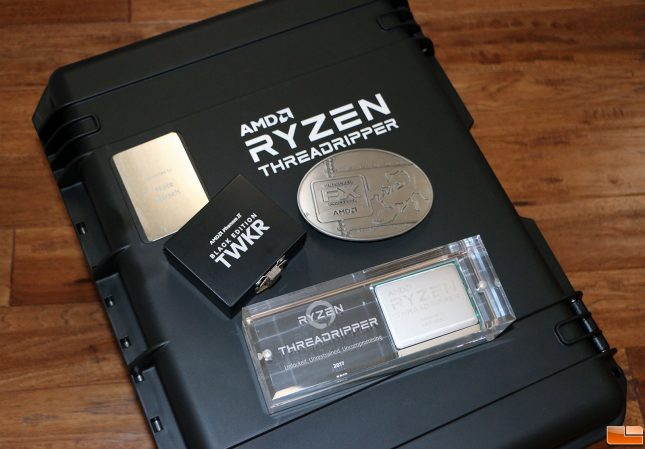 Here is the AMD Ryzen Threadripper processor that we were given for display on our bookshelf of goodies. We pulled off the AMD Phenom II Black Edition TWKR edition and AMD FX belt buckle to show off some swag from years past.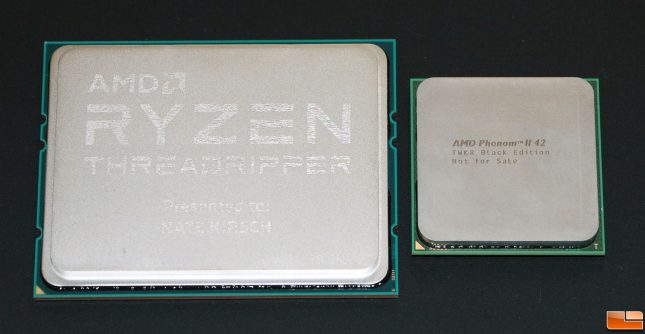 If you've ever owned an AMD Athlon X64, Phenom, Phenom II or a processor along those lines you'll appreciate the image above as it just goes to show how large this new processor is. The AMD Ryzen Threadripper processors have 4,094 pads on the bottom of the processor that line up with the pins on the AMD TR4 socket.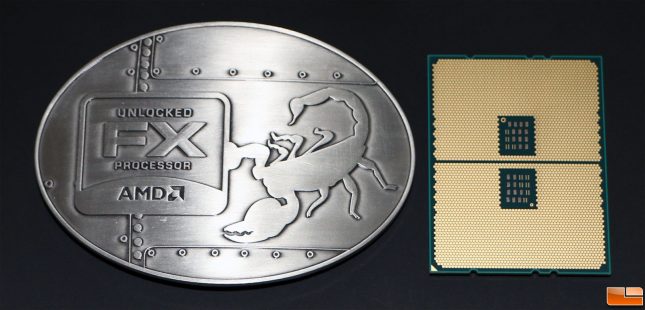 Here is a look at the bottom of the AMD Ryzen Threadripper processor next to AMD FX Processor belt buckle. The scorpion is on there as that was the codename of the platform for AMD Bulldozer.
Opening up the AMD Ryzen Threadripper processor is an experience unlike any other we've had before with a processor. You can tell AMD put a ton of time and effort into making this a fun user experience! You first have to rip off the cardboard that is looped around the packaging. You then remove the packing halves. In the lower section you'll find the warranty details, case badge sticker, T20 Torx tool that is set for proper torque and a water cooling mount for Asetek water coolers. You then need to take apart the center section that holds the processor. Once a tension spring is removed you can slide the processor out. Note that the processor resides in a bright orange carrier frame and it needs to remain in this orange frame!
Now that the AMD Ryzen Threadripper processor is taken apart you can install it into the motherboard. We have nine images in the gallery above that visually show you the installation process into the ASUS ROG Zenith Extreme X399 motherboard. We had no issues installing the processor and having to screw things down instead of flipping levers is no big deal. This method takes a little longer, but it feels like you are doing something important and is a rewarding experience. The correct torque setting is 1.6nm (14.2 in-lbs) on all three screws, but luckily the included torque wrench is set for that. We covered the installation processor in a news post last week, so we won't go into super detail on it.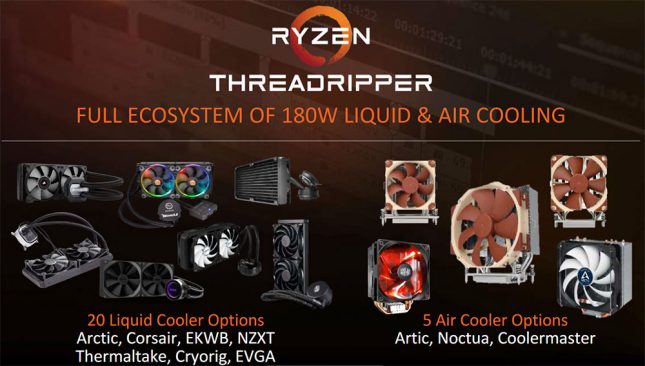 Once you get the processor all mounted up you can put on your CPU cooler of choice. Right now there are 25 liquid and air cooling options and we've listed them all below. You may notice that the head or block of the thermal solution does not completely cover the integrated heat spreader (also known as processor lid) of the Ryzen Threadripper. This is acceptable because base still covers both silicon chips under the Threadripper heat spreader. To ensure best performance, please ensure the thermal paste applied to the head spreads evenly and completely across the surface of the head to use the full contact area. More coolers are being designed for this platform, but these will all do for now!
AMD Ryzen Threadripper Liquid Coolers:
Corsair Hydro Series H115i / H100i v2 / H105 / H80iv2 – $93+
NZXT Kraken X62 / X61 / X52 – $150+
Thermaltake Riing 3.0 RGB 360 / RGB 240 / – $129+
Thermaltake Water 3.0 Ultimate / 3.0 Extreme – $91+
Cryorig A80 / A40 Ultimate / A40
Arctic Liquid Freezer 240 – $89.99
EVGA Closed Loop CPU Cooler (CLC) 280 – $122.10
AMD Ryzen Threadripper Air Coolers:
Arctic Freezer 33 – $49.99
Coolermaster Hyper 212 EVO – $29.99
Noctua NH-U14S TR4-SP3, NH-U12S TR4-SP3, NH-U9 TR4-SP3 – $65+
Once you have one of those coolers purchased you can mount it up and fire up the system! We hope you enjoyed the coverage and we'll see you on August 10th with the full review!