AMD Ryzen 9 3950X Launching November 25th – Watch Out Intel!
By
The AMD Ryzen 9 3950X Is Hoping To Destroy Intel
The AMD Ryzen 9 3950X will be shipping on November 25th, 2019 with a Suggested Retail Price of $749. Legit Reviews was recently invited to join a media briefing over the phone to get more details about this upcoming 16-core, 32-thread processor. As many of you already know this chip has a 3.5 GHz base clock that ramps up to a 4.7 GHz boost clock. It also has a large 72 MB of L2+L3 cache and a 105 watt TDP. So, this chip has an insane number of cores and sounds like it is ready to give Intel a challenge not only for 2019, but well into 2020 as well.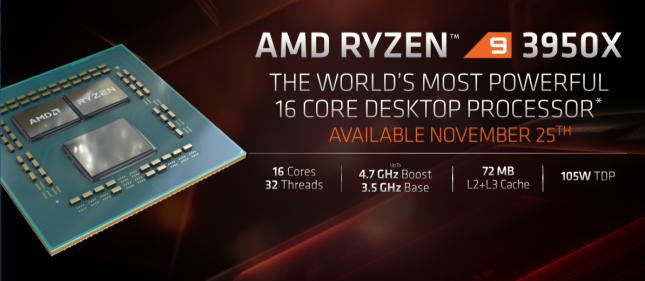 AMD went over the slide deck with us below that shows how AMD costs generally less than Intel and is available at more price points than Intel. AMD asked the press now to cry foul over this pricing table as these is today's positioning and we all know that Intel will be releasing new CPUs soon. AMD believes that their Ryzen 9 series pairs up nicely with the Intel Core i9 series and are really excited about where they are at. The presenter said that AMD would be super happy for the media to put this against Intel Core i9-10980XE. He went on to say that the 10980XE "is a great processor to put up against 3950X, I think we're going to show pretty conclusively that Ryzen 9 fights Core i9 in this generation." AMD is clearly happy with their CPU lineup as it sounds like the flagship Ryzen 9 3950X CPU will be able to challenge any Intel desktop processor. In the slide below, AMD has the Ryzen 9 3950X that is $749 pairs up against the Intel Core i9-9920X that runs $1,199.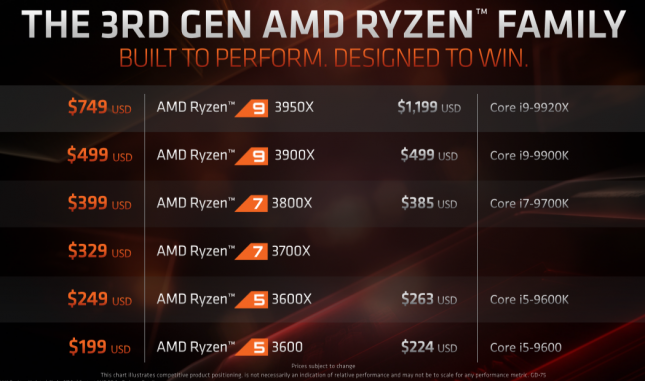 When it comes to single-threaded performance, the AMD Ruyzen 9 3950X has a 100 megahertz jump over the 3900X. So you will see a single threaded performance increase with the 3950X and makes it the fastest single-threaded processor in the 3rd Gen Ryzen lineup.
If you look at the 1080P gaming performance slide above you'll see solid performance numbers from the 3950X 16-core, 32-thread processor. The one odd thing about the performance results in the slide is that it shows 'up to' for the results, so it appears that AMD is showing maximum framerate here instead of average frame rate.
AMD told us that single-thread clock speeds is tied at the hip with game performance and you're going to see that that Ryzen 9 game performance continues just where you would expect it. AMD is positioning the 3950X to compete with the Core i9-9900K, which Intel used to call the best gaming processor in the world. It would have been nice for AMD to show the 'new' Intel Core i9-9900KS in there performance slide deck, but it was not included. AMD believes that gamers will be more than happy with the gaming performance of the 3950X.
"We don't think there's any perceptible difference there we have just as high performance, certainly the same tier. What's interesting is the HDT parts from Intel will suffer a bit of a penalty there because it's an older architecture and that shouldn't change with the 10980XE as well. So a nice place for us to be when it comes to game performance." – AMD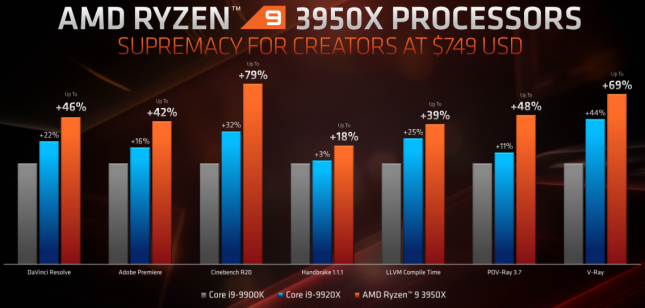 When it comes to content creation the AMD Ryzen 9 3950X looks like a beast. AMD believes that they have won over creators, streamers and those that do any rendering or compiling with all the cores that Ryzen has. AMD used the Intel Core i9-9920X in the slide as that is what is currently available and what is comparable for this price point.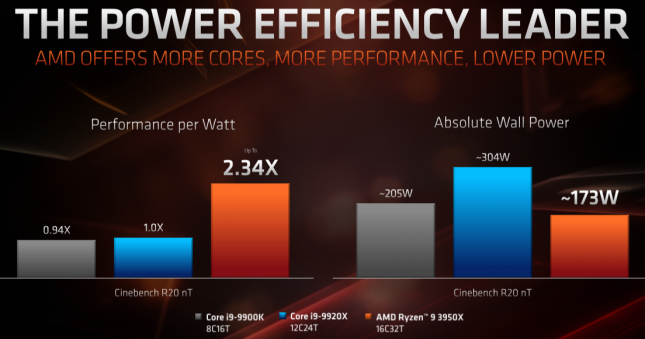 On this power efficiency slide, AMD talked to us a bit about their efficiency story and how it continues to get better. If anything, AMD believes that do better than the competition as they add more cores. AMD claims that they are more than two times the performance per watt. AMD also mentioned that their 16 core CPU (3950X) is pulling less power than Intel's 8 core eight core. That's absolute wall power with a graphics card in the platform. So, AMD believes that they win the here with a part that they say is runs cooler, quieter, and has more longevity.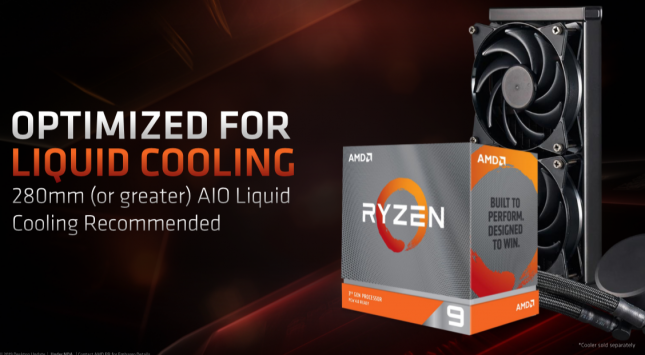 Speaking of cooler and quieter, AMD is recommending a 280 millimeter or greater All-In-One (AIO) liquid cooling solution because they think that's appropriate for this kind of product with this kind of performance. Of course, it's not absolutely necessary, you could use a 240mm solution and it would still run great, but that is the recommendation. AMD believes that at this price point most enthusaists tend to throw their retail boxed CPU cooler away and buy something higher performing. AMD is not going to fight that trend and is asking users to pair the 3950X with a liquid cooler for the best user experience.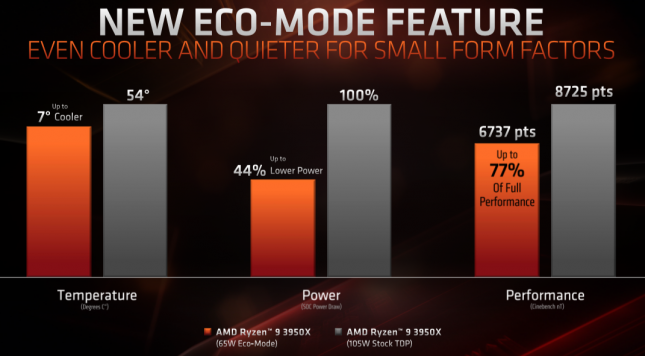 The last area of the AMD Ryzen 9 3950X that AMD talked about was a feature that is called Eco-Mode. Eco-Mode is a new feature that has been added for all 3rd Gen Ryzen processors from the Ryzen 5 3600 all the way up to the new Ryzen 9 3950X that allows them to have a configurable TDP.
Essentially, this will let you run your processor at one TDP grade lower than it shipped at. So 105W part will run at 65W and a 65W part will run at 45W. The slide above shows the results of what happens to temperature, power and performance when you enable the AMD Eco-Mode on a 3rd Gen Ryzen 9 3950X processor. AMD saw a 7C degrees temperature drop with up to 44% less power draw while maintaining nearly 80% of the full performance. AMD sees this being a good feature for those looking to build small form factor (SFF) PCs. This is indeed an interesting option that you can enable in either AMD Ryzen Master or in the UEFI.
That is all that we can tell you today about the Ryzen 9 3950X, but we will have a review up later this month!