AMD Releases Gaming Evolved App to Rival NVIDIA's GeForce Experience
By
Raptr's Dennis Fong took the stage today at AMD's GPU 14 tech day and announced the AMD Gaming Evolved App Powered by
Raptr
. This App will rival
NVIDIA's GeForce Experience
and helps gamers quickly optimize their image quality settings.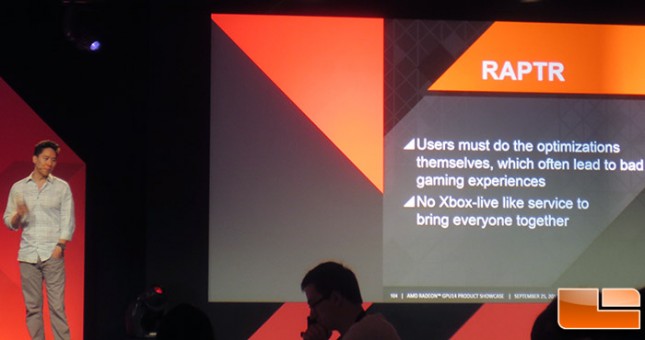 AMD and NVIDIA both feel that PC gamers don't want to mess with finding the sweet spot on their own and wanted to find a way to make PC Gaming as simple to do as console gaming. NVIDIA went out and came up with their own solution, but AMD found another company that already does that and partnered with them. Raptr has over 18 million PC gamers in their community, so they are able to use the data from millions of people to figure out what the best settings are for your particular system.
The AMD Gaming Evolved App is a desktop gaming app that allows users to:
Keep their favorite games optimized, based on data collected from other Raptr members of the AMD community
Earn real rewards, just for playing games
Have instant access to in-game tools, such as broadcasting live video via Twitch, taking screnshots, web browsing, and chatting with their friends!
The AMD Gaming Evolved App by Raptr currently supports 28 game titles, but more game titles will be supported as time goes on.
Currently Supported Games:
Aliens: Colonial Marines
BioShock Infinite
Blacklight Retribution
Borderlands 2
Counter-Strike: Global Offensive
Crysis 3
DOOM 3 BFG Edition
DOTA 2
Diablo III
Far Cry 3
Far Cry 3: Blood Dragon
League of Legends
Loadout
Marvel Heroes
Medal of Honor: Warfighter
MicroVolts
Neverwinter
RaiderZ
Rift
Saints Row IV
SimCity
Sleeping Dogs
Sniper Elite V2
Star Trek Online
Star Wars: The Old Republic
The Elder Scrolls V: Skyrim
World of Tanks
World of Warcraft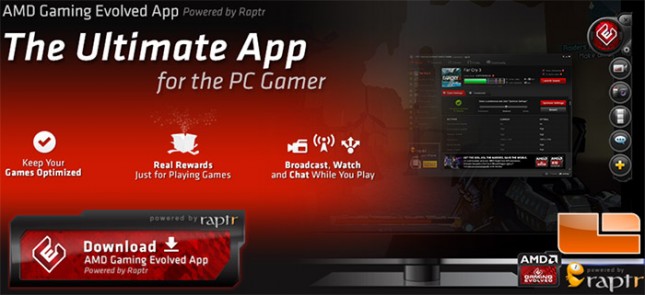 With a single click in the apps Control Center, gamers will be able to optimize their games based on performance, quality or a balance of both for their AMD hardware. Optimal game settings are determined using system and game data captured from the millions of PCs stored in Raptrs Cloud combined with extensive testing of various combinations of GPUs, CPUs, and resolutions.
Initially the app will work for any PC, desktop or notebook, with a current generation AMD card, but will expand to include more legacy cards, like ATI, over time.