AMD Reality Check at FX GamExperience
By
The AMD Reality Check Challenge
The Pepsi Challenge has been an ongoing marketing promotion run by PepsiCo since 1975. It all started when a Pepsi employee setup a table with two blank cups: one containing Pepsi and one with Coca-Cola. Shoppers were then encouraged to taste both colas, and then select which drink they prefer. Then the representative then revealed what brands were in each cup. At the end of the day the public was doing a blind taste test and the company was getting a consensus of what brand was preferred by more consumers. Over the years this test has been copied by thousands and today AMD is putting their own twist to the challenge down in Dallas, Texas for the FX GamExperience.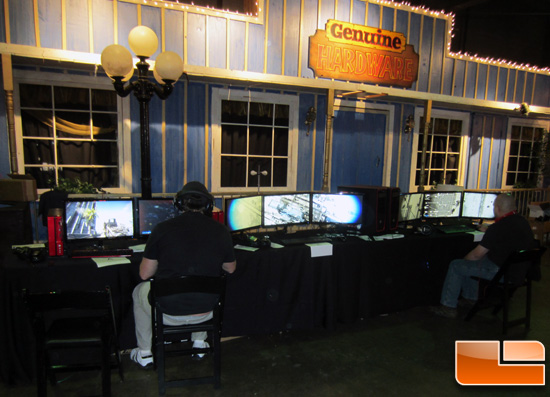 For the challenge AMD setup up an area of the FX GamExperience venue with four test systems for two heads up tests. AMD was officially calling this the AMD reality check.

Each test station had a ballot that allowed the testers to check the system that gave them a better gaming experience. AMD had roughly 140 people take the challenge during the single day event.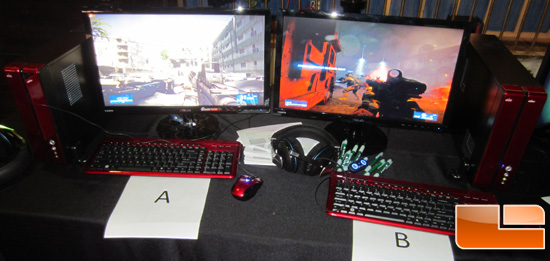 The first test that the gamers were issued was down on a pair of $500 gaming machines. System A was powered by an Intel Core i3-2105 ' Sandy Bridge' processor with Intel HD Graphics 3000 and an ASRock H61 motherboard. System B was powered by an AMD A8-3850 'Llano' APU with Radeon HD 6550D on an ASRock A55 motherboard. All of the rest of the components were identical. The obvious goal of this test was to look at similarly priced systems and to see if there was a noticeable difference in gaming performance due to the integrated graphics.
The AMD Reality Check Results:

System A (Intel Core i3-2105): 5 Votes

System B (AMD A8-3850): 136 Votes

No Difference: 2 Votes
The winner here was clear, but most of our readers know that AMD integrated graphics are leaps and bounds ahead of what Intel offers on their processors. No big shocker here!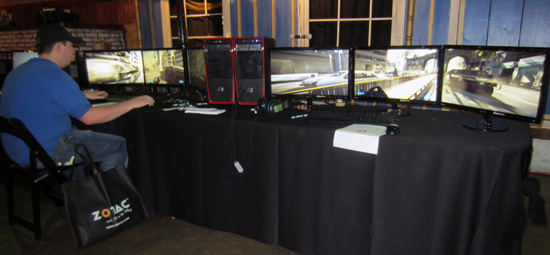 The next challenge given to gamers was two high-end systems that were both running AMD Radeon HD 7970 'Tahati' DirectX 11 graphics cards running an Eyefinity display setup. The Intel system was powered by an Intel Core-i7 2700K 'Sandy Bridge' processor with an ASRock P67 Fatal1ty motherboard and 8GB of AMD DDR3 performance memory. The AMD system was powered by the FX-8150 'Bulldozer' processor an ASRock 990FX Fatal1ty and the same 8GB of AMD DDR3 performance memory. The key to this demo was focused on processor performance and not graphics performance. The Intel Core i7-2700K retails for $369.99 and the AMD FX-8150 retails for $269.99, so the question here was if gamers could tell a difference between the systems.
The AMD Reality Check Results:

System C (Intel Core i7-2700K): 40 Votes

System D (AMD FX-8150): 73 Votes

No Difference: 28 Votes
It appeared that AMD was looking for a no difference win here with the setup, but the gamers voted for system with the AMD FX-8150 'Bulldozer' processor in it. Pretty interesting test and we are glad to see companies doing challenges like this and willing to risk coming out the loser.