AMD Radeon R7 SSD Series Expected This Month – Rebranded OCZ?
By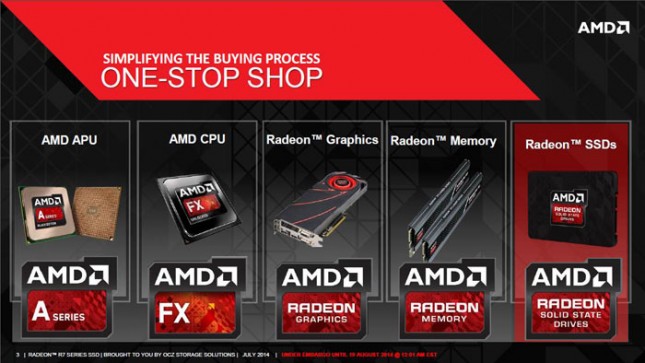 Is AMD getting ready to re-brand Solid-State Drives and jump into the growing SSD market? It looks like AMD is going to move beyond processors, video cards, and memory modules and is looking to release a Radeon R7 series of consumer SSDs. The Radeon R7 SSD series will be made up of standard 2.5″ SATA III drives with 120GB, 240GB and 480GB capacities. The marketing slides that were published by EXPReview show that the drive uses the Barefoot 3 M10 controller with Toshiba A19nm MLC NAND Flash. That sounds very similar like the yet to be released OCZ ARC 100 SSD Series that will becoming out with the same controller, NAND and even the capacities. It sounds like AMD tapped OCZ to produce their drives to enter the SSD market, but we'd expect to see some firmware tweaks to differentiate the two product lines.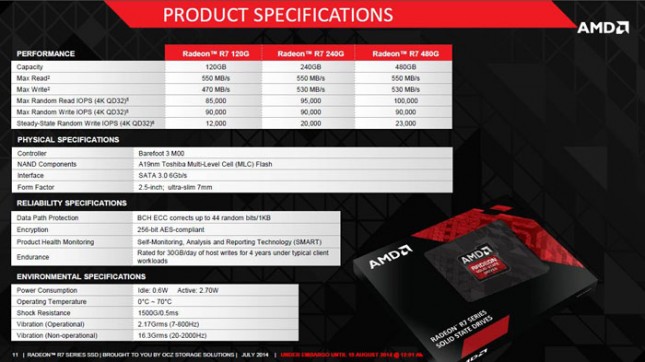 The ultra-slim 7mm drives have sequential read speeds of up to 550MB/s and the sequential write speed varies depending on the capacity drive you are looking at. On the 120GB drive you are looking at up to 470MB/s sequential write on the 120GB drive and up to 530MB/s on both the 240GB and 480GB models. The 4K QD32 max random reads are 85,000 IOPS, 95,000 IOPS, and 100,000 IOPS (as the capacity increases) and all three have 90,000 IOPS when it comes to maximum write speeds. Other key features 256-bit AES encryption along with an endurance rating of 30GB/day of host writes for a period of 4 years.
The AMD Radeon R7 120G, Radeon R7 240G and Radeon R7 480G SSDS are expected to be released later this month. Pricing has not been announced or leaked yet, but the OCZ ARC 100 series of drives are very similar and comes in the same 120GB, 240GB and 480GB capacities for $74.99, $119.99 and $239.99, respectively.
It looks like AMD is trying to offer solutions for the high-end desktop market by leveraging the Radeon branding that is popular with PC gamers, power users and enthusiasts.