AMD Radeon Pro Duo 3DMark Scores Show Insane Performance
By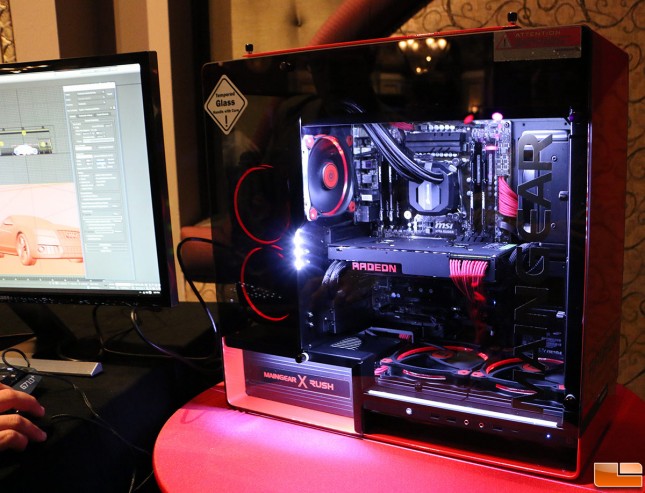 While we were at the AMD's Capsaicin event we missed the fact that AMD released 3DMark performance numbers in the footer of the press release for the AMD Radeon Pro Dro Dual-GPU graphics card. AMD wasn't talking clock speeds or benchmark numbers at the Capsaicin event, but sure enough 3DMark Fire Strike performance results were slipped into the press release. This is what the footer said.
Testing conducted by AMD Performance Labs as of March 7, 2016 on the AMD Radeon Pro Duo, AMD Radeon R9 295X2 and Nvidias Titan Z, all dual GPU cards, on a test system comprising Intel i7 5960X CPU, 16GB memory, Nvidia driver 361.91, AMD driver 15.301 and Windows 10 using 3DMark Fire Strike benchmark test to simulate GPU performance. PC Manufacturers may vary configurations, yielding different results. At 1080p, 1440p, and 2160P, AMD Radeon R9 295X2 scored 16717, 9250, and 5121, respectively; Titan Z scored 14945, 7740, and 4099, respectively; and AMD Radeon Pro Duo scored 20150, 11466, and 6211, respectively, outperforming both AMD Radeon R9 295X2 and Titan Z.
We tossed those numbers into a quick chart for those visual folks out there.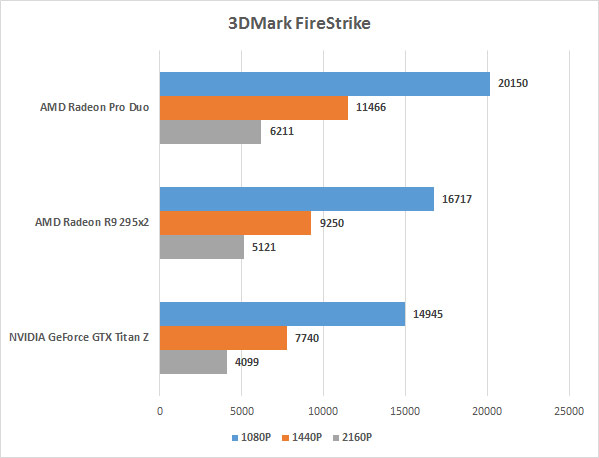 The AMD Radeon Pro Duo easily bested the AMD Radeon R9 295X2 (Hawaii) and NVIDIAs GeForce GTX Titan Z (Kepler) card. All of these cards are dual-GPU cards and it looks like the fastest stock clocked 3DMark scores go to the AMD Radeon Pro Duo! That's a good thing because AMD claimed that the AMD Radeon Pro Duo is the world's fastest platform for both content creation and consumption.