AMD Phenom II X6 1075T 6-Core Processor Performance Review
By
AMD Phenom II X6 1075T Hex-Core Processor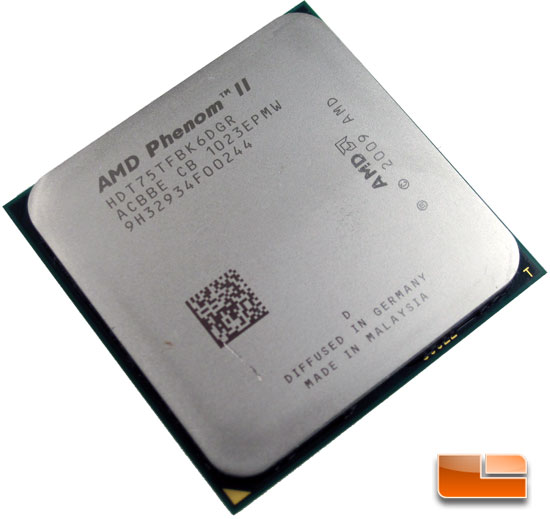 Since the initial release of the Thuban series of AMD processors AMD hasn't made any changes to that line up. Well, fortunately for us that has now changed. Just recently AMD has introduced a new product to their already full line up. The AMD Phenom II X6 1075T is essentially a Phenom II X6 1055T with an increase in the multiplier. Instead of running at 200MHz with a x14 multiplier, the AMD Phenom II X6 1075T chugs along with a x15 multiplier. This gives the AMD Phenom II X6 1075T a final clock speed of 3.0GHz while the AMD Phenom II X6 1055T was trotting along at 2.8GHz. While it may not seem like a whole lot, every last megahertz helps performance.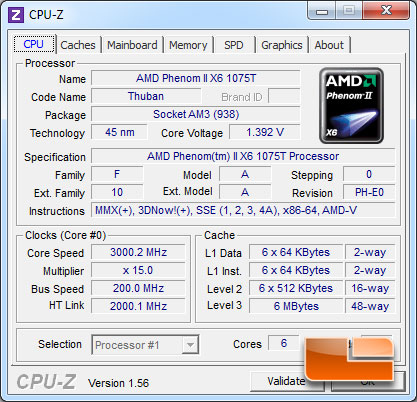 The AMD Phenom II X6 1075T is a 3.0GHz processor with a locked multiplier. This is one of the main differences between the AMD Phenom II X6 1075T and the AMD Phenom II X6 1090T which is a Black Edition processor with an unlocked multiplier. Much like the earlier AMD Phenom II X6 1055T and the AMD Phenom II X6 1090T, the AMD Phenom II X6 1075T features the same T.D.P. (Thermal Design Power) of 125 Watts. This means that you will want to have some solid cooling if you plan on doing any overclocking with it.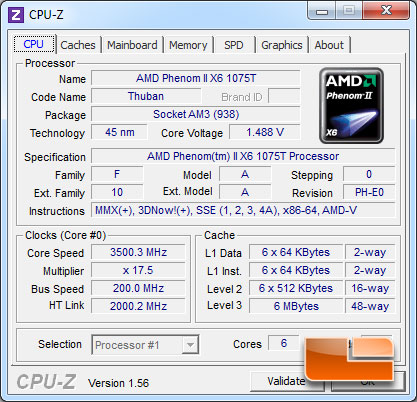 The AMD Phenom II X6 1090T comes from the factory clocked at 3.2GHz with a Turbo clock of 3.6GHz, while our AMD Phenom II X6 1075T comes at 3.0GHz with a 3.5GHz Turbo clock. The AMD Phenom II X6 1075T has six real 45nm cores of processing power that operate at 3.0GHz under full load. If the CPU finds itself in a condition where 3 or more cores are idle, the processor will activate the Turbo CORE technology and boost the active three cores to 3.5GHz improving performance on lightly threaded workloads. If you are interested in a much more in-depth explanation of how the AMD Turbo CORE technology works you can read more about that in our initial AMD Phenom II X6 1090T processor review here.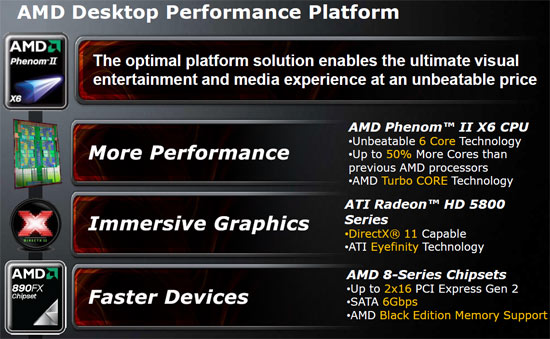 When you combine the latest technology from AMD, which includes the Phenom II X6 processors, AMD 8-series chipsets, and ATI Radeon HD 58XX series graphics cards you will have a system that AMD has dubbed the 'LEO' platform. The 'LEO' platform is said to be the ultimate AMD platform for power users.
AMD Phenom II X6 1075T HDT75TFBGRBOX Specifications
Cache Sizes
L1 Cache: 128KB (64KB Instruction + 64KB Data) x6(six-core)
L2 Cache: 512KB x6(six-core)
L3 Cache: 6MB Shared L3
Process Technology: 45-nanometer SOI (silicon-on-insulator) technology
HyperTransport technology links: One 16-bit/16-bit link at up to 4000MT/s full duplex; or up to 16.0GB/s I/O bandwidth
Memory: Integrated memory controller up to 21GB/sec dual channel memory bandwidth
Types of Memory: Support for unregistered DIMMs up to PC2 8500 (DDR2-1066MHz) and PC3 10600 (DDR3-1333MHz)
Die Size: 45nm = 258mm2
Packaging: 938-pin organic micro Pin Grid Array (micro-PGA)
As much as I have been begging and pleading with my wife to let my purchase an AMD Phenom II quad core black edition processor, it has all been done with no luck. She is still convinced that our son needs to eat. So for testing today we are going to look at the closest processors to the AMD Phenom II X6 1075T that we have on hand. The processors that we are going compare with are the Intel Core I7 930, the AMD Phenom II X6 1055T, the AMD Phenom II X4 910, and the AMD Athlon II X4 640.