AMD Mantle & TrueAudio Patch for THIEF Tested
By
THIEF Mantle and TrueAudio Performance
Usually we would use FRAPS to test video performance, however FRAPS does not support Mantle at this time, so that makes things a little more difficult. Thankfully Square Enix has included a benchmark with Thief. The benchmark takes us down a street during a storm, with people and guards interacting.
To test Mantle, Thief was installed through Steam on a freshly imaged test system running Windows 8.1 Pro. This test system included the following hardware:
ASRock FM2A88X-ITX+ Motherboard
AMD A10-5800 APU @ 3.8GHz
Sapphire R7 260X 2GB OC 2x DVI Video Card
16GB DDR3 Axiom Memory
1TB Seagate Constellation Hard Drive
2x 1.5TB Seagate Hard Drive (in Raid 0)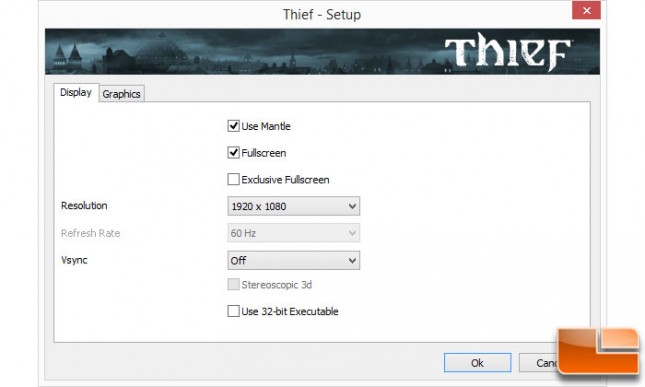 Enabling Mantle is done through the Thief Options menu when you start Thief. All other settings remain the same whether you select Mantle or not. There is no option to switch to Mantle once inside the game, however you can deselect it when you restart Thief.
Within the Thief Options, there are six preset options for the video quality, Very Low, Low, Normal, High, Very High and Custom. We will be testing Thief using three of these, Normal, High and Very High. The integrated benchmark will be run three times and the scores averaged.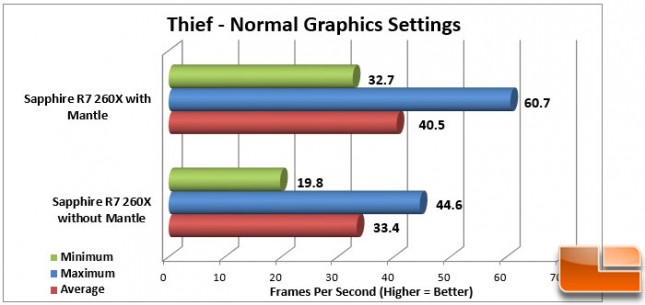 First up is Normal, here the quality options are set to a mix of Normal and High, with Texture Filtering set to Default and SSAA set to Off. Without Mantle, the 260X averaged 33.4FPS which is respectable, however once Mantle was enabled that rose to 40.5FPS; a 21.26% increase in performance.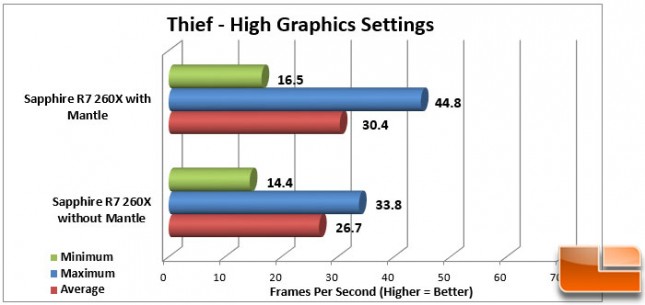 The High setting, all the quality options are set to High, while Texture Filtering is 4x Anisotropic and SSAA is set to Low. The average scores lowered a little; going from 26.7FPS to 30.4FPS, a 13.86% increase. Double digit increases is always a good thing.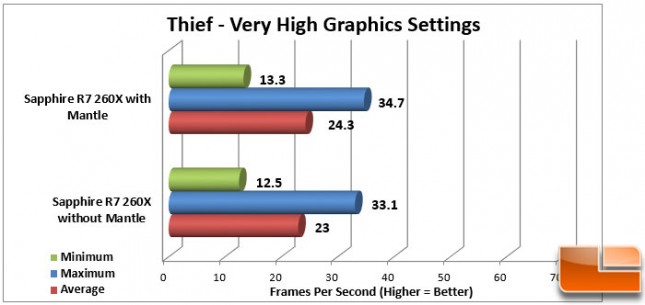 At Very High quality, the options are set to a mix of Very High and High, Texture Filtering set to 8x Anisotropic and SSAA set to High. As expected, the scores went down again, going from 23FPS without Mantle to 24.3FPS with Mantle. At Very High settings, the difference is only 5.65%; not as high as the previous tests, however it is still an improvement.
Legit Bottom Line: Bottom line, the question to ask is whether Mantle provides any form of performance boost; the short answer is yes. The long answer is yes, however as the video quality goes up, the performance of Mantle went down. Results will vary with different hardware; these increases is within the expected margin of performance increase.
THIEF and TrueAudio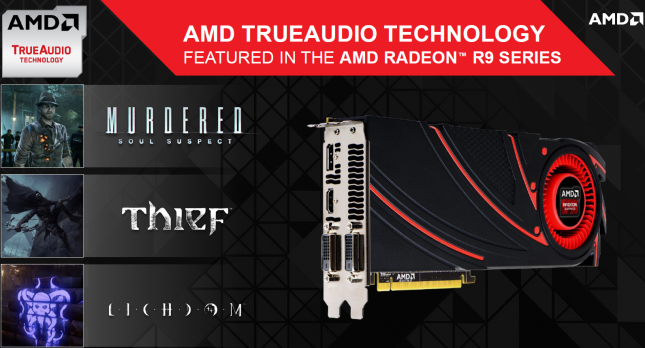 Thief implements TrueAudio in patch 1.3, which is released along side the latest beta driver, Catalyst 14.3. Thief is the first game to support TrueAudio and they implemented it to enhance the game's environmental sound. As games graphics get more realistic, their audio has fallen behind. TrueAudio looks to change that by creating a more realistic audio environment, by allowing developers to program how a sound should react to the environment. This allows sound to react differently to metal, wood and stone, just like they do in the real world.
Within Thief, the world is alive with sound, overall, the sound is incredible, the developers have done a great job at making the world sound alive. Each of the sounds are clear and crisp, letting you hear each sound from the proper direction. Once TrueAudio is enabled though, sound now echos as it should, when people are talking in the city, you can hear a slight echo as the sound bounces from various objects. At first, it was a little odd, it was an unexpected sound coming from the game. After a few minutes though, TrueAudio allowed the game to draw me into it even more. It became quite obvious when TrueAudio was enabled and when it wasn't.