AMD Mantle Now Supported in Battlefield 4 – NVIDIA Users Get Game Updates
By
Hours ago a Battlefield 4 Mantle patch was released by DICE as adds support for the AMD Mantle Graphics API. This means that there is finally a game title that supports AMD Mantle, but AMD has yet to release the necessary AMD Catalyst 13.35 or 14.1 beta drivers to get Mantle working. AMD hopes to have public Mantle drivers this month and told Legit Reviews that they just made a new build overnight. EA-DICE has a well written blog post up on the BF4 Battlelog that talks about the Mantle patch, how to use it and even some performance numbers.
How to enable Mantle
For starters the game patch is just shy of 1.23GB and will be needed first. You then need AMD Catalyst 14.1 Beta drivers, which will be located here once AMD posts them. You then need an AMD Radeon GPU with Graphics Core Next, but right now not all GPUs are supported. AMD Catalyst 14.1 initially supports the AMD Radeon R9 290X, R9 290, R7 260X and the new Kaveri APU. It also only works on systems running Windows 7, 8 or 8.1 (64-bit).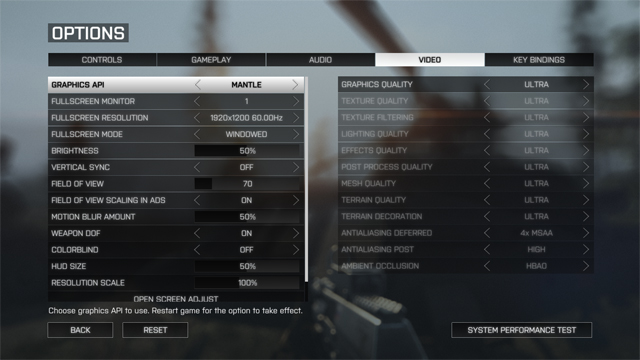 After the latest BF4 patch is installed through Origin you'll have to go into the video options menu and change the Graphics API option from DirectX 11 to Mantle and then restart the game for the change to enable. If you have the proper drivers installed along with a supported OS and video card that should be it.
"Battlefield 4 on PC is already quite heavily optimized using DirectX 11 and DirectX 11.1, but with Mantle we are able to go even further: weve significantly reduced CPU cost in our rendering, efficiently parallelized it over multiple CPU cores and reduced overhead in many areas.
The biggest performance gains can be seen when the game is bottlenecked by the CPU which can be quite common even on high-end machines and this was main goal to improve on with Mantle. Weve also been able to streamline and optimize some of the GPU workload. The end result is that game performance is improved in virtually all scenarios in Battlefield 4 on both Windows 7 and Windows 8 when running with Mantle!
This update is the first release of our new Mantle renderer, and we will continue to provide more tuning for different types of configurations in future updates." – Johan Andersson

EA-DICE has tried to simplify measuring performance in the game and have added a new tool to the in-game console to record frame times for later analysis. Simply run PerfOverlay.FrameFileLogEnable 1 to start saving frame times and PerfOverlay.FrameFileLogEnable 0 to stop. The resulting .csv file will be located in Documents/Battlefield 4 which can be opened & graphed by Excel or other applications for viewing. Another in-game tool that is useful to use is Render.DrawScreenInfo 1 that will now show additional on-screen information about your CPU & GPU config, resolution and as well as if Mantle or DirectX 11 is used for rendering.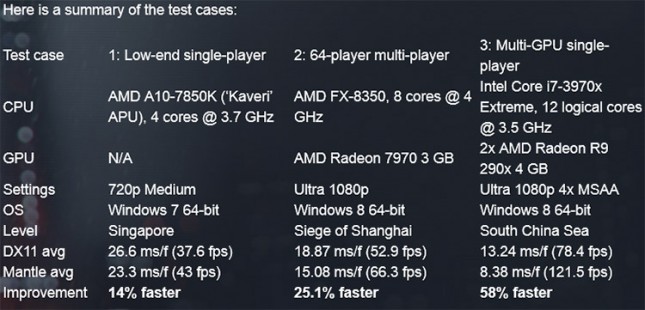 Every system will see different performance gains, but EA-DICE tested out the Mantle patch on three different systems and three different test cases and found between 14-58% performance increases. We can't wait to do our own testing!