AMD Llano A-Series APU Sabine Notebook Platform Review
By
AMD A-Series APUs Arrive – Llano
This evening AMD officially launched its 32nm A-series quad-core processors, codenamed Llano, for mainstream laptops. This is very big news for AMD as it's the company's first 32nm processor, which has been a long time coming as rival Intel has been shipping 32nm processors since 2010. AMD has been doing battle against these more advanced processors with their dated 45nm process chips, but it's coming time to put those fellows out to pasture. For the moment AMD has caught up to Intel on the manufacturing process front and plans on taking advantage of this by launching what they believe are going to be very competitive notebook processors.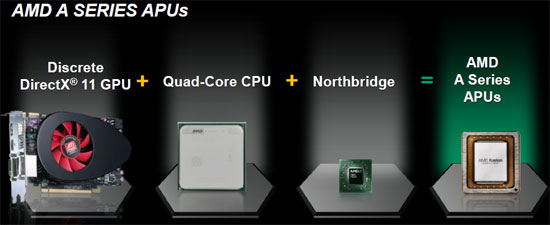 We all knew that when AMD bought ATI many years ago that the company had plans for making a Fusion processor that basically blended the CPU, GPU and Northbridge all into once chip. AMD calls this smorgasbord of technology goodness an accelerated processing unit or APU. Calling this a CPU would be an insult and it's not a SoC (system of a chip) because it still has a separate communications IO hub. The first APU was the E Series and this was an entry level APU that was designed for the $400 notebook market. We looked at the E-350 APU and for having a TDP of just 18W the chip proved to be an amazingly impressive part, but it finds itself competing with other entry level products and to be fair at the $400 price point it's also competing with tablets. We found the Brazos platform was able to do everything we wanted it to do, but it just took a littler longer to do it even with a solid-state drive and over 4GB of memory. We knew Llano was coming and now that it's here we can really see the fruits of AMD's labor as this APU could either make it or break it for the chip firm when it comes to highly competitive notebook market.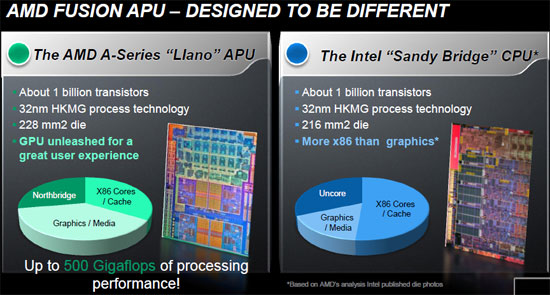 Both Intel and AMD have gone about combining a CPU and GPU, but both companies have taken a vastly different approach. On paper both AMD's Llano and Intel's Sandy Bridge mobile processors have roughly 1 million transistors, made on the 32nm HKMG process technology and have a die size right around 220mm2. It's not until you look at the breakdown of how the die space is used when you'll find that Intel has gone x86 cores/cache heavy while AMD has a fairly even split between graphics and x86. You should know how the benchmarks are going to end up for this review right now as we spoiled it for you. AMD's Llano APU is going to perform better in the graphics intensive benchmarks and Intel us going dominate when it comes to raw x86 compute performance. The question that you need to answer is, which solution is going to be right for you? That's the million dollar question and one that you are ultimately going to have to figure out based on what you use your PC for.

Every chip that a company creates has design goals and we were told by AMD that Llano had three primary design goals for Llano:
Brilliant HD –

Gaming performance is brought to new levels with the AMD A-Series mobile APU. Performance improvements over the previous generation allow gamers on the go to play titles that would not have been previously possible. As an example, you can experience up to 179% faster gaming with a 2011 VISION A6-based PC over an AMD VISION 2010 Premium-based platform in F1 2011 bringing frame rates from 13 to 35 FPS A 2011 VISION A4-based PC manages to outpace an Intel Core i3-based PC by up to an amazing 279% playing Left4Dead 2.

Super Computer in a Notebook –

The AMD A-Series notebook APU supports the latest GPU compute standards including OpenCL and DirectX 11 DirectCompute. AMD Accelerated Parallel Processing (APP) technology (GPGPU) is one of the most exciting areas of software development and enables developers to utilize the up to 400 AMD Radeon Cores of the AMD A-Series for highly parallel processing. This can be used to accelerate everything from artificial intelligence (AI) in games to facial recognition in photo and video editing applications.

AMD AllDay Power –

The power optimizations introduced with the AMD A-Series APU have enabled new levels of battery life to the mainstream notebook market. Manufactured on a 32 nm high-K metal gate process, it includes features like CC6 per core power gating and advanced AMD Turbo Core technology. AMD has achieved greater than 10 hours battery life in Windows Idle. In testing, a 2011 AMD VISION A8-based PC outlasted an Intel i3 system by 9% in Windows idle testing and 29% while running 3DMark 06.
Notice right off the bat that all three design mention something about graphics once again, but the goals here are solid graphics, process abilities and amazing battery life. Essentially, this is nothing different from any previous mobile processor as any company wants more power for the CPU & GPU with longer battery life. AMD promised us that they spent a ton of time and energy making as many power saving designs for Llano as they could and that it was designed for this since day one. AMD claims that they can get 10 hours of idle battery life, which is nice for the mainstream notebook market as good battery life helps sell one notebook over another and OEM's eat that kind of stuff up when picking what chips to put in their notebook series.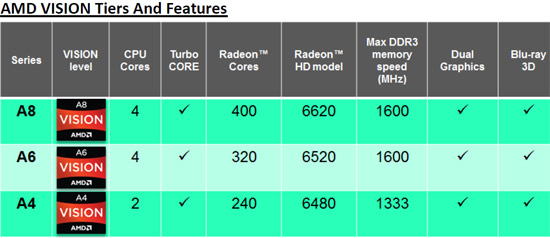 Now that you know the basics of Llano we need to better explain to you
what is actually launching today, because the AMD A Series is a little
more complex than the E-Series. AMD will be launching three tiers of AMD A-Series APUs and they differ by CPU cores, Radeon cores and DDR3 memory speed support. The entry level A-Series Llano APU is the A4, which is a dual-core APU with 240 Radeon cores an 1333MHz memory. From there you go up to the A6 series that is a quad-core processor with 320 Radeon cores and support for up to 1600MHz DDR3 memory. The flagship for the A-Series would be the A8 and that one differs from the A-6 series by having 400 Radeon cores. What about pricing and what do they compete with on the Intel side of the fence?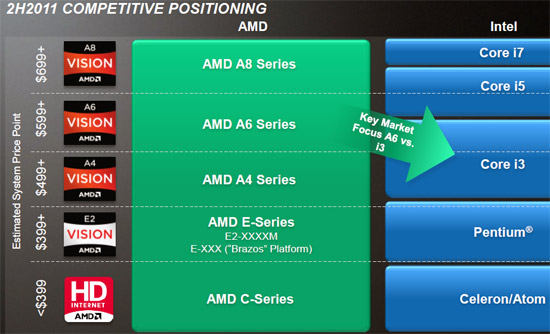 Well, from what we can tell AMD expects the A-series processors to range from $499 to $699 and compete with the Intel Core i3, i5 and i7 'Sandy Bridge' processors at these price points. Now that we know about the three series, price points and what they are supposed to compete with we can take a look at the new processors!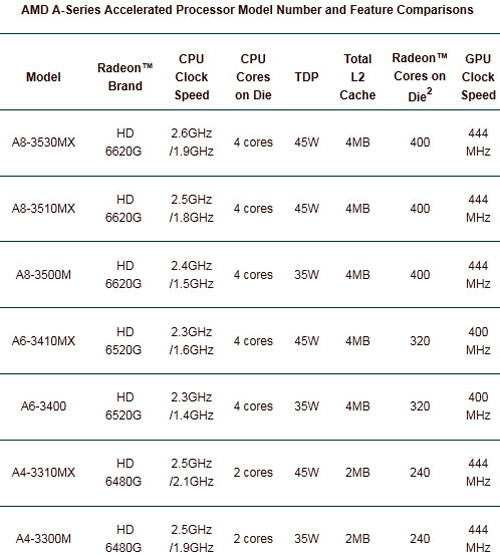 AMD is launching not one, but a total of seven A-Series Llano APU's today! The one that we will be testing is the A8-3500M and we will be doing so in a Compal notebook that AMD sent over for us to try out. The AMD A8-3500M is a quad-core processor that runs between 1.4 to 2.4GHz thanks to AMD's Advanced Turbo mode. This APU also has 400 Radeon cores running at 444Hz. Notice the TDP on this processor is just 35W, which is about 10W less than some of the other models. Let's take a quick look at some of the architecture behind LLano, look at the ODM notebook we were sent for testing and then finally the long-awaited benchmarks!