AMD Launches The Socket AM2 Platform
By
Re-Introducing 940-Pin Processors For Desktop PCs
On June 1, 2004 AMD announced a Athlon 64 processor in a 939-pin package, which was a platform designed to provide customers with enhanced performance and longevity. The 'old' 939-pin platform featured Direct Connect Architecture, which directly connected the memory controller and I/O to the central processor unit therefore improving overall system performance and efficiency. This Direct Connect Architecture helped eliminate the bottleneck found on Intel's front-side bus platforms. Fast forward to today and we still have Direct Connect Architecture on AMD platforms and the Front-Side bus on Intel systems. While 2 years have gone by little has really taken place when it comes to processors. Sure, we have the usual speed 200MHz speed bumps and new processor revisions that improve effiency, but nothing Earth shattering in terms of change. Nearly two years later we have AMD moving to the next generation socket for desktop platforms and that is the 940-pin Socket AM2.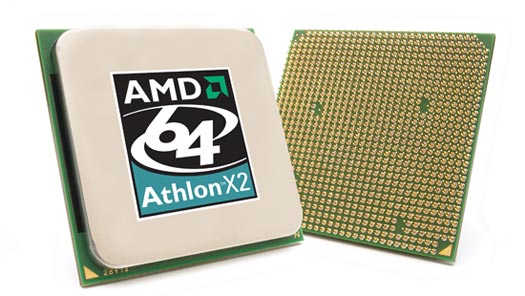 Those who have been following the tech industry may recall that AMD released an Athlon FX line of processors in September of 2003 that had a 940-pin FX-51 processor running at 2.2 GHz, but needed ECC memory and was based around a socket that didn't last for more than two processors. AMD doesn't like to look back to those days and have told us that the new 940-pin configuration that is used on the AM2 processors is here to stay. What does that mean for the current 939-pin processors? AMD told Legit Reviews that "we plan to support the socket 939-pin package parts as long as customer demand warrants it." This means that AMD will support it for the near future and it will eventually fade out in the months to come.
Before we start to dive into all the details on what has changed with the processor let's take a look at the key features that you need to know before getting an in-depth look into what AMD has planned for the next couple years.
AMD AM2 Processors (THE BASICS):
Launches June 1, 2006
Known my many as "Socket F"
New 940-Pin Processor Socket
DDR2 support (up to 667MHz all chips) / (up to 800MHz for X2 and FX)
Reduced power consumption including new Energy Efficient models (65W & 35W)
AMD Virtualization support (hardware virtualization in-chip)
Redesigned 4-bolt heatsink tray for better stability
Keyed ZIFF socket to ensure only correct AM2 processor can be installed
~1% performance increase from 939-pin to AM2
After taking a look at the basics on AM2 one thing might stand out to many in the enthusiast crowd – the one percent performance increase. AMD informed Legit Reviews that we should expect a performance gain from 939-pin to AM2 of about 1% or more across various application-based benchmarks. That assumes equal model numbers for processors and an equal configuration. This also assumes premium memory is used for each configuration. This is a rough estimate, and of course FX-62 and 5000+ come with additional frequency that will improve performance beyond that platform benefit. Right off the bat AMD let consumers know that if you have a 939-pin system the move to AM2 is not going to be significant in terms of performance. If you own a 939-pin A64 X2 4800+ processor and want to move up to an AM2 4800+ you will have to buy the new processor, motherboard, and DDR2 memory to gain reap the 1% performance increase. With that said AMD is trying hard to promote their new energy efficient models and let the world know that AMD's reliability and stability has greatly improved over the years.