AMD Kabini Mainstream APU Notebook Platform Preview
By
AMD Kabini Mobile APUs Arrive
AMD introduced the Brazos mobile platform in January 2011 and it became the most successful launches in AMD's history. These platforms featured 40nm single or dual-core C-Series (Ontario 9W TDP) and E-Series (Zacate 18W TDP) processors that featured Bobcat x86 cores and Mobility Radeon HD 6000 series graphics. AMD shipped over 30 million Brazos APU's in the first year and that number is now over 48 million. AMD has also had over 160 different design wins with Brazos.The AMD Brazos platform ran circles around Intel Atom processors and had DX11 and OpenCL 1.1 support. The AMD Brazos platform was clearly a major success for AMD, but it is time to move on and introduce a new entry/mainstream mobile APU platform for AMD.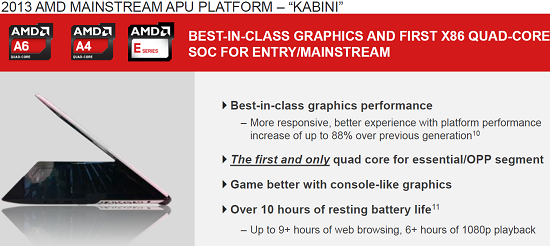 That platform would be called Kabini and it comes out today. Kabini APU's will utilize AMD's "Jaguar" 28nm microarchitecture, have from 2 to 4 CPU cores, and feature Radeon HD 8000 series graphics.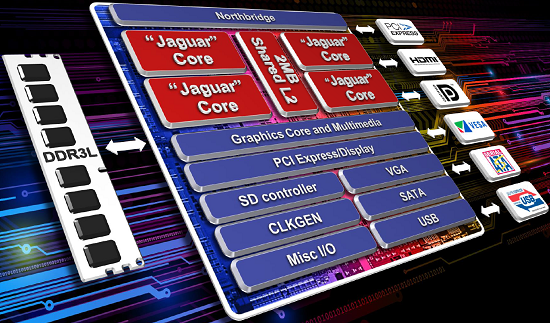 The Jaguar core brings support for SSE4.1, SSE4.2, AES, CLMUL, MOVBE, AVX, XSAVE/XSAVEOPT, F16C, BMI1, and has a 40-bit physical address space. Pretty much everything was enhanced and that means better performance. AMD says that jaguar improves IPC of single threaded applications by up to 20% over Bobcat, so the enhancements and added features have really helped improve performance. Kabini also has been overhualed when it comes to graphics and it features Radeon HD 8000-series DX11.1 graphics cores based on AMD's Graphics Core Next architecture. All Kabini APUs have 128 Radeon Cores and vary by clock speed only.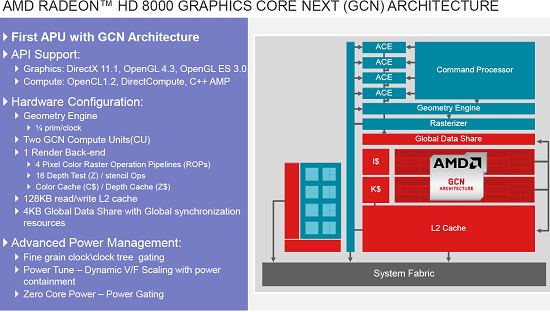 At launch AMD will have 5 'Kabini' APUs available. The AMD E-Series APUs will be dual-core processors with 1MB L2 cache in the 9W-15W TDP range. You have the E1-2100, E1-2500 and E2-3000. The Ultra Low Voltage 9W TDP part is the E1-2100 and it runs at 1GHz and uses Radeon HD 8210 graphics. From there you step up to the 15W part called the E1-2500 that runs at 1.4 GHz and uses Radeon HD 8240 GPU. The Flagship dual-core APU is the E2-3000 that operates at 1.65 GHz and has Radeon HD 8280 graphics. All of the AMD E-Series APUs have 128 Radeon cores, but differ on the clock speed that the graphics cores are running at. The clocks of Kabini parts are 5% – 6% lower than clocks of Bobcat-based E1-1500 and E2-2000 processors, but that does not necessarily mean that "Kabini" APUs are slower. It is likely that the difference in clock rate is more than compensated by improvements in the microarchitecture.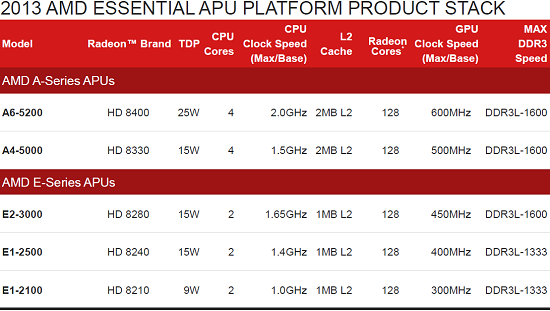 Those looking for more performance should look at the new AMD A Series APUs. You have the AMD A6-5200 (25W TDP) and A4-5000 (15W TDP) quad-core processors that have 2MB L2 cache! With twice the cores and twice the cache you can expect some good things from these processors. They are also clocked higher than the E-Series processors, at 2.0 GHz and 1.5 GHz respectively. When it comes to graphics the AMD A4-5000 uses Radeon HD 8330 graphics and the A6-5200 comes with Radeon HD 8400.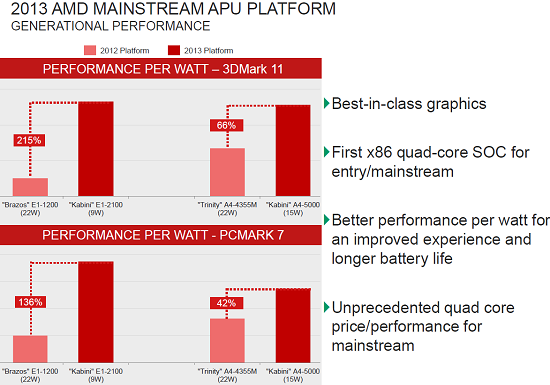 The new AMD A-Series and E-Series APUs offer significant performance gains compared to the 2012 platform refresh that AMD. This should allow AMD to continue targeting mainstream and entry-level price points and go head to head with Intel's Pentium and Celeron-class products in the mobile space.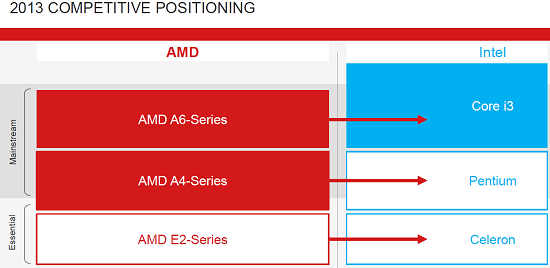 AMD feels that their new A6-Series parts can compete with Intel Core i3-class products and the A4-Series will be aimed more at the Pentium-class products. We will be looking at the performance of an AMD A4-5000 APU, so be sure to keep in mind that this is this platforms targeted market as we move forward.