AMD Kabini and Temash APUs Shown Off At CES 2013
By
AMD Kabini and Temash Reveal Their Capabilities
Today at AMD's keynote for CES 2013, AMD was showing off its latest mobile computing innovations, to help it surpass its competition. The two that caught our attention the most, were the code name "Kabini" and "Temash." These SoC (System on Chip) processors will offer overall performance improvements, to outstanding battery life capabilities.
The first to look at, is the AMD A4 and A6 "Kabini." This processor will offer up to 50% increase in performance over "Brazos" 2.0. AMD has mentioned that this SoC is the industry's first quad core x86 processor, which will be available in devices by the first half of 2013. The best thing about the Kabini, is you will get over 10 hours of battery life on your device.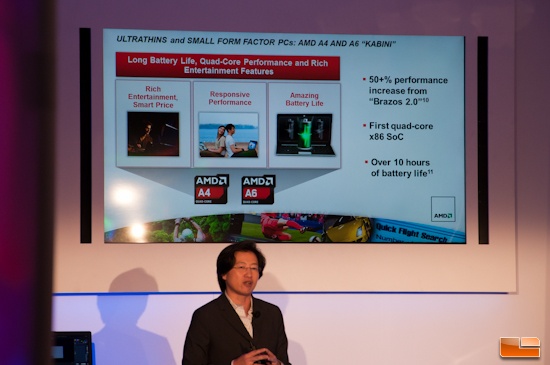 The "Temash" SoC will be AMD's top dog for performance in tablets and hybrids. With "Temash," you will get up to 100% improved graphics performance over "Hondo" and will be fully compatible with Microsoft Windows. AMD did show off their first working silicon at the event, and the graphics displayed were nothing but fantastic!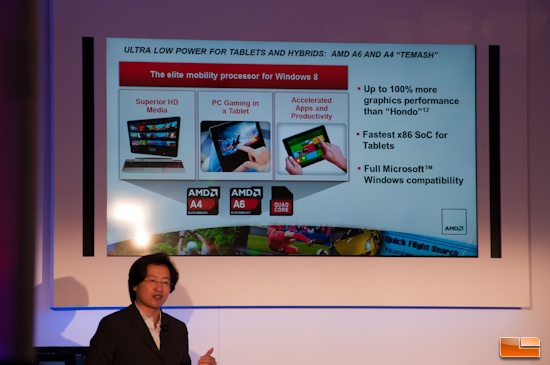 AMD did talk a bit about the new "Richland" APU, which is now shipping to OEMs. It will provide 20 to 40 percent more performance over the current generation and have an improved battery life. Devices that ship with this APU will have AMD's latest software innovations, which include gestures and facial recognition. Hands free does seem to be the way of the future, when it comes to entertainment or just every day functions.