AMD Demonstrates Barcelona – The First True, Native Quad Core Opteron
By
AMD's Barcelona Processors Shown For The First Time
AMD Chief Sales & Marketing Officer Henri Richard holds the industry's first "native" quad-core x86 server processor (below), demonstrated today, Nov. 30, 2006, in Berkeley, CA. Codenamed Barcelona, the processor will offer significant performance enhancements in addition to four processing cores integrated in one piece of silicon. For comparison, an Intel "Clovertown" server processor is shown on the right, which instead packages two separate processors to form four cores via a front side bus.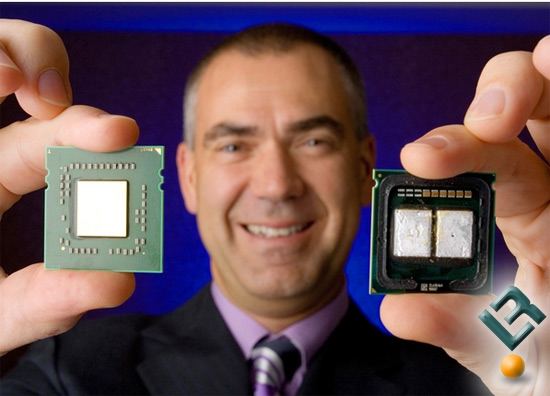 AMD quad-core technology was demonstrated on a reference server platform running 64-bit Windows Server 2003, but will not be available until mid-2007 and will be a native quad-core processor. The four-processor server was powered by native Quad-Core AMD Opteron 8000 Series processors and uses the same power levels as current Opteron processors.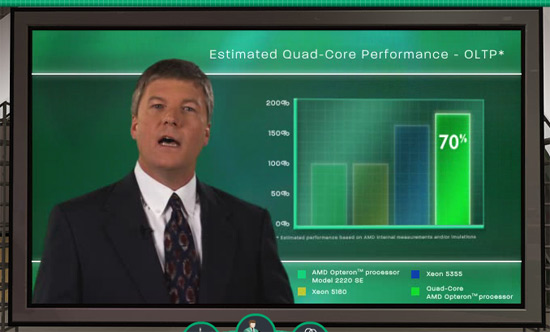 According to the slide shown above that we took during the AMD Virtual IT Experience the estimated Quad-Core Performance of an unknown AMD Opteron processor was able to beat the Intel Xeon 5355 processor by what looks like 15%. It should be interesting to see the real numbers and I'm sure the numbers will leak out when samples are sent to the system builders.
Why is this important? AMD is demonstrating true, native quad core processors functioning in an Opteron platform. Four quad-core CPUs, to be exact, for a total of 16 cores in a single server? Looks like Opteron based servers are going to get a very nice performance boost come the middle of 2007.