AMD Computex 2018 Press Conference – 7nm GPU, 7nm Zen 2 and 2nd Gen Threadripper Discussed
By
AMD just wrapped up their COMPUTEX 2018 press conference and shared a number of updates on AMD products and technologies. AMD CEO Dr. Lisa Su kicked off the briefing by announcing that AMD has sold over 5 million Ryzen processors to date and most of those are in the DIY market.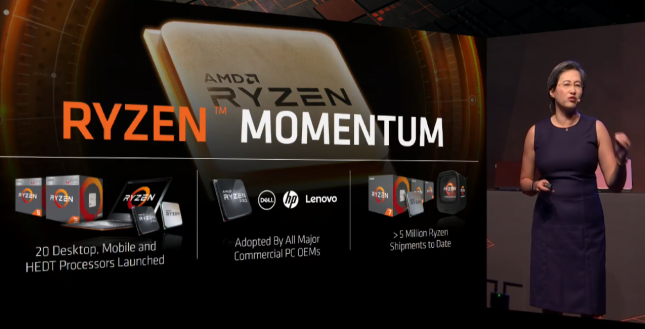 AMD also noted that Radeon has solid momentum and that there are over 400 million PC and console gamers out there with Radeon technology. AMD has seen tremendous growth with the Vega GPU over the past year and that Vega shipments are more than 10x the previous generation. We are sure this is true, but we all know that the cyrptocurrency market drove record GPU sales during that time as well.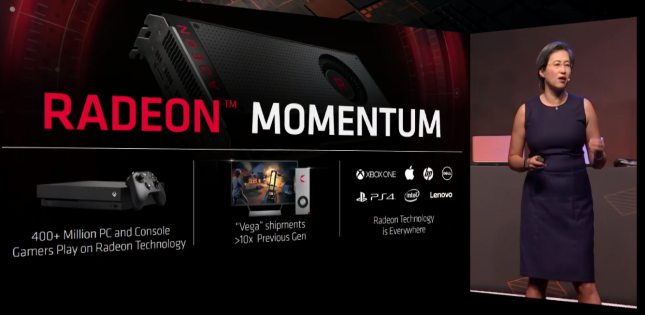 AMD went into four main areas during the press conference that showcased AMD's high performance leadership and innovation. Those four areas would be Radeon Vega Graphics and Radeon FreeSync, deaktop and mobile Ryzen processors, 2nd generation AMD Ryzen Threadripper desktop processors and 7nm Radeon Vega GPUs.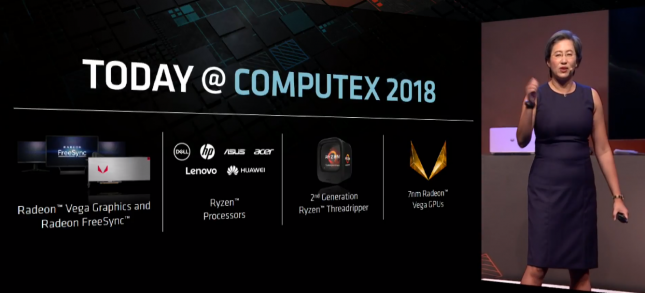 The next speaker was Scott Herkelman, AMD Vice President & GM Radeon Gaming, and he noted that the Gaming Hardware Market is rapidly growing thanks to the growth of eSports and the number of gamers streaming. The gaming hardware market was $34 billion USD in 2017 and that is an increase of over 13% from 2016.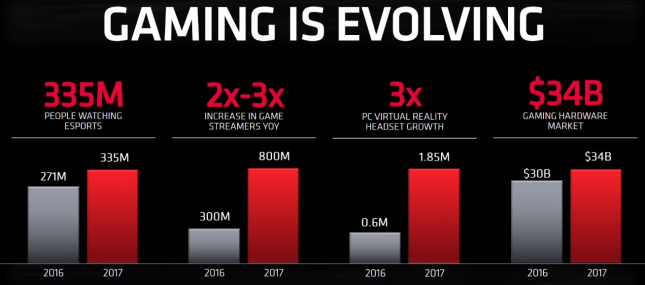 Scott Herkelman called 2018 the year of Vega as AMD Vega based products are now available in a wide variety of systems. Acer came up on stage and announced three new systems with AMD Ryzen processor and Vega graphics. The first system shown was the Acer Nitro 50 desktop with AMD Ryzen 7 2700X processor and AMD Radeon RX 580 graphics, next up was the Acer Predator Orion 5000 desktop with the AMD Ryzen 7 2700X processor, AMD B450 chipset and Vega graphics and lastly there was the Acer Predator Helious 500 gaming laptop with Vega 56 graphics. This is the first time that we have seen AMD talk about the B450 chipset in public!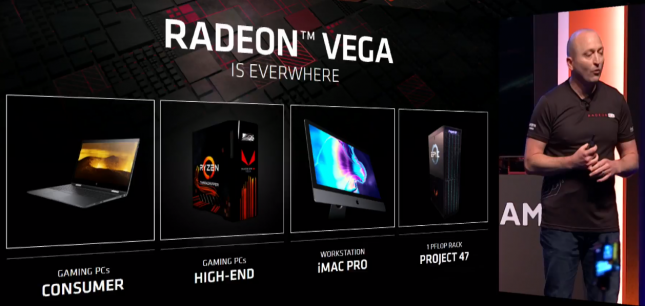 AMD then announced the Powercolor Vega Nano 56 graphics card is now available and ready to purchase in select markets. Legit Reviews first saw the AMD Radeon RX Vega Nano on July 30th, 2017, so this has been a long time in the marking! AMD committed to investing in software for gaming and supporting their FreeSync 2 and monitor strategies.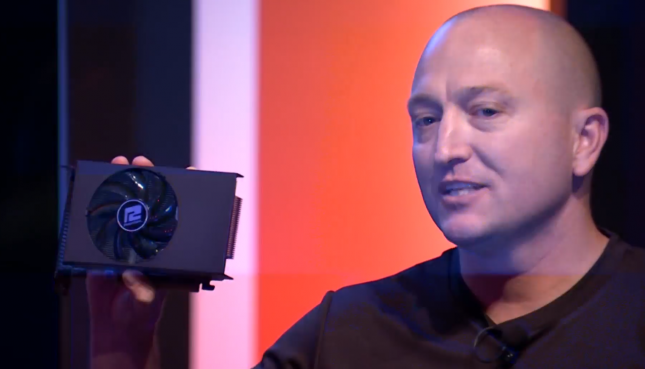 The next speaker was Jim Anderson, AMD General Manager and Senior Vice President for Client Computing, and he discussed how well AMD Ryzen is doing a little more in-depth than Dr. Lisa Su covered. One exciting area that AMD is improving is Ryzen OEM systems and they expect to have 60 new Ryzen OEM systems coming to market by the end of 2018. That is great news as AMD needs more OEM systems on the market to improve sales. AMD noted that they have 40% market share with Ryzen at 'key' e-tailers.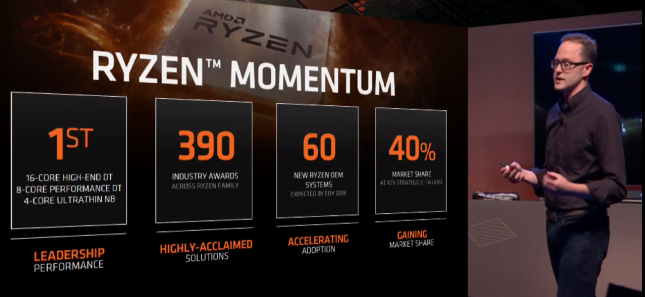 Kevin Lensing, AMD Corporate Vice President and General Manager, Client Business Unit, took over and talked about how all AMD's partners are bringing exciting new designs to market. Kevin discussed an HP model for a second and then brought representatives from Dell, ASUS, Lenovo, and Huawei on stage to show their latest Ryzen laptop designs.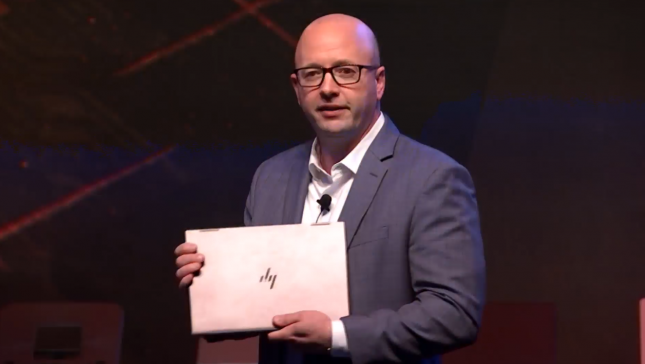 ASUS stole this part of the show by showing off an upcoming ASUS laptop with a Ryzen processor with Radeon graphics and a discrete NVIDIA GeForce graphics solution all in one notebook. Check out the three stickers to the left of the track pad. Who knew we would see Ryzen, Radeon and GeForce running together in a laptop in 2018?!?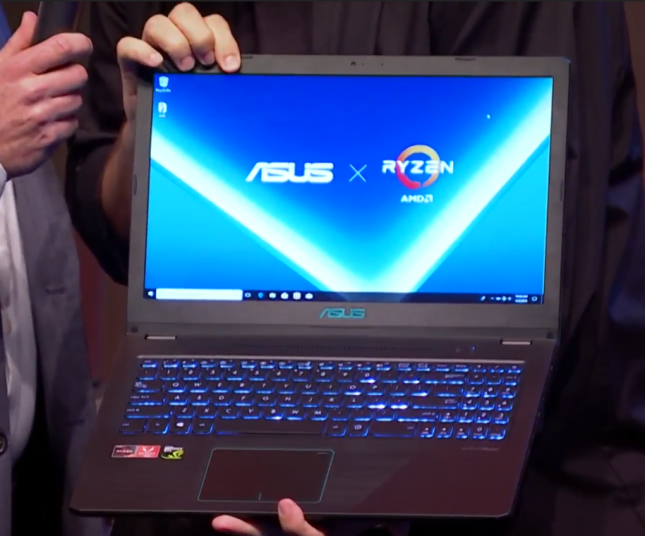 Huawei started pushing into the PC market in 2016 and they are still trying to take over market share. Huawei will be introducing their first AMD Ryzen powered Matebook laptop this year!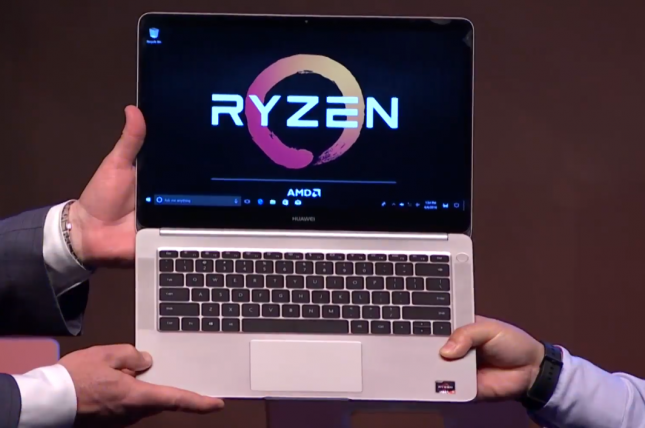 Kevin Lensing handed the microphone over to Jim Anderson and the discussion changes to desktop CPUs.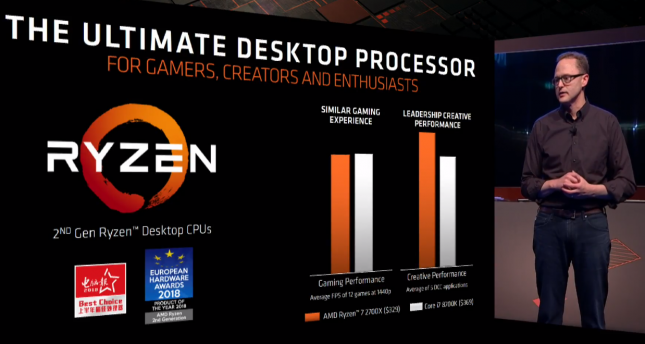 James Prior then showed a gaming comparison of the AMD Ryzen 7 2700X versus the Intel Core i7-8700K in Far Cry and how both systems rendered the game smoothly at over 100FPS at 1440P.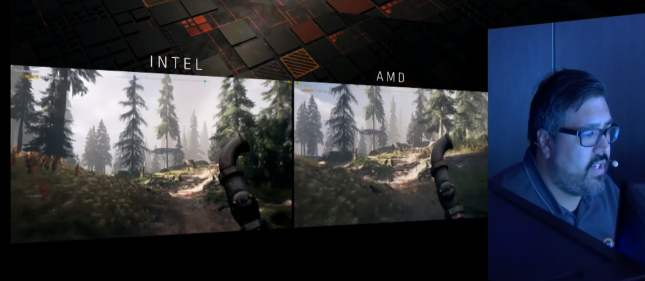 Jim Anderson then introduced 2nd Generation Ryzen Threadrippper processor! The 2nd Gen Ryzen Threadripper will be based on the 12nm Zen+ architecture with all the 2nd features and will be available in a number of models with up to 32-cores and 64-threads. This will come to market in Q3 2018 and it will drop in after a UEFI update into TR4 motherboards that are on the market today.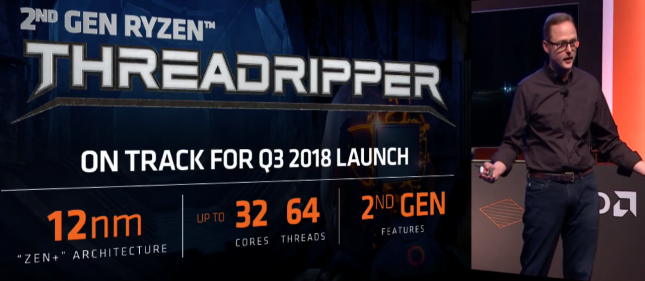 The flagship 2nd Gen Ryzen Threadripper processor with 32 cores will have all four Ryzen die inside the package running on the AMD Infinity Fabric that allows them to run as one.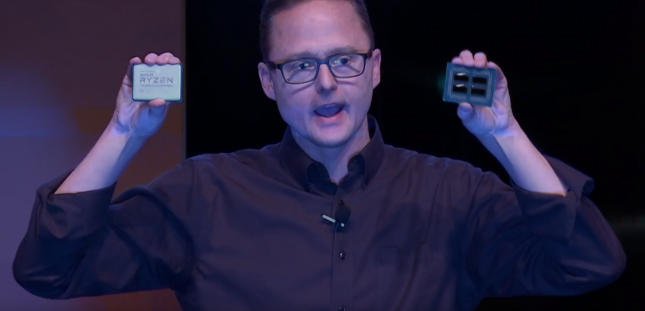 AMD then showed a demo of a 24-core 2nd Gen Ryzen Threadripper processor running Blender against an Intel Core i9 18-core processor and AMD finished the benchmark in 29 seconds. AMD did not say how long it took for the Intel processor to finish and also noted that Intel was running at 3200MHz memory, while AMD was running at 2667MHz. We would have liked to see equal memory clock speeds and the exact results for both, but we'll get our hands on the 2nd Gen Ryzen Threadripper CPUs to benchmark soon enough!

Next was a demo of the AMD 32-core 2nd Gen Ryzen Threadripper processor running a different project, but no time was given.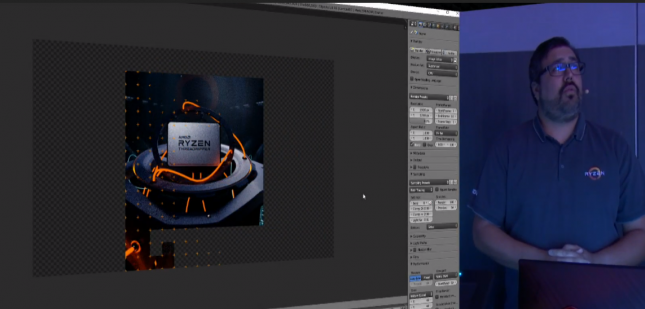 AMD then shifted to Radeon graphics after that demo and brought David Wang, AMD Senior Vice President Engineering, Radeon Technologies Group, to the stage for the next segment. David Wang jumped right into it by saying that he has 7nm and got some cheers from the crowd. He noted that the AMD graphics architecture roadmap has not changed since last year and AMD is making good progress on Navi.

AMD is seeing benefits in performance and power by moving to the 7nm process technology. The noted they are able to double the density and power efficiency while getting greater than a 1.35x boost in overall performance. David Wang then introduced the Radeon Instinct Vega 7nm and talked about the AMD Open Source solutions.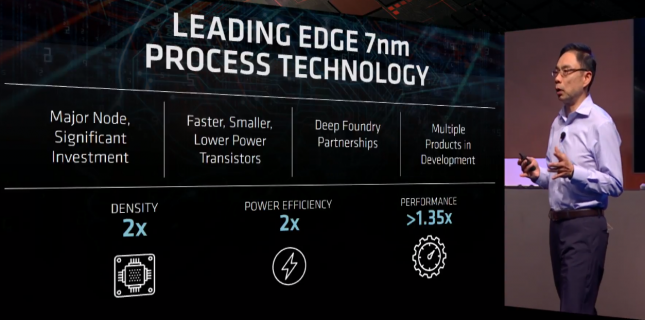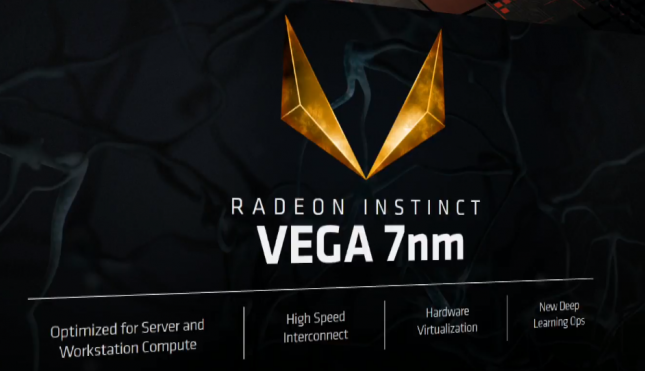 AMD then showed off the Radeon Instinct Vega 7nm part with 32GB HBM2 memory running Cinema4D E19 rendering with Radeon ProRender.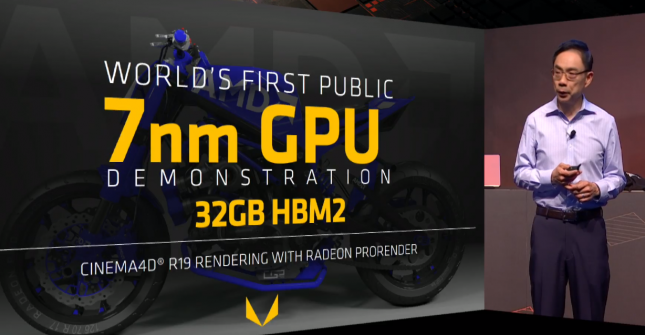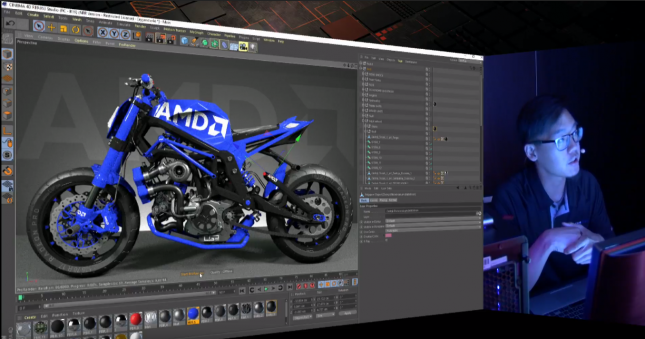 Dr. Lisa Su then took the stage to wrap things up and announced that the Radeon Instinct Vega 7nm card is sampling now and will launch in the 2H 2018. Gamers will have to wait a little longer for Vega 7nm GPUs, but they are still coming as planned.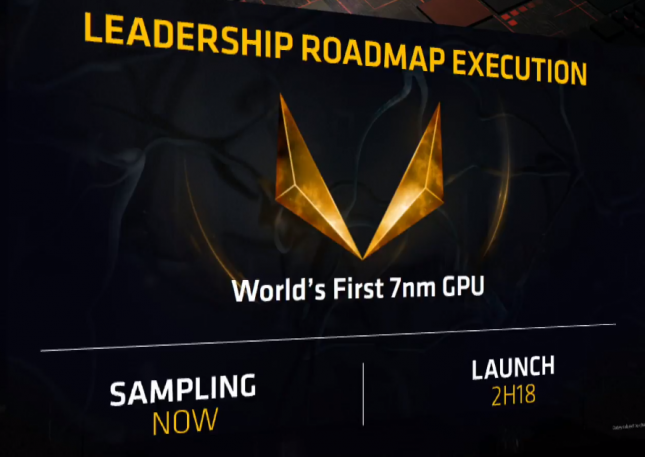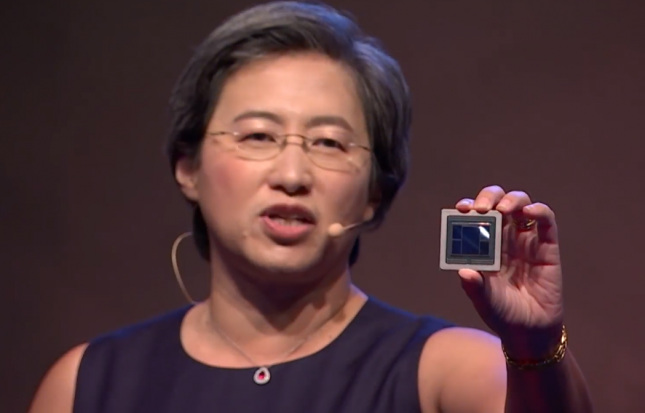 News is also good for 7nm on the desktop side as Dr. Lisa Su has 7nm 'Zen 2' silicon in labs and it is looking very good. AMD expects to sample 7nm Zen 2 processors in the 2H 2018 and will launch them in 2019.