AMD Claims To Have Worlds Most Stable Driver – But Supplied All Graphics Cards Tested
By
AMD today claimed that they have the most stable graphics driver in the industry. AMD hired QA Consultants to test 12 desktop graphics cards using CRASH from Microsofts Windows Hardware Lab Kit (HLK) to run scenarios that would hopefully cause a graphics card driver to fail. Six graphics cards from both AMD and NVIDIA were submitted for testing. Three cards from each brand were desktop gaming cards and the other three were desktop workstation cards. The tests were done on twelve machines over a 12-day period with the graphics cards in the AMD systems being switched to the NVIDIA systems at the half way point. At the end of the testing AMD products passed 93% of scheduled tests whereas the aggregate of NVIDIA products passed 82% of scheduled tests.

After all tests were run (432 tests across six AMD and six Nvidia systems respectively), AMD systems passed 401 out of 432 tests while Nvidia systems passed 356. This is equivalent to a pass rate of 93% for AMD systems vs a pass rate of 82% for Nvidia systems. According to the QA Consultants report: AMD has the most stable driver in the industry.
These results are pretty impressive, but we wanted to see how the test was setup and looked at the detailed test results. AMD told us that graphics cards were selected at high, medium and budget price points, from both the Gaming and Workstation lineups against competing NVIDIA GPUs. These include the Radeon RX Vega 64, RX 580, RX 560 as well as the GeForce GTX 1080 Ti, GTX 1060 6GB and GTX 1050 2GB for gaming. When it came to drivers used AMD Radeon Software Adrenalin 18.5.1 and NVIDIA GeForce Game Ready Driver 397.64 were tapped for testing.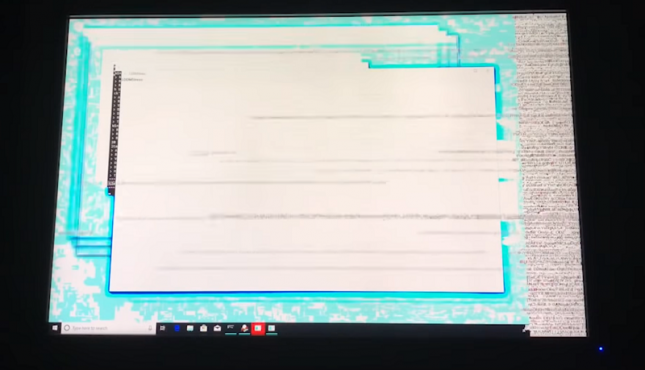 We noticed that for both companies that most of the failures happened on the workstation side. The Radeon Pro cards had 27 of AMD's 31 failures and then the Quadro series had 61 of NVIDIA's 76 failures. We also noticed that 10 out of the 15 failures on the NVIDIA GeForce series were on one card – the GeForce GTX 1060 6GB.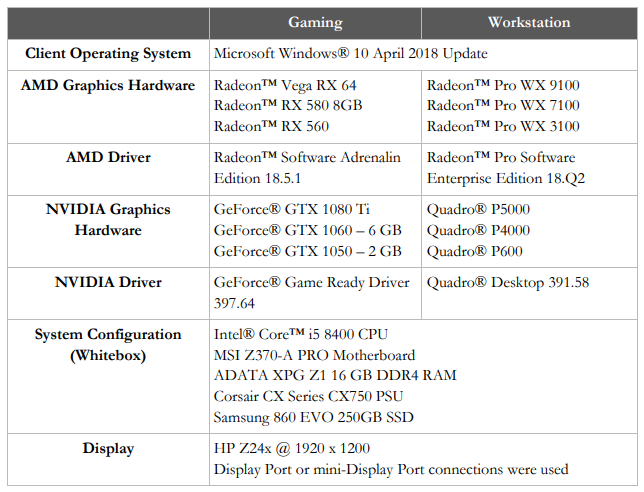 We tried to see what card was used, but the exact brand and model for each card wasn't mentioned. We reached out to QA Consultants and spoke with the marketing manager that gave us the exact models used. We also asked if they samples were supplied from AMD.
QA Consultants got back to our e-mail this afternoon and confirmed that all the samples were provided by AMD and passed along all the part numbers of the cards used.
| | | |
| --- | --- | --- |
| GPU | P/N | Brand |
| Radeon Pro WX 9100 | 102-D05101-00 | AMD |
| Radeon Pro WX 7100 | 102-C95401-00 | AMD |
| Radeon Pro WX 3100 | 102-D09101-00 | AMD |
| | | |
| Radeon RX Vega 64 | 102-D05014-00 | AMD |
| Radeon RX 560 2GB | H6YVCM023385 | ASUS |
| Radeon RX 580 8GB | 602-V341-450B1708000580 | MSI |
| | | |
| Quadro P5000 | PG413KG032527000LZ | PNY |
| Quadro P4000 | PG410GG03203800038 | PNY |
| Quadro P600 | PG212DK04208700138 | PNY |
| | | |
| GeForce GTX 1080 Ti | 900-1G611-000-000 | NV |
| GeForce GTX 1050 2GB | GV-N1050OC-2GD | GIGABYTE |
| GeForce GTX 1060 6GB | GV-N1060WF20C-6GD | GIGABYTE |
We think it's a really neat test that AMD did here. It makes sense to hire a third-party auditor to show that your graphics cards are the most stable in the industry. It just doesn't sit well with us that AMD sent in all the cards for testing and that only one card was tested for each model. AMD is now claiming to have the most stable in the industry for gamers and workstation users off a sample size of six graphics cards. Almost two-thirds of NVIDIA's GeForce failures came from one card. Would the results be the same if they tested another card with the same part number?
It would be really neat to see the outcome of the test if AMD and NVIDIA both got to pick the brand and model they wanted tested at each price point. Then order in a larger sample size of each of those skus and re-do the test. The result might very well be the same, but we'd like to see a larger sample size tested for such a bold claim! We'd also like to see some more gaming specific test for the gaming cards.