AMD Athlon 64 FX-60 Processor Review
By
David versus Goliath No More
The time has finally come for AMD to bring their dual-core processor to their beloved FX processor family. Can you believe that dual-core AMD Athlon 64 X2 processors have been out for more than seven months? During these seven months the King Of The Hill (KOTH) processor for AMD has always been a single core processor. Several months ago in Texas AMD asked the reviewers what we thought the next FX processor should be and it looks like the votes for dual-core came out on top. While some may argue that the single-core Athlon 64 processor is supreme at gaming and that the FX-60 should have been a 3.0GHz single-core part it doesn't matter because the FX-60 is already out and the change is over.
WHY DUAL-CORE FX NOW FROM AMD'S POINT OF VIEW:
It made great sense for us (AMD) to maintain FX on single core throughout 2005. That was our plan and that was our execution. The benchmarks proved that out as FX has become the defacto CPU to have for ultimate PC gaming. Now it is our intention is for FX to once again stand for the ultimate desktop PC processor, not just the ultimate gaming processor. At 2.6GHz, the FX-60 replaces the FX-55, but it is much more than that. Combining dual-core at this higher frequency (than previous X2s) with our graphics partners' new dual-core optimized drivers make the FX-60 the perfect processor for not only gaming, but for all those multi-threaded or multi-tasking projects you would have rightfully chosen an X2 processor for. FX-57 will remain and be sold next to FX-60, eventually to be replaced with a dual-core FX at some point in the future as well.
After reading AMD's reasoning behind the move to dual-core processors it all starts to make sense. For the first time since dual-core processors came out the industry is now starting to utilize the technology on these CPU's that have been in place since day one. Let's take a look at our test processor!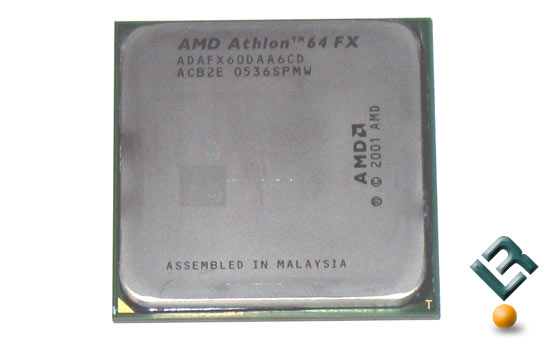 Isn't she a beauty? Our AMD Athlon 64 FX-60 processor came dated week 36 of 2005, which means AMD has had these bad boys in production back in the summer of 2005! Looks like AMD is in no rush to launch processors as they feel like they have the edge over Intel right now.
AMD ATHLON 64 FX-60 PROCESSOR TECH SPECS:
Frequency / Cache Sizes: 2.6GHz w/ 1MB L2 cache-per-core (2MB total L2 per processor)
L1 Cache Sizes: Each core has its own 64K of L1 instruction and 64K of L1 data cache (256KB total L1 per processor)
CPU to Memory Controller: same as CPU core frequencies
Memory Controller: Shared integrated 128-bit wide memory controller
Types of Memory: PC1600, PC2100, PC2700 and PC3200 DDR memory
HyperTransport Links: 1
HyperTransport Spec: 2GHz (2x 1000MHz / DDR)
Effective data bandwidth: 14.4 GB/sec [8GB/sec x1 HyperTransport link + 6.4GB/sec memory bandwidth]
Packaging: 939-pin organic micro-PGA
Fab location: AMD's Fab 30 wafer fabrication facility in Dresden, Germany
Process Technology: 90nm (.09-micron) Silicon on Insulator (SOI)
Approximate Transistor count: 233.2 million
Approximate Die Size: 199mm2
Nominal Voltage: 1.30-1.35V
Max Thermal Power: 110 W
Max Ambient Case Temp: 65 degrees Celsius
Max Icc (processor current): 80A
Min P-State (with C'n'Q): 1.2 GHz
Nominal Voltage: 1.1V
Max Thermal Power: 46.7W
Max Icc: 39.8A